Dimitar Berbatov: Romelu Lukaku is trying too hard to impress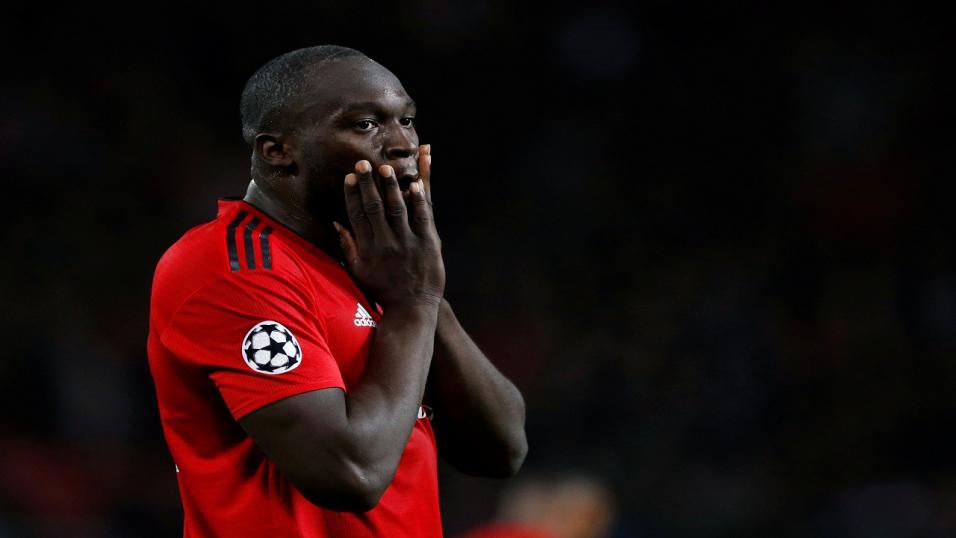 Dimitar Berbatov has jumped to the defence of under fire Romelu Lukaku
Dimitar Berbatov reflects on a tough week in Europe for Manchester United and Tottenham and has a few words of support for under-fire Romelu Lukaku. He also looks ahead to the biggest game in European football, El Clasico...
"I remember when I was on a bad run at United when I hadn't scored for seven or eight games, but then scored five in one game! It happens to everyone."
Juve taught United a lesson
Juventus were clearly the better side on Tuesday night and fully deserved the win. They didn't play the best football but they were efficient and knew exactly how to protect the lead once they got in front.
I said at the start of the season that Juve were one of my favourites to win the Champions League and they showed why at Old Trafford.
They are very compact and organised and have some great players - I am a big fan of Paulo Dybala and of course there is the Ronaldo factor. Even when he's not playing brilliantly, he will always take the attention of the defenders, creating space for the other attackers.
Juve do have weaknesses but when they are able to shut teams out in the way they did against United they can stop themselves being exploited.
It wasn't a good performance from United, they need to improve in all areas of the pitch. But they have the manager and the players and they will be putting pressure on themselves to get it right.
Lukaku should get back to basics
There has been a lot of criticism for Romelu Lukaku since the game but you'll never catch me having a go at a fellow striker. I know how difficult it is.
I remember when I was on a bad run at United when I hadn't scored for seven or eight games, but then scored five in one game! It happens to everyone.
I know he's not scored for eight games, but I don't think the criticism of Lukaku is fair. As Jose Mourinho said, he's working very hard for the team, but this might actually be working against the striker.
He wants to impress so badly that he is doing too much, and not doing the simple things like getting into the box. He is probably over complicating things; you don't want to see him popping up at left-back as he did on Tuesday.
Tottenham need to improve concentration levels
As Juventus showed, the really good European teams know how to hold on to a lead, but that is somewhere Tottenham keep falling down in this season in the Champions League.
After playing well to get back to 2-1 against PSV, they should have been able to see the game out, but the concentration levels slipped - as happened against Inter Milan - and it cost them again.
I don't think it's down to a lack of experienced heads in the team - these players have plenty of Champions League experience now - but they need to work on the concentration as it's not good when something keeps happening. .
Europa League not a bad prize
Spurs will continue to fight for Champions League qualification while it's still mathematically possible but it looks like a very tough task now with one point from three games, which means the next best thing is dropping into the Europa League.
I know it hasn't got the same prestige, but it remains a good competition and, as I've said before, Spurs need to win a trophy so it would represent a realistic chance to do that.
But they will need to start holding on to leads first. And that's about paying attention to the small details.
Hope Wembley pitch doesn't ruin the spectacle
Next up for Spurs is Man City on Monday. Kevin de Bruyne has expressed concern about playing on the Wembley pitch the day after an NFL game and he's right to be concerned.
Kevin De Bruyne expresses concern over state of Wembley pitch after NFL games. @LukeEdwardsTele reports - https://t.co/5vl6FJc0K8

? Telegraph Football (@TeleFootball) October 24, 2018
If you remember the Barcelona game there which was a few days after the Anthony Joshua fight and the pitch was absolutely shit! It affected the performance of the players and meant passing was difficult.
I don't necessarily see it as a 'leveller' as both Spurs and Man City have technical players so it will be the same for both sides. You can argue that City have better players, but Tottenham are very good technically themselves, so hopefully the pitch doesn't ruin the spectacle.
Pep Guardiola's men are in very good shape at the moment but I'm hopeful Spurs can shake off the PSV disappointment and come away with a draw on Monday.
Real Madrid in bad shape but Lopetegui needs more time
It's an absolutely huge El Clasico on Saturday (live on Betfair Live Video) - even if it won't quite be the same without the injured Lionel Messi and the departed Cristiano Ronaldo.
Barcelona were very impressive against Inter on Wednesday and showed they can cope without their main man. Phillipe Coutinho in particular looked to be relishing the chance to take centre stage and they will be very confident going into Saturday.
Real Madrid are in bad shape at the moment and, although form usually goes out of the window in El Clasicos, I expect Barca to take advantage on home soil and win, probably 2-0 or 2-1.
Julen Lopetegui is under pressure for his job at the moment but you can't judge him so harshly and so soon. It's only been 13 games - no time at all for players to get used to his philosophy.
After winning three Champions Leagues in a row, Real Madrid were always going to dip at some point and they've also been getting to grips without playing with, and relying on, Ronaldo.
Unai Emery at Arsenal is a good comparison. He lost his first two games and the fans were getting worried but look where they are now! The board needs to give Lopetegui a few months at least.