Safer Gambling on Betfair: A range of tools to help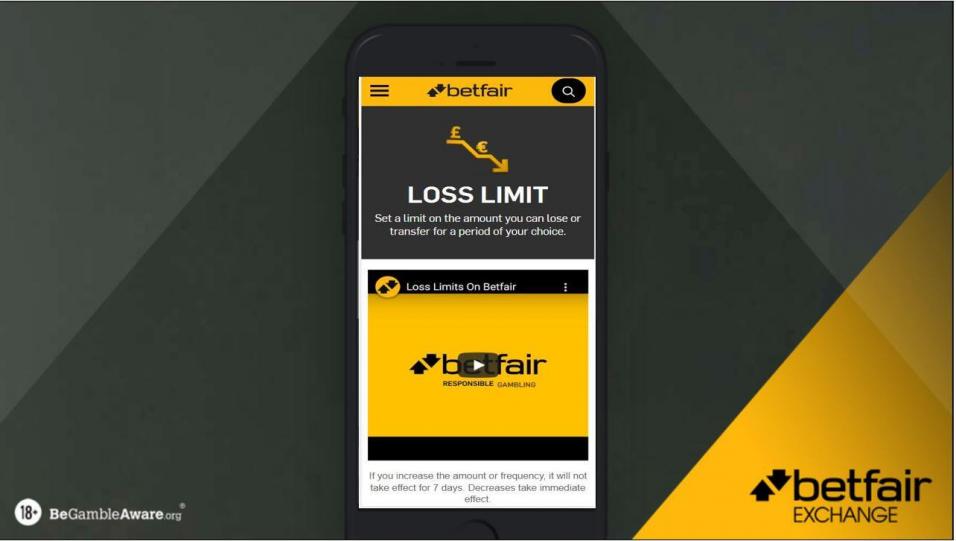 Betfair is committed to safer gambling and here you can find out about the tools that help you set your budget, keep track of your spend, take a break when you need it, and more...
Betfair has always been about smart betting. That starts and ends with knowing how much to bet, and not letting betting become a harmful part of your life. You can find out more at our Responsible Gambling hub.
Here's a short guide to some of the tools we've put in place to help you stay smart and safe in your betting.
Loss Limit
This how you can set a limit on the amount you can lose or transfer for a period of your choice. The video shows how easy it is to set you limit.
If you decide to increase the amount or frequency, it will not take effect for seven days, so you will have time to change your mind. Lowering your loss limit, on the other hand, takes immediate effect.
Deposit Limit
We ask you to always bet sensibly, and within your budget. To help you stay in control, you can specify a daily, weekly or monthly deposit limit. Once set, we will warn you when you're trying to deposit more than your limit, whether online or on your mobile. The deposit limit is not affected by any transfers of money between wallets or by withdrawals. Here's how to set your limit:
If you increase the amount or frequency (making the limit less restrictive), it will not take effect for seven days. Decreases take immediate effect.
Budget Calculator
It can be difficult to keep track of what we spend and where we spend it. The Budget Calculator helps you do exactly that. It lets you input your income and outgoings (mortage/rent/bills etc) so that you can see what you're left with and where your limits should lie.
Time Out
If you find yourself chasing losses, or simply feel that you're spending too much time gambling, then you might be ready for a time out. This is where you can suspend access to your Betfair account for one to 30 days. Here's how to go about it:
During your selected period you will be locked out from playing on the Betfair site. This will block you from using all products on the Betfair website for the period of your choosing.
Self Assessment
GamCare - independent UK charity which provides information, advice and support for anyone affected by problem gambling - have a simple test on their website to help you assess if your gambling is causing a problem.
The assessment will give you a series of statements and ask you to select how much the statement applies to your gambling behaviour on a scale of 1 - 10.At the end of the test you will be presented with a breakdown of how gambling is affecting your life and will give you personalised recommendations for your next steps.
Reality Checks
We all get wrapped up in what we're doing some times and need a reality check. On Betfair the Reality Check tool let's you set a reminder to tell you how long you've been using a product.
When you get your reminder, you will have the option to stop playing or to dismiss the reminder and continue playing.
You can make changes to your Reality Check settings. They will take effect after you log out and log in again. Please do this after saving your changes or the check will not be activated until your next login.
Self-Exclusion
The Self-Exclusion will block you from using Betfair, or a particular product on the site, for at least six months.
You can choose which products you want to be excluded from or whether you want to be excluded from the site as a whole. This action cannot be reversed under any circumstances.