Reading the Betfair Screen
In a nutshell
Each box on the Betfair screen shows the current odds (top) and liquidity (money) available (bottom).
The blue boxes represent the prices available to back (betting on something to happen), with the pink boxes showing the prices available to lay (betting on something not to happen).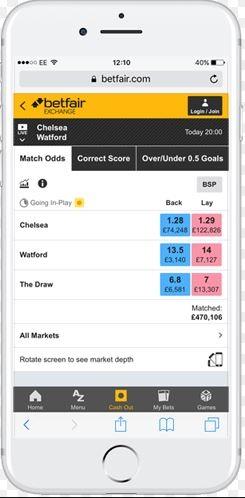 The exciting thing about the Exchange is that it's live, with odds fluctuating constantly, and as bets are offered and matched. The lighter shaded boxes to the left and right of the back and lay prices (visible in landscape view on your mobile) highlight all the prices waiting to be matched.
So, if the price you like isn't showing, or there's only a small amount of money available to bet, refresh the page and watch the odds change.
Better still, set your own odds and wait for a fellow bettor to match your bet.
Unlike many bookmakers, the Exchange will show you all the rules for a particular market - simply press the 'i' icon in the top left.
If you are viewing a 'coupon' page with a number of markets included on mobile, you will need to switch to landscape view to see the lay prices.