Easy Explainers: Your guide to the Betfair Exchange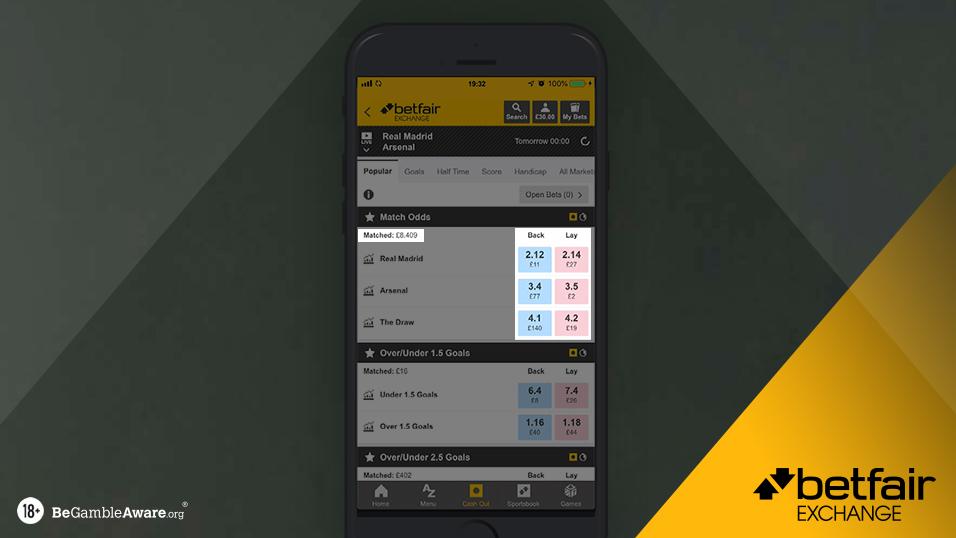 Not sure about some of the terms used to describe betting on the Betfair Exchange? You've come to the right place...
Arbing/matched betting
Arbing - aka 'matched betting' - means taking advantage of odds variation between odds providers to make a profit on an event regardless of its outcome. It involves simultaneously betting on every outcome of an event, while calculating that, whatever happens, the combined bets will guarantee you a profit. You can, for example, bet on a match with a fixed odds bookmaker and then lay on the Exchange at a shorter price.
Asian Handicaps
Asian handicap betting means betting on the outcome of a football match where the two teams are given a handicap - positive or negative - before the game starts. The handicap is a figure such as +0.5 or +1.0 or +1.5, or -0.5 or -1.0 or -1.5. This figure represents a goals head-start or a goals deficit awarded to the teams before kick-off.
Back bet
Placing a back bet is the traditional form of gambling - you believe a result will happen and bet on it happening, at odds you want to take. On the Betfair Exchange, bettors placing these bets are called 'backers'. Those laying bets - betting on a result not to happen - are the 'layers'. Here's our guide to placing a back bet on the Exchange.
Back-to-lay
'Back-to-lay' is a common trading strategy, where you aim to take advantage of fluctuating prices on the Exchange to guarantee a profit regardless of the outcome, by backing a result and then laying it at a shorter price. This also works the other way around - a lay-to-back - where you aim to lay at a low price and back at a higher price. Backing and laying on the same market is also referred to as 'hedging'. For more on back-to-lay and lay-to-back, check out our How-To Guide.
Betfair Exchange
The Betfair Exchange allows customers to bet against each other rather than betting against a traditional bookmaker. By matching customers, rather than taking the risk itself, the Exchange gives bettors the option to 'lay' (betting on something not to happen).
'Traded at 1.011/100'/ 'Matched at 1000.0'
1.011/100 - 1/100 in decimal terms - is the shortest price available on the Betfair Exchange. It's rare - and therefore notable - for a 1.01 chance not to win, so it will often make waves. You may read about a '1.011/100 gubbing' or 'gubbed at 1.011/100'. This means the horse/team/player didn't end up winning. At the other end of the scale, 1000.0 (999/1) is the maximum price, and also newsworthy if a horse/team/player is matched before eventually winning.
Betfair Starting Price
The Betfair Starting Price (BSP) is the odds you get on a horse at the start of a race based on bets placed by backers and layers in the race market. Unlike traditional bookies' Starting Price, there is no margin for profit built into the Betfair Starting Price so it often gives you better odds.
Commission
Commission is the amount you are charged by Betfair on your net winnings on an Exchange market. Most customers pay a rate of 5%, but you can choose a different rate using the My Betfair Rewards loyalty programme. You do not pay commission on losing bets.
Drift
If we say a selection in an Exchange market is on the drift or drifting, it means the odds on the selection are getting longer. If a price is getting shorter quickly, it's 'steaming'.
Dutching
Backing more than one contender for a particular event, in order to ensure the same amount of profit if any of your selections win.
'Green Book'
Achieving a Green Book means creating a position on a market where you eliminate any risk and put yourself in the green - as opposed to the red - on every possible outcome so that you guarantee yourself a profit.
In-play betting
In-play betting - or 'in-running betting' on racing - involves placing a bet on a particular outcome after the event has started. The Exchange offers in-play betting for several sports and specials. Here's our guide to making the most of in-running betting on horse racing.
Keep bet
By default, unmatched bets on the Exchange 'lapse' and are cancelled at the start of the event. But you can choose to "Keep" the bet once the market turns in-play if it is not matched prior to the off. This provides another opportunity to get your bet matched, although there is still no guarantee you will be matched as the price may never reach the level you have requested.
Lay betting
Traditional 'back' betting means putting your money on something to happen - a horse or a team or a player to win, for instance. 'Lay' betting means betting on something not to happen. For example, if you lay a football team to win your bet will be settled as a winner if the team loses or if the game ends in a draw - so two outcomes are playing in your favour. For more, see our how-to guide.
Liability
When you place a lay bet (betting for an outcome not to happen) your 'liability' is the amount you could lose in your worst-case scenario.
Liquidity
The liquidity is the amount of money available for you to bet (back/lay) at the relevant odds on a selection on the Exchange. You can bet all or part of that amount. If you bet more than the amount shown, the system will place the remaining stake as an 'unmatched bet' available for other bettors to take. The liquidity is displayed on the odds buttons of each selection.
Matched/unmatched bets
For an Exchange bet to be struck, it must be 'matched' with another customer - someone who has an opposing opinion. When submitting a bet offer, bets can be returned as unmatched, partially matched (where some of the bet is taken) or matched in full.
If you are taking the price shown on screen, you will be matched on the majority of occasions. Markets change continually though so don't assume you are matched - always look at your bet slip to confirm it. The monetary number shown in the blue and pink boxes shows how much is available to back/lay at that price, while the total money matched on the market is shown at the top of the page.
Until your bet offer is matched by someone else, you do not yet have a bet. If nobody matches your bet before the market closes then you get your money back. Unmatched bets stay in the market as offers until you decide to cancel them.
Trading
The concept of trading is most commonly associated with the stock market. 'Buy low, sell high' being the key mantra there. And it's no different on the Betfair Exchange, thanks to the ability to place back and 'lay' bets on the same event in-play, at different prices. An ideal trade will allow you to place different bets that ensure a winning outcome regardless of the result. For more on trading, see our how-to guide. Some bettors using trading apps to help automate their trades on the Exchange.