Back-to-lay and lay-to-back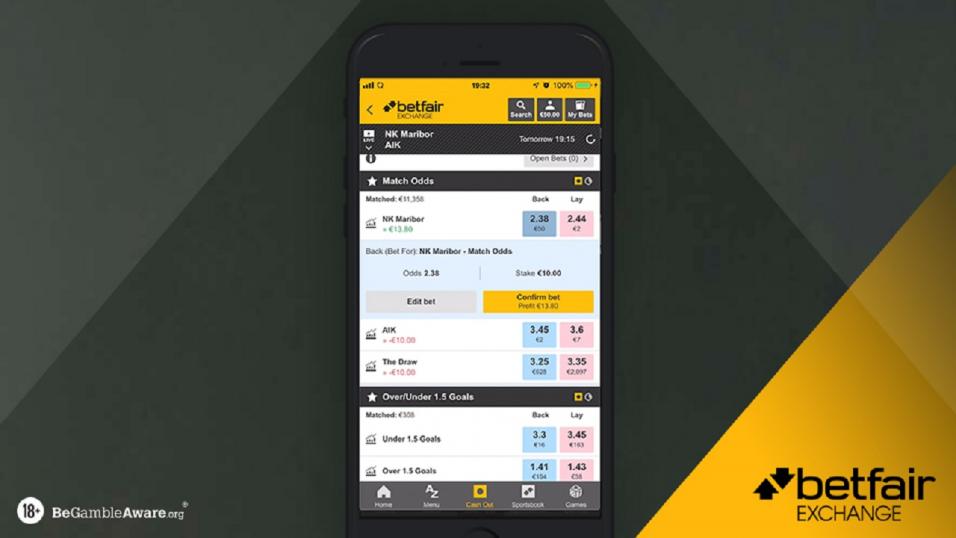 In a nutshell
One of the Exchange's most significant advantages is allowing bettors to lock in a guaranteed profit in a market, or at least creating a position where they don't lose on any outcome - known as a green book. Two effective routes to achieve this are 'back-to-lay' and 'lay-to-back'.
What's a 'green book'?
When betting on the Exchange a winning position (and one where you break even) is displayed in green numbers whereas losing positions are displayed in red.
So that's the 'green' part of it, while your position on a market is known as 'your book', which in turn explains where the term bookmaker comes from.
So how do we Exchange bettors get ourselves into such a desirable position?
The answer is that we need to act in a way where we adjust our position in a market so that we lay bets at shorter prices than we back them, or back at bigger prices than our original lays.
The two-runner market
You'll get a two-runner market in such events as a tennis match, or in sports such as darts (in knockout tournaments) or snooker. So basically, any event between two runners where a draw cannot happen.
Let's say it's Roger Federer v Novak Djokovic. The market has Federer at 3.02/1 and Djokovic at 1.51/2, the exact odds they were at the start of the 2019 Wimbledon final. Let's say you backed Federer at 3.02/1 for £10.
In the fifth set Federer breaks serve and in-play betting sees Federer trading at 1.51/2 himself. Your first option is to lay off your Federer position for £10 (at odds of 1.51/2 that will 'cost' you £5), giving you a £15 free bet on the Swiss champ, with no liability on the Serbian.
The other is to lay off more than £10. For example, if you laid Federer at 1.51/2 for £15, you'd be laying off more than your original £10 liability, hence giving you a 'green position' of +£12.50 on Federer and also +£5 on Djokovic. That's courtesy of laying Federer for more money than you backed him for and in the process essentially backing Djokovic by laying Federer, at advantageous odds.
The three (or more) runner market
The two-runner market is by far the simplest way of securing a green book and that's why tennis and limited-overs cricket are so popular with Exchange users who like to trade; they only have to worry about two outcomes.
But it's certainly not the only way.
Let's say it's a football match between Chelsea and Manchester United. Odds are: 2.6213/8 Chelsea, 3.211/5 Man Utd and 3.211/5 the draw. You could back the draw at 3.211/5 and then lay it off at say 1.84/5 when it's 1-1 with just 10 minutes to go.
The simplest way of trading your book is to do the opposite of what you did originally but at favourable prices; in this case back the draw first and then lay the draw later. But again, it's not the only way.
For instance, you could start off by laying the draw and then laying Chelsea, should they go a goal up. Remember that any time you lay an outcome, you're adding money to all the other ones.
Removing the risk
All of these techniques get you to the same place: removing your chance of losing while providing different scenarios where you win.
You can apply the same principles whether it's a three-runner market or one that has far more different outcomes, like an eight-runner horse race or a football correct score market.
The other thing to remember is that you can keep on adjusting your position all the time until the event comes to a close. You don't have to change it just the once. The more you watch of the event and the more twists and turns there are, the greater the opportunity to trade yourself into an even better position.
Let Betfair do the work
All of the above can be done manually using the 'old school' method of choosing your odds, your stake and then adjusting these to provide different scenarios which will be displayed on the market.
But if you still don't want to take the manual route or fiddle around with numbers too much, don't worry. You can use the Exchange's Cash Out feature which automatically places the opposing bet for you when you want to exit the trade, giving you just the one option.
Then there's the Auto Cash Out feature, allowing you to select a certain amount of profit at which you exit the trade.
The partial Cash Out feature allows you to choose how you want to adjust your position between a minimum and a maximum range - just move the slider from one side to the other until you find the best position for you.