Dimitar Berbatov: Manchester United can be Champions again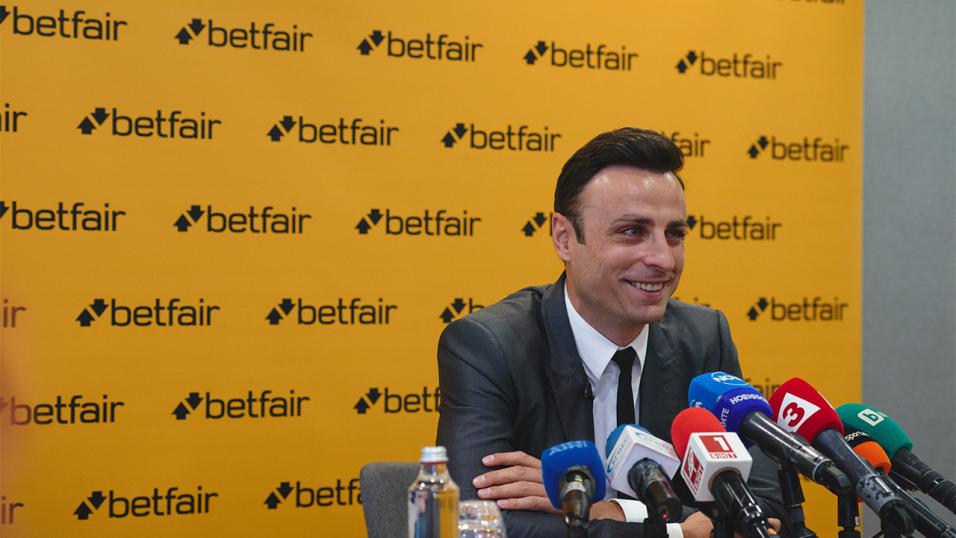 Betfair Ambassador Dimitar Berbatov takes us through his Premier League predictions.
Betfair Ambassador Dimitar Berbatov returns to tell us his predictions for the Premier League 2018-19 season and it seems that the sky's the limit for Manchester United...
"Harry Kane should be aiming for 30 or more goals again. You don't want to relax after having a season like that, you should be aiming to improve, and I bet he's thinking the same thing."
Manchester should improve and win the Premier League
There are so many talented teams, with great quality players, and it's hard for me to say one of them will definitely win. If you are a fan of the top four teams, you are more likely to say "Yeah, they will be the champions," but in the end, you need to know what you are talking about.
It needs to be the team with the most quality, like Manchester City last season, they were fully equipped and deserved to be the Premier League Champions.
This year I hope Manchester United win the Premier League, because obviously I used to play for them, but they have a good team and hopefully they can improve on last years' second place finish. I am also supporting Tottenham, not only because of my history there, however it's about time they win something!
I can see the growth and quality in both teams but I want United to win.
Some déjà vu
The top four will be the same as last season but in this order - Manchester United, Spurs, Manchester City, and Liverpool. I was going to say Chelsea because of the "new manager" effect, the team start to perform better especially the first couple of matches but I think Liverpool will finish above them because they've bought more talented players, so I'll stick to the same four as last year.
My gut on relegation
My gut says Huddersfield, Cardiff and Watford will be relegated. I'm guessing a little bit! It's hard to pick out who will go down when the season hasn't started yet, but that's the way I see it right now. I think Huddersfield will be rock bottom.
Kane my pick
I think the top Premier League goal scorer will be Harry Kane. It's a tough call, there's also Aubameyang - because he had a solid first season in the league and will want to build that in his second season with a new coach. There's Romelu Lukaku who performed well at the World Cup.
Out of those three, I would have to say Kane. He had a tremendous World Cup campaign, will have even more confidence in himself and these aspects helps a striker.
Jose Mourinho already has the best qualities to win this season
Jose Mourinho knows how to control to big players in the dressing room, to control egos, he's done it all his life and knows how to work it into the team. It's not easy for Mourinho, when teams are set up defensively against them because then it's when you need imagination, that Paul Pogba and Romelu Lukaku possess.
Coming from experience as a former footballer, Pogba will start to see things getting easier for him now he has the confidence of being winning the World Cup. On the pitch you can have the feeling that everything is happening for you, from passing to tackles. This should give him more momentum in the Premier League but he needs to stay strong.
Sometimes self-esteem affects you on and off the pitch, until you face your next game and you miss an easy chance for example, then you feel not as great. However, he will be a World Champion for life, now he needs to be a League winner. Top players at Old Trafford know how to be winners.
He has all he needs, I don't think he needs to score the most to define his price tag, he has completely different things to do on the pitch and he's doing it his way. Brilliantly.
Lukaku is scoring more goals and coming off his experience over the summer, he'll feel that he's a big part of Manchester United. He's intimidating in the box, very quick and has the players supplying him with the passes he needs.
How do Manchester United get back to their best
Manchester United need to get back to being champions again, to do this you need to do one thing, and one thing only, you need to win. It doesn't matter how many goals you score; one goal is enough if you don't let one in your net.
It's getting more difficult as in the League, teams are getting stronger. Everybody wants to be the team that people say, "They play great football," but at my time at the club and how we used to do things, there aren't that many changes. You still pass the ball and you move, it's not difficult, and now United have talented players in the team and can improve on being runners up.
Mourinho is the best at this, you cannot question his ability with the silverware he's won. When I go back to the training ground, players tell me how the team is well built and I can't wait to see them as champions.
Tottenham need any silverware they can get
It's about time they should win something, I've said this before, they have everything they need; new training ground, soon the new stadium, a great boss, a great team, the only thing they're missing is something to show off for it, "We fought so hard and now we've achieved this."
They need that factor. Players want to have something at their career to show their achievements in the form of silverware, been there and done this. Spurs are playing great football, and the quality they have in the team- they have six or seven first team players starting in their national team. This is the year that they deserve it.
When they get that winning mentality with a cup or something similar, then they'll have more hunger for the bigger titles.
Expect Harry Kane to score just as many
Harry Kane should be aiming for 30 or more goals again. You don't want to relax after having a season like that, you should be aiming to improve, and I bet he's thinking the same thing.
His confidence will be booming with his achievements over the summer and coming off that he'll have the knowledge on how to break down the teams with solid defences. He should be aiming for the Golden Boot but even if he doesn't get there and scores 20 goals, that's still a lot.
Finally Fulham
Whatever Fulham do this season, I don't want to believe they are happy with just staying up. I want them to have targets to achieve more, now they're back in the League. They have a young squad, I know Slaviša Jokanović and he knows how to do the job. I can see them doing well and putting fight onto the pitch.
You can view all of Betfair's Premier League Markets here
Discover the latest articles
Read past articles