Dimitar Berbatov: Soaring Spurs can score derby spoils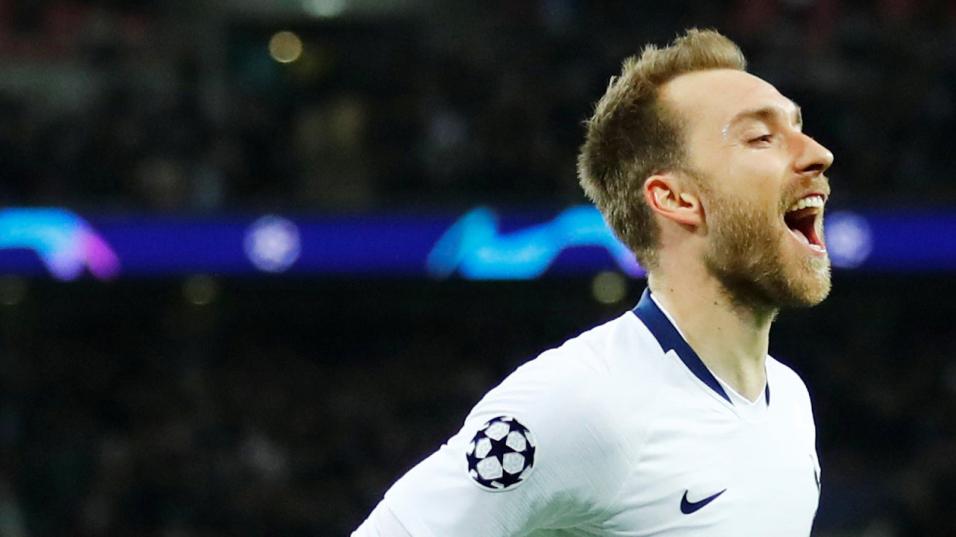 Christian Eriksen is coming into form and so are Spurs
Dimitar Berbatov reflects on a big week for two former clubs - Spurs and United - after contrasting Champions League wins, and looks ahead to their weekend fixtures
"I'm not dismissing Arsenal at all, but Spurs have a great team right now and they have anything to worry about ahead of the fixture."
Spurs show stunning character but toughest test lies ahead
Tottenham have shown incredible character to give themselves a chance of making the knockout stages of the Champions League but the hardest game in Group B is yet to come and while the task - matching or bettering Inter's result against PSV - isn't impossible, they have to do it against one of the best teams in club football.
Barca have nothing to play for, which is on Spurs' side, but it's still going to be so difficult for them. A great club like Barca will want to win every match and they aren't going to turn up and play at anything less than 100%.
Surprises do happen in football though and it's not as if Tottenham do not have a chance.
Obviously, Barca have many great players but the key man is Lionel Messi and Tottenham would be delighted to see him rested for the final game in Group B.
The problem is that Messi will definitely want to play. And if he plays then Spurs have problems. Big players always want to play, Messi is chasing records all over the place and he will be desperate to be out on the pitch rather than rested. If that happens Spurs have a problem. If he is rested then it gives Spurs a greater chance.
So don't write Tottenham off. They looked dead in the group after losing the opening two games, but while they still had a chance of qualifying they kept fighting and now they go into the final game with their destiny in their hands. It will be an unbelievable finish for them if they can go to Barcelona and get the result they need.
The good news is that, thanks to Wednesday night's win, they have the comfort of Europa League football if they don't make the last 16 of the Champions League.
While that's not quite a win-win at least they have a chance of winning that competition. I've said it before but Spurs need to lift some silverware this year.
Red-hot Spurs to seal derby win
But before that, the north London derby!
I'm not dismissing Arsenal at all, but Spurs have a great team right now and they don't have anything to worry about ahead of the fixture. They come into the game in very hot form, having inflicted the first defeat on Chelsea this season and then putting in a very professional performance to beat Inter Milan. All those results just build the confidence and Spurs are in a good position.
Of course, as all football fans know, form can go out of the window in derby games. There's another dimension at work when local teams clash and this is a big one. I have been part of this game, I've scored in it and I know how much it means to the fans. On the pitch it really does come down to who wants it more.
The first memory that comes to mind when I think of the fixture is the 5-1 defeat of Arsenal in the League Cup. I remember how happy everybody was in the dressing room afterwards, the fans loving it. Sometimes it's good to win like that, you show them - 'take that, we are better than you!'
This one looks like being a great game.
Arsenal are playing good football at the moment and I have to confess I like to watch the Gunners play, they produce attractive football and score good goals. They have great players, loads of speed, great technical ability - it's all there. Upfront, I like Aubameyang, he has great qualities, and is a genuine rival to Mo Salah and Harry Kane for the Golden Boot.
It's going to be a dangerous game for both defences. I hope to see goals and I'm sure both teams will score, but I think Spurs will edge it with a 2-1 win.
And if that happens I will love it, I'll be jumping around!
Sissoko rewards Poch's faith
I am very happy for Moussa Sissoko right now and he was once again a key player for Spurs, making the run that lead to Christian Eriksen's winner against Inter and was probably the man of the match against Chelsea before that.
I do wonder how he feels after being criticised so heavily for two years before this current golden spell, however. People are quick to criticise these days, it's so easy to do, but I guarantee you that as long as he was in the team he was giving everything he could.
I know it's frustrating for fans when players are not performing well, but players notice the criticism, believe me. When you make a mistake on the pitch - or worse still have a long period of poor form - and the fans are on your back it's the worst feeling.
So, credit has to go to Mauricio Pochettino who has kept with him for these last few years. He knew how good the player is and has finally got him to that level. That faith has been rewarded.
Sissoko isn't a Spurs great yet, but a genuine club legend retired from the game this week, and it's one I enjoyed playing some fantastic football with. Take a bow, Robbie Keane!
It was always a pleasure to play with Robbie. It was a great partnership and I knew that we were going to do something - and in most games that happened, scored goals, made defenders look stupid.
We complemented each other. We didn't really need to train with each other, we just understood how each other played. Good combinations like this are rare to come by and it was fun to play with Robbie.
He was so energetic. Robbie knew straightway that when I had the ball he should start running because he knew that I would find him. Some of the goals we scored were pure class. I still watch some of them.
I texted him to say congratulations and I wish him all the best with Republic of Ireland set-up. He will pass on plenty of valuable knowledge to the up-and-coming players over there.
Jose's explosions show the stress
Talking of criticism, Jose Mourinho has again been taking flak for his touchline behaviour during Manchester United's 1-0 defeat of Young Boys on Tuesday night.
For those who didn't see it, Mourinho drew attention for turning to the crowd after a Marcus Rashford miss and shaking his head and then destroying a tray of water bottles when Marouane Fellaini scored the late winner.
Gary Lineker is not impressed by Jose Mourinhohttps://t.co/vZEkCfskLf

? PA Dugout (@PAdugout) November 28, 2018
For me, those reactions are coming from the tension and stress around the team, and the criticism Mourinho is taking right now. Of course that is going to affect the manager. It can't be easy to get criticised from all sides and from time to time that pressure must show.
And from a player's point of view it's not good. You are going to see it either during or after the game, or someone's going to tell you about it or ask about it, and you are not going to feel good.
But maybe Marcus and Jose are talking about it now, and I'm sure he understands that he should have put that chance away. He'll know why Jose reacted like he did.
Every coach has their own philosophy for getting the best out of players and sometimes these can seem strange to the public. Mourinho is a winner, we know this, and maybe this is way of motivating.
People are always looking for controversy but I don't like to pay too much attention to stuff like this. For me, this is one for the team to deal with.
When Jose destroyed the water tray that was a massive release of the stress that has built up. I understand it because I was jumping in my home. The kids were asleep and the missus came in screaming 'Are you crazy?!' but I had to let it out. I can understand it, it shows the fire! And better he releases that stress on the water bottles then someone's face!
As for the game, it wasn't a great performance and it took another late show from Marouane Fellaini to save United. I used to play against Fellaini and he was a tricky opponent let me tell you. He is strong and tall but he has great balance, can control with his chest and is a great header of the ball. It was a good goal he scored against Young Boys and I have no criticisms of United playing long ball football late on - Liverpool were doing it against PSG last night - and it's good for the team that they have that option.
United lose Lindelof and they need a new defender
The January Transfer Window is approaching and I'd like to see Jose bring a ball-playing centre-half to Old Trafford.
United lost Victor Lindelof for some time after suffering an injury against Crystal Palace and that will be a loss as Jose had shown plenty of faith in him this season. The Swedish defender had played in every Premier League game but one so far this campaign.
For me, United need to sign someone with calmness on the ball, who can feed the midfield and carry the ball out. In modern football you need to play the ball out from the back and United have been missing that a bit.
Fulham will come back down to earth with a bump
I predicted a debut win for Claudio Ranieri as Fulham coach and they did it, but it's a tougher assignment this time round with Chelsea looking to get back to winning ways.
Ranieri may adopt a tactical, defensive approach to this one and as long as Fulham concentrate and don't make silly mistakes perhaps they will get something from the game, but being a realist they will probably get beaten.
Chelsea lost their last game and will be desperate to pick up three points here. The league table tells us they should do that.

Win £1m by picking six correct scores!
Get involved with our Football Jackpots this weekend for your chance to win £1m. Here are Dimitar's predictions to hopefully point you in the right direction...
Leicester 2-1 Watford
Newcastle 2-1 West Ham
Huddersfield 1-1 Brighton
Southampton 0-2 Man Utd
Arsenal 1-2 Spurs
Roma 2-2 Inter