Dimitar Berbatov: I hope Pochettino rejects Real and leads Spurs into the new era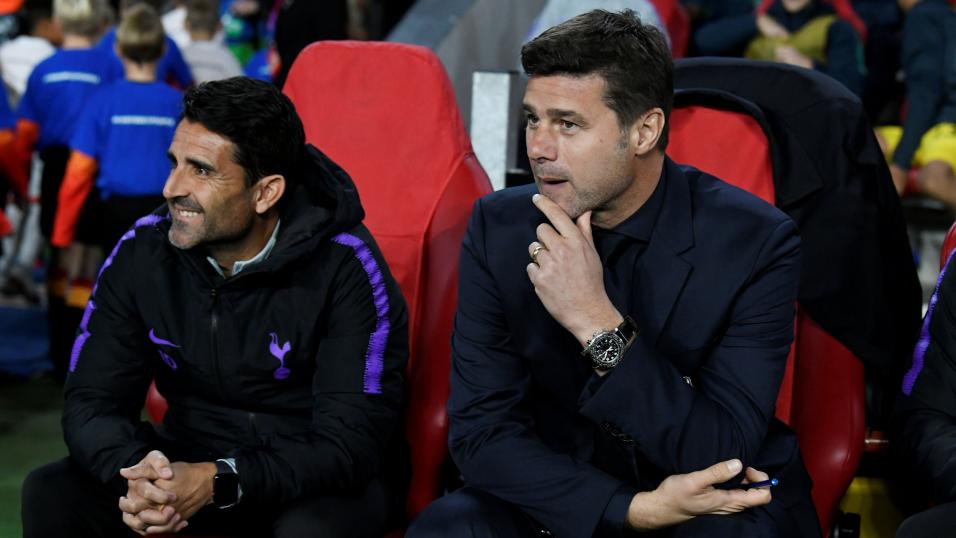 Are Mauricio Pochettino and assistant manager Jesus Perez going to be in the dugout at Tottenham's new ground?
There's plenty going on at two of Dimitar Berbatov's former teams and this week he weighs in on the Pochettino rumours and Anthony Martial's emergence at Old Trafford
"The question everyone wants to know is whether Pochettino will leave Spurs before they move to the new stadium. As we can see in football it's not only players that get tempted to leave one club for another. Managers and sporting directors do it too."
Only Poch knows if he is at Spurs for the long term
Mauricio Pochettino's 'worst feeling' quote before the City game was a bit cryptic to be honest and probably only him and the people closest to him know exactly what he's talking about.
There is plenty going on at Tottenham outside of what is happening on the pitch, but this is still Spurs' best start to a season for a long time so why be in a bad mood if not for something else? The stadium is a big issue as are the Real Madrid rumours but the important thing is what happens on the pitch and if the team is performing well this is a reason to smile.
In football sometimes things happen behind closed doors that people don't see or don't know about so until the moment when Pochettino says what the real problem is or even if there is a problem - or maybe he was just in a bad mood?! - we won't know.
But for now he needs to smile because the team is playing well even if they lost against Manchester City.
The question everyone wants to know is whether Pochettino will leave Spurs before they move to the new stadium. As we can see in football it's not only players that get tempted to leave one club for another. Managers and sporting directors do it too.
This is football and you just never know what might happen next. The only person that knows is him and maybe even Mauricio doesn't know!
But this is Real Madrid we are talking about, and Real Madrid is Real Madrid. I bet a lot of other coaches are eyeing the job and I really don't know who is going to get it. Santiago Solari has a few games to stake a claim but is not guaranteed the role permanently.
It's a bit selfish to say it but I hope Pochettino isn't the next man in charge at the Bernabeu. As a coach he has done an unbelievable job at Spurs, and I want the club to do well.
Pochettino is also working closely on the stadium project and it would be a great moment to see him lead the team out in their first game at the new ground.
But the manager's future is not up to anyone but Pochettino. Everybody follows their own path and we'll just have to see what happens.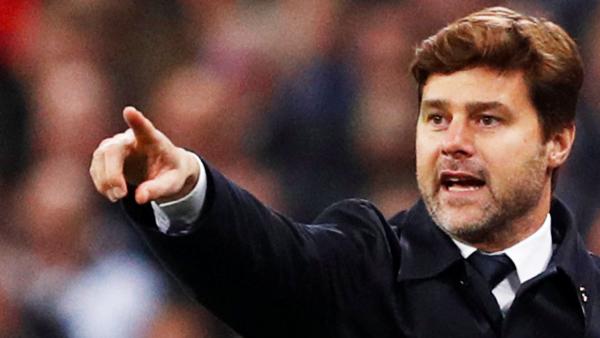 'Shit' Wembley pitch stops Spurs equalising
First up, we cannot talk about Monday night at Wembley without talking about the pitch. My reaction is probably going to be the same as everyone else - it was shit!
I have played on surfaces as bad as that back home in Bulgaria but also in England, too. It's not a good feeling but in the end it's the same for both sides and it's about which team is smarter, more technically gifted and maybe lucky.
That won't be much comfort for Erik Lamela of course! I'm sure that he was screaming and swearing after the game because the ball did jump a bit when he had that golden chance to equalise late on in the second half. On a normal pitch with normal grass that would have been a goal.
It is what it is though, Spurs have a deal with Wembley and that's where they will play their games for the next couple of months. And, as I say, City played on the same pitch, too.
Spurs straight back to winning ways
What will be pleasing for Tottenham players, staff and fans was that they went straight out and won again just two days later at West Ham with an almost entirely different team.
And now they have a quarter-final to come against Arsenal.
What a game that will be. Arsenal are playing some beautiful football at the moment, the football their fans want to see. At the beginning of the season there was some whining coming from the Gunners' faithful, but what are they going to say now?! Every manager needs a little time and Unai Emery has got the team performing pretty fast.
There are plenty of games to come before that for Spurs though, starting with Wolves this Saturday night.
Wolves had a good start to the season but the season is very long and we'll learn a little bit about them over the next few weeks.
The really good, smart teams know that the season is long and that even if they start slowly they can catch the fast starters once their hot form starts to cool. The best teams know how to spread their energy so they have power to go all the way through the campaign and catch the opposition.
Wolves have slowed a little in recent weeks but this will still be tough for Tottenham. I watched a few Wolves games this season because they have been surprisingly good this season. They have good players and will try to control the ball with Joao Moutinho seeing plenty of action.
I played with Moutinho at Monaco and he is doing well under Nuno Espirito Santo's style. Moutinho is very good on the ball, the passing is excellent, can shoot from distance, a free kick specialist - I remember him staying after training all the time, practicing his free kicks - and a European champion, too, so has plenty of confidence. Joao talked to me about playing in England and now he has his chance. I will definitely be watching.
It's going to be entertaining but on paper Spurs' greater strength should tell, and with a few players rested for the midweek game at West Ham they should be able to edge a low-scoring game although a point each wouldn't surprise me.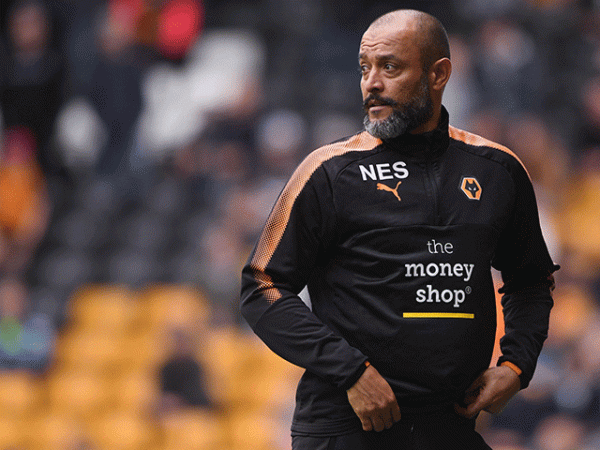 Martial repaying the faith
I was a bit shaky at the end of Manchester United's game against Everton last weekend but once the final whistle went apart from feeling relieved I was really happy for Anthony Martial. I've been saying for a while that he has so much potential and if given the chance he will shine.
Of course every player has good and bad games, that is normal, but as long the manager trusts in him he will produce. Martial is on a good scoring run right now but even if he doesn't score he can create chaos around the penalty box with his pace and power so I am happy he is getting the chance he deserves.
His goal against Everton was beautifully dispatched and not easy to perform. A striker must have real confidence to pull off a finish like this. Paul Pogba's pass was sublime, weighted just so Martial could hit it first time. There was just enough power on the ball for his teammate to hit it perfectly past Jordan Pickford and it was a great goal to watch. Trust me, Pickford is a great goalkeeper and he is not easily beaten - I have him in my Fifa team on the Playstation!
Pogba again got the headlines, not least for that never-ending run-up for the penalty but I am not worried about that. Every player has their own style and the important thing was that he scored the goal.
Some players attract criticism by default and Pogba is one of them. Some people just don't like the way he lives his life or plays his football and when you give a platform for people like that they are going to use it and start talking shit.
The truth is that Pogs is a great player and he was the key man against Everton, scoring and assisting. For me he just needs to know that when he goes forward that the players behind him have his back. I see him more as an attacking midfield player and us attacking players don't like to defend, it's normal!
But Pogba was everywhere against Everton, sprinting up and down the pitch and you are going to lose something playing like that, so he needs to know that Matic or Herrera have him covered.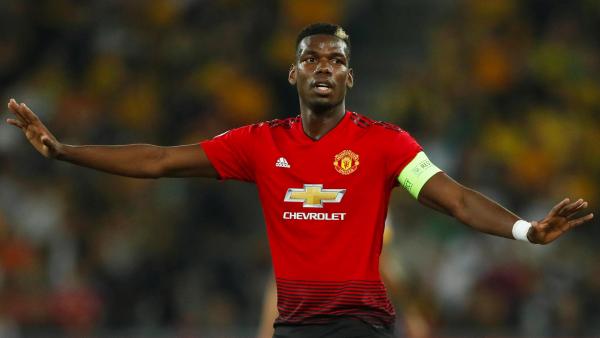 Manchester United should not underestimate Bournemouth on Saturday. In England we regularly see the smaller teams beat the bigger teams, and there are no easy games any more. United are the favourites due to their star players but we know that counts for nothing. However, as long as they come to the game ready to fight they should have enough to win the game.
It might be close in the end but the last time I looked you don't get any extra points for a big win. Three points is three points and that would be very welcome for United right now.