US Politics: Markets strongly signal Clinton beating Trump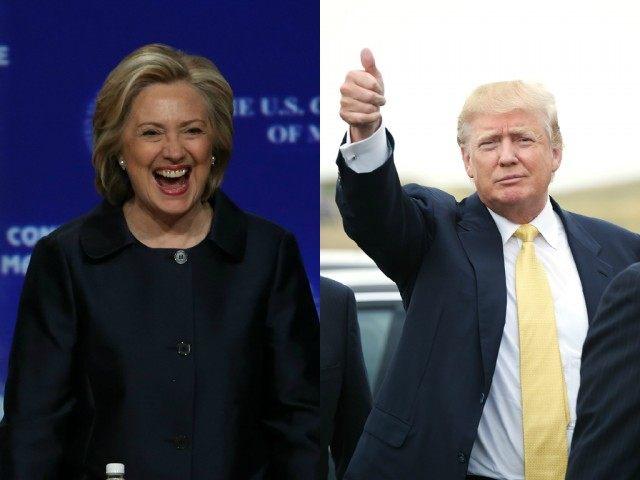 Head-to-head polls offer Clinton plenty to smile about
Though well on course for the GOP nomination, Betfair markets remain sceptical that President Trump will become reality. Paul Krishnamurty updates the election odds...

"At 1.434/9, equivalent to a 70% chance, Clinton is trading at her shortest odds yet for the main contest. In contrast, Trump remains static at 5.39/2 (18%) despite seemingly getting closer to the GOP nomination."
As one unique candidate continues to dominate headlines and divide opinion across the world, Betfair markets are delivering a clear verdict on how the Donald Trump saga will develop, and end. Trump is rated extremely likely to be the Republican Nominee but subsequently lose the General Election. Hillary Clinton is rated likelier than ever to be the Next President.
That said, it is also worth noting that Betfair punters are much more willing to take on the GOP favourite than bookmakers. Compared to a High Street best of 1.292/7 for the nomination, Trump is available to back here at 1.422/5.
At 1.434/9, equivalent to a 70% chance, Clinton is trading at her shortest odds yet for the main contest. In contrast, Trump remains stuck around at 5.39/2 (18%) despite seemingly getting closer to the GOP nomination.
These respective trends point towards odds of around 1.331/3 (75%) and 4.03/1 (25%) if and when the race becomes a Clinton v Trump head-to-head. That assessment is doubtless fuelled by opinion polls showing Clinton ahead by an average 6.3%, including 9 and 13% in the most recent pair, for this hypothetical match-up.
The Republican race is at a turning point ahead of two significant primaries on Tuesday. 58 delegates will be awarded to the Arizona Primary winner, while 40 are up for grabs in Utah. The betting strongly suggests that, at odds of 1.182/11 (85%), Trump will win Arizona, while Ted Cruz is an even stronger favourite to win Utah at (1.03).
In order for his bid to stay relevant, Cruz needs to close that gap or at least stop it widening, ahead of the final valuable round of primaries on June 7th. His problem is that, after Tuesday, most of April will be spent battling for less favourable North-Eastern states, before some good opportunities in May.
John Kasich will find it hard to justify staying in the race if, as expected, he loses badly in both states. The Ohio Governor believes he can compete with Trump during April, but he is so far behind that the danger is appearing futile, and being accused of blocking Cruz's path. Nevertheless, after months of being mostly ignored, Kasich is enjoying getting his message across and highlighting polls showing him by far the strongest opponent for Clinton.
Without an imminent resetting of the race, the next task will be predicting whether or not Trump can win the 1237 delegates required to avoid a Contested Convention. That market is beginning to liven up, with both Yes and No exchanging favouritism so far.
As speculation about that complex scenario mounts, money is coming in for candidates who aren't even in the race. For if nobody wins on the first ballot, (by holding more than 50% of the delegates), it is possible for alternatives to suddenly enter the second round. Plus in this scenario, delegates become unbound from their original choice, meaning literally anyone could be chosen.
That is precisely the route - albeit an unlikely one - that Kasich eyes towards the nomination, but there are other big names mooted. Most significantly Speaker Paul Ryan traded below 50.049/1 last week, with many regarding him as the only figure capable of uniting the party. 2012 candidate Mitt Romney and early favourite Jeb Bush have also been backed down to double figures.
The current delegate tally is Trump 678, Cruz 423, Kasich 143, with 1049 remaining. These numbers show precisely why Arizona matters so much. If Trump wins but loses Utah, he'll still just about be in range of 1237, given good imminent opportunities elsewhere. However if Cruz pulled off an upset and also won Utah as expected, he could close the gap to a manageable 157 - June's final round of primaries alone yield 303 delegates - that contested convention would be almost certain.

Follow me on Twitter @paulmotty and at my website Political Gambler

***

For the latest on the US Election and all of our other politics markets, check out the new, improved Betfair Predicts, which forecasts outcomes based on the very latest Exchange data...
Discover the latest articles