US Election 2016: If Republicans don't want a politician, there are more electable alternatives to Trump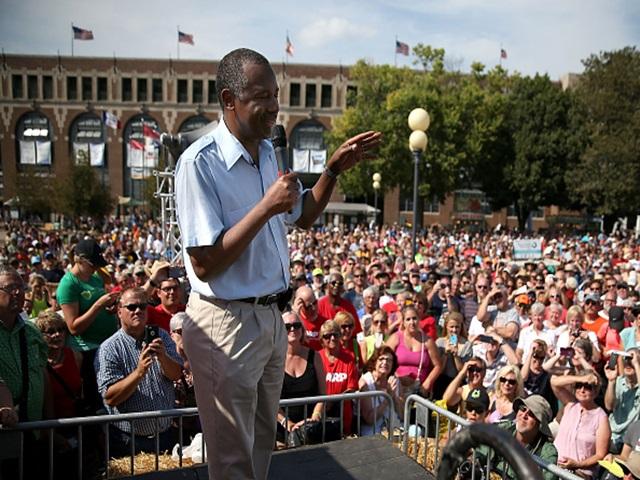 Ben Carson made a big impression at the Iowa State Fair
Donald Trump continues to lead the polls and set the agenda in the race for the Republican candidacy, but the latest polls for the opening primary reveal a shock outsider emerging from the pack. Paul Krishnamurty explains how a black neurosurgeon with zero political experience could steal The Donald's thunder...
"Carson went down well with focus groups during the opening debate, and his poll numbers are significant, given a relative lack of publicity and budget. His rags-to-riches backstory, deeply Conservative positions and articulate manner are inspiring the base."
As the longstanding favourite for the Republican Nomination gears up for a massive advertising spend in New Hampshire this week, Jeb Bush backers nervously await any kind of signal to vindicate their short-odds bet.
Bush isn't the only one in urgent need of a boost. Scott Walker, backed earlier down to [4.6], is friendless. The Wisconsin Governor's ratings for the nomination have fallen from that 22% peak to just 8% for the nomination.
Their problems differ, but stem from the same source - Donald Trump. In a 15-runner race where one probably unelectable man dominates media coverage and therefore sets the agenda, all the seasoned politicians are struggling to be heard.
Whereas Bush's measured approach seems from an era when politics was done differently, a panicked Walker has undone months of hard work with one forgettable debate performance and a series of ill-chosen comments, geared quite transparently to out-do The Donald. The latest was floating the idea of building a wall between the US and Canada.
It isn't working. With over three months until primary season begins, polls for the Iowa Caucus put Trump in the clear lead on an average 26%, followed by another outsider, neurosurgeon Dr Ben Carson, on 19%. Another poll showed Carson as the only candidate beating Trump in a head-to-head. The leading politician is Ted Cruz on just 7%.
Evidently, a party famous for choosing mainstream, establishment friendly, professional politicians is seriously flirting with an outsider candidate for the Presidency.
It is easy to explain this story in terms of the Trump effect, but this is a logical development in GOP thinking and to some extent, politics in the Western world. Over the past decade, voters in Western democracies have increasingly scorned well-spun party representatives in favour of mavericks. In the UK, the rise of Nigel Farage and Jeremy Corbyn springs to mind.
This has long been a factor within the Republican Party. In 2008, favourite after favourite fell by the wayside before John McCain came through, defying an enormous spending deficit with Mitt Romney. Despite a long career in Congress, the self-styled "Straight Talk Express" was able to position himself against the bloated and distrusted Washington.
After McCain lost to Obama, the grassroots went into open rebellion, with the Tea Party replacing a swathe of more moderate representatives. However, they lacked a plausible national leader among their ranks, meaning nobody launched an effective challenge to Romney in 2012.
This time, the stage was set for various would-be Tea Party champions, who had positioned themselves for this moment. With a brand that boasted 'winning, governing and defending a Democrat State without betraying Conservative principles', Walker was in pole position, with Cruz and Chris Christie also in play.
What none of them realised was that their world has changed and grassroots Republicans seem more interested in candidates that are actually detached from the political system, rather than politicians simply claiming to be different.
Trump is certainly different but hard-headed Republicans legitimately worry that he is too toxic, and that his candidacy would be handing victory to the Democrats.
That cannot be said of the other two non-politicians in the race. Carson went down well with focus groups during the opening debate, and his poll numbers are significant, given a relative lack of publicity and budget. His rags-to-riches backstory, deeply Conservative positions and articulate manner are inspiring the base and, with this shock poll breakthrough, Carson is suddenly big news.
History suggests the first two primaries are pivotal. Every candidate from either party this century won at least one of them, after which time the field naturally whittles down to two or three realistic options. If Carson gets to that stage, a bet at his current odds of 50/1 will represent enormous value. I suspect it will within weeks.
Another interesting candidate is the only woman in the race, Carly Fiorina. Having never held public office, the former Hewlett Packard CEO has similar anti-politician credentials and is attacting plenty of media interest. Unlike the first Fox debate when she was restricted to shining in the smaller debate for candidates ranked outside the top-ten, she will be on the main stage next time. Keep an eye out - her odds should shrink.
There are others in this race. The highly electable John Kasich is another on the move, challenging Bush for the moderate position on the spectrum and beating him in New Hampshire. Marco Rubio still looks a politician with potential, albeit running out of time to make a winning impact in those first two states.
My instinct is that this will boil down to no more than three runners after New Hampshire. If they were Trump, Bush and Carson, expect a slate of polls showing the neurosurgeon faring best against any Democrat opponent. His polite, softly spoken manner is the polar opposite to what Bush describes as Trump's attempt to 'become President by insulting everybody'.
There's a long way to go and Carson's total lack of political experience may prove his undoing. However don't underestimate a man who has risen to clear second place in a 15-runner race, while getting 1% of the publicity. Carson has a much better chance than his current 2% rating to become President. Back him now and seek to cash in later!

Recommended bet
Back Ben Carson to be Next President @ 50/1

Follow me on Twitter @paulmotty