The Palin Effect: Six ways her Trump endorsement impacts the election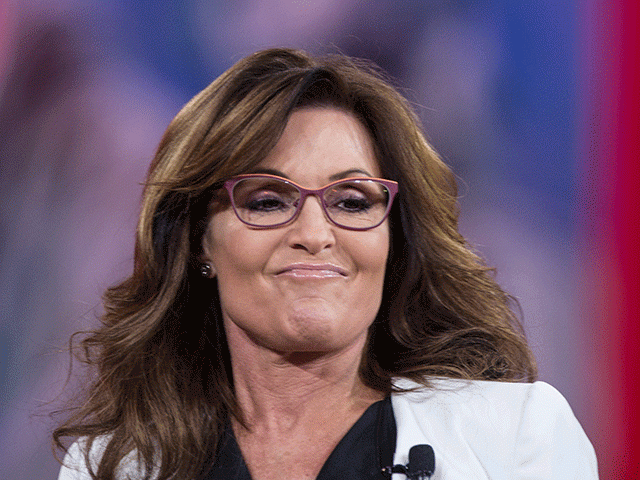 Palin's endorsement and speech is dominating US airwaves
One story is dominating today's US election coverage - Sarah Palin entering the fray with a showstopping endorsement of Donald Trump. Paul Krishnamurty weighs the impact of this potential gamechanger.
"This is deeply troubling for Trump's rivals. His front-runner status owed much to celebrity and an ability to thus far make the race all about him. Just as they hoped the race would get serious as the primaries near, Trump doubles up with a second reality TV star."
They are both certain to retain dominance of media coverage, entering a pivotal period
Rarely, if ever, has a political endorsement caused such waves. One could almost hear the cheers in newsrooms and media boardrooms when news of Palin's return to the political frontline emerged yesterday. Her speech at Trump's Iowa rally, littered with histrionics, memorable soundbites and swipes at her enemies and usual targets, didn't disappoint.
It matters not that she constantly slates that reviled enemy of the US Right - the mainstream media. They love her just like they love The Donald - because they never cease to be entertaining, newsworthy or put bums on seats. Saturday Night Live, already thriving on the back of the GOP race, will be in its element.
This is deeply troubling for Trump's rivals. His front-runner status owed much to celebrity and an ability to thus far make the race all about him. Rivals have been squeezed out, struggling to be heard. Just as they hoped the race would get serious as the primaries near, Trump doubles up with a second reality TV star.
This threatens to turn the Republican Iowa Caucus on its head
Market reaction was immediate, with Trump shortening from 2.8815/8 to 2.568/5 for the Republican Nomination, equating to a 39% chance. More significantly, the opening Iowa Caucus now looks very different. Front-runner Ted Cruz was matched at 1.574/7 yesterday morning - now he's around 1.84/5 or 56%. Less than a fortnight ago, Cruz was rated 80% likely to win at 1.251/4.
In what is seen as a two-horse race, Palin's endorsement could be a gamechanger. She is adored among Iowa's evangelical community, which looked set to support Cruz following a series of key local endorsements. A long-term ally of Palin, Cruz could do no more than take it on the chin.
I love @SarahPalinUSA Without her support, I wouldn't be in the Senate. Regardless of what she does in 2016, I will always be a big fan.

? Ted Cruz (@tedcruz) January 19, 2016
Palin could shore up a potentially flaky segment of Trump voters
The battle for the 'anti-establishment' vote with Cruz looked like the key to the race, so this is a very significant development. As tensions between the two men have escalated, Cruz was building a narrative that Trump was a 'fake Conservative', based on a record of backing liberal politicians and positions.
That is still the case and Cruz can still count on a swathe of endorsements from religious leaders and Conservative talk show hosts. Glenn Beck, another hero of the insurgent Right, is onside. So too Iowa's most prominent evangelical, Bob Vander Plaats.
However this remains a big blow to the Cruz strategy. His plan was to win Iowa and carry momentum forward through several early voting Southern states, where he and Trump were in the ascendancy. With Palin on the ticket, energizing the base and getting them out to caucuses, Trump now looks a much more formidable opponent in these states.
Indeed, my long range plan having backed Cruz at 25.024/1 and upwards for the nomination was to sit tight until after Super Tuesday. But after Palin's intervention, I've banked some profit and removed all risk by laying Cruz at 6.05/1.
This could work to the advantage of the main establishment candidate, should one ever emerge
This race is about more than just Trump and Cruz. The GOP mainstream, party elites and representatives, generally loathe both of them. However so far, their section of the GOP vote - probably around 40% - has been split four or five ways.
Nevertheless, it won't be that way forever. Eventually one would expect a principal establishment candidate to emerge - Marco Rubio is the shortest in the betting but John Kasich is making the best headway in New Hampshire. With Cruz highly unlikely to quit the race, soon it could be the insurgent wing that ruins its chance by splitting their vote in what effectively becomes a three-horse-race.
Equally, Palin could make the Trump campaign look even less serious
The likes of Kasich have repeatedly dismissed Trump as a joke. An entertainer, without serious policies. Jeb Bush calls him the chaos candidate. With Palin - widely ridiculed for her lack of knowledge when John McCain's running mate in 2008 - alongside him, Trump is unlikely to shed that amateurish image.
Whereas the media coverage helps in one respect for now, it could be ruinous in the longer term. Both could get in trouble doing heavyweight interviews, as Palin did in 2008 when quizzed about foreign policy. Who could forget Tina Fey's hilarious send-ups on SNL? Expect plenty more of that and headlines like today's New York Daily News.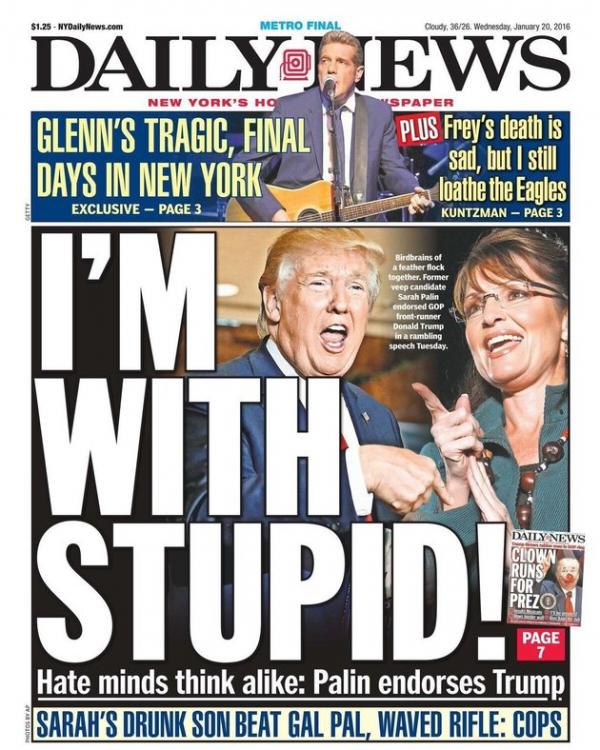 Ultimately, this makes a Democrat victory in November even likelier
Palin's followers on the Right are jubilant this morning, but so too are her opponents on the Left. Ask any Democrat strategist who they'd prefer their candidate to face in November and they will say Trump. He trails miserably to both Hillary Clinton and Bernie Sanders in head-to-heads.
50% say they'd be embarrassed were he to become President. Among independent voters, Trump's favorability ratings are a shocking -27 - compared to -3 for Cruz or +4 for Rubio. No wonder, perhaps, that the Democrats remain 1.664/6 favourites to win the presidency.
Those numbers may get even worse given Palin's association. After all, Trump was taking plenty of Democrats with him. She is as divisive a figure as him. Her favorability ratings fell dramatically over time. When measured in 2014, they were -24 across the country and only 27 among Republicans, compared to +83 at their peak. Whether this inconvenient truth stops the Republican Party from committing electoral suicide, though, remains to be seen.

Follow me on Twitter @paulmotty and at www.politicalgambler.com

***

For the latest on the US Election and all of our other politics markets, check out the new, improved Betfair Predicts, which forecasts outcomes based on the very latest Exchange data...
Discover the latest articles