US Election: Donald Trump's campaign in crisis ahead of second debate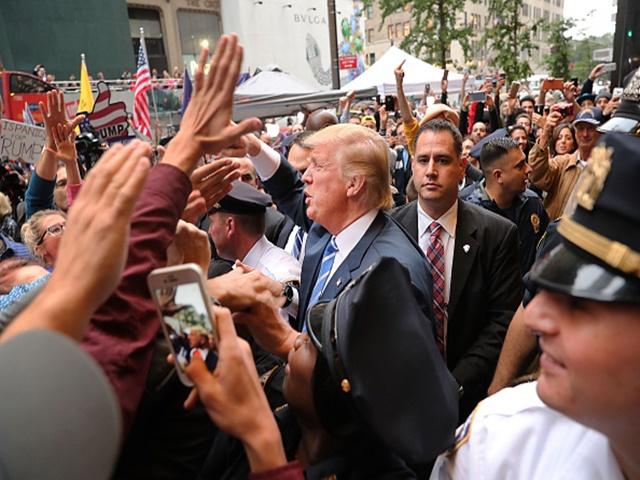 As his party distances itself, the GOP nominee was mobbed by supporters outside Trump Tower
As controversy swirls around Donald Trump, 80M plus viewers are expected to tune in to tonight's debate with arch-rival Hillary Clinton. Paul Krishnamurty looks forward to this unmissable event...
"After a year of Trump defying the odds and commentariat, we should be wary of writing him off...However right now, it feels like his campaign is on the verge of total implosion, along with what remains of his reputation."
Losing the opening TV debate need not necessarily spell disaster for a presidential campaign. Four years ago, Barack Obama was widely assumed to have lost to Mitt Romney. The polls moved briefly towards Romney but the president bounced back in the final two en route to a landslide.
A good omen, then, for Donald Trump supporters who had to suffer watching their man lose badly at Hofstra University two weeks ago, and the polls predictably respond in Clinton's favour. That debate humilation, however, seems like a lifetime ago and the least of Trump's worries.
Frankly, this election has become breathlessly exciting. Taking your eye off it for 24 hours, even just sleeping, invariably means missing some potential game-changing bombshell. There has surely never been a better time to own shares in US cable news.
As anyone paying attention will know, this weekend's headlines are dominated by the issue trending on Twitter as #TrumpTapes - a 2005 recording of Trump bragging explictly to Billy Bush of NBC's "Access Hollywood" about his sexual exploits, pursuing a married woman and how fame enables him to kiss and grope random women.
***Watch the #Trumptapes that threaten to derail his presidential bid***

Last week's revelation that he may not have paid federal income tax for 18 years is now old news. The 3am tweet storm about former Miss Universe Alicia Machado is ancient history. Let alone literally dozens of other shocking stories that seemed set to, yet failed to derail Trump's campaign over the past year.
By the time you read this, something else will have probably emerged. Given that this tape has been around the NBC archives for a decade, it seems that the media have stored their juiciest revelations for maximum effect. There could be an avalanche in the days ahead.
What we do know for sure is that the Republican Party is in deep crisis over the matter. Yesterday, one senior Republican after another either condemned him or directly called for Trump to withdraw from the ticket. The most common call involved standing aside in favour of running mate Mike Pence.
Nevertheless, Trump remains characteristically defiant, claiming he would never quit and boasting of tremendous support. He and his supporters are adamant that this is all part of an establishment plot to ruin him - and are sure to pursue that line of defence both inside and outside the debate hall.
The media and establishment want me out of the race so badly - I WILL NEVER DROP OUT OF THE RACE, WILL NEVER LET MY SUPPORTERS DOWN! #MAGA

? Donald J. Trump (@realDonaldTrump) October 8, 2016

Traders on Betfair's exchange are not convinced, with the Republican nominee drifting badly yesterday. Going into tonight's unmissable event, he's out to 5.69/2, equivalent to an 18% for the nomination. Hillary Clinton almost back to her peak rating at odds of 1.282/7 (78%).
Interestingly, money is coming for Republican alternatives. Pence has been matched down to 40.039/1 while Speaker Paul Ryan hit as low as 100.099/1 yesterday.
Whether the mechanism is there for the party to actually remove him remains to be seen. At the time of writing, they are exploring options. If a way can be found, another likely mover is the highly electable Ohio Governor John Kasich - one of a rare group that consistently refused to endorse Trump.
So what to expect tonight at Washington University, St Louis? His surrogates - at least those still prepared to appear on TV - are calling for contrition, claiming that the American public will forgive Trump, just like they forgave Bill Clinton his affair with Monica Lewinsky.
However if his last recorded statement is a guide, that seems optimistic. Even that apology took hours to release - one suspects because it took that long for Trump's team to convince him to accept some wrongdoing. It came across as insincere, called the scandal a diversion and reiterated his claims that his behaviour was nothing compared to the Clintons.
Ever since the first debate, Trump has threatened to raise the former president's affairs next time and even implied Hillary too has been unfaithful. If he does so tonight, it will be an enormous risk.
The second debate is a Town Hall event, with questions pitched directly from undecided voters. They expect empathy and answers. They are unlikely to appreciate it turning into a slanging match about the candidates' personal affairs.
Indeed, not only may broaching the subject alienate voters further from Trump but they may generate rare sympathy for Clinton - the victim of Bill's indiscretions, who has endured two decades of the most intense personal scrutiny.
If Trump wants to damage her reputation, he would be better off sticking to her e-mails and further revelations from Wikileaks regarding her Wall Street speeches. Again though, this is not without risk. The US government has officially accused Russia of hacking these documents and Trump hardly needs to switch attention to his campaign's links to Vladimir Putin. Nor would such an argument really be in the spirit of a Town Hall event.
Clinton will be meticulously prepared as last time, is experienced in this format and good at providing detailed answers on policy. As we saw last week, Trump doesn't do detail, prepare or react well to criticism. It doesn't bode well and the media will be scrupulously fact-checking.
Granted, after a year of Trump defying the odds and commentariat, we should be wary of writing him off. His supporters adore him, forgiving every indiscretion, and relish him fighting the GOP establishment and media. To that vocal, substantial minority, Trump is the only man capable of changing Washington and taking America back on their behalf from a corrupt elite.
However right now, it feels like his campaign is on the verge of total implosion, along with what remains of his reputation. The polls and market trends were moving strongly against Trump even before the emergence of these tapes. He needs to pull off something quite extraordinary tonight.

***

***

Follow Paul on Twitter and check out his website, Political Gambler.