US Politics: Markets move against Trump as Mueller files first Russia charges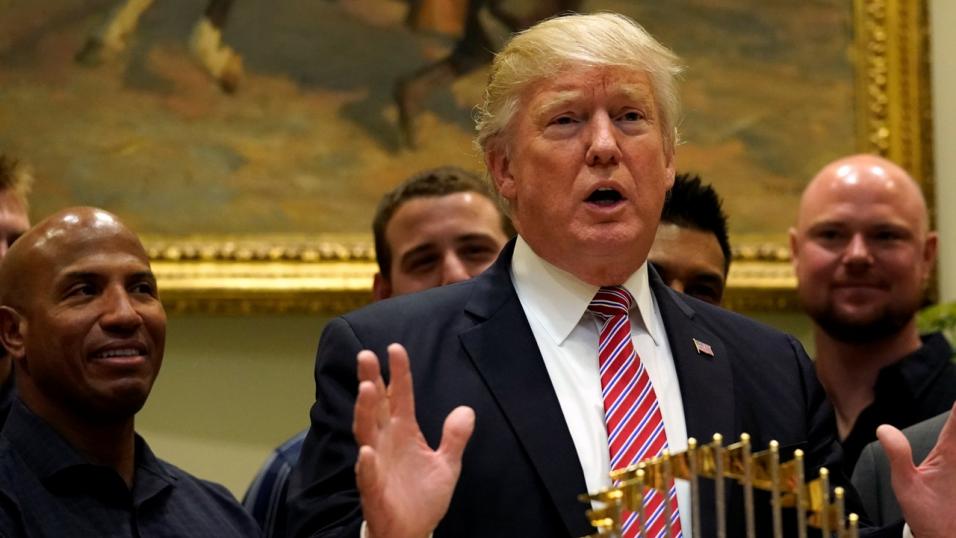 Bettors increasingly doubt Donald Trump can survive
Betfair traders are backing Donald Trump for an early exit following the first charges in the Russia investigation. Paul Krishnamurty updates the latest developments in this extraordinary scandal...
"Whatever the White House and their followers' current spin, this investigation has not turned out to be the 'nothingburger' they promised. Mueller has brought charges quicker than many expected, and gone in big. His investigation has the power to go anywhere and the details emerging from these charges will likely lead to further arrests."
From the moment he entered politics, Donald Trump has repeatedly defied the verdict of Betfair markets. After what will be known forever as Mueller Monday, he will need to defy them again merely in order to see out his full term. The US President is now rated likelier than not - odds of 1.910/11 are equivalent to a 53% likelihood - to leave the post early.
While such odds, or even merely the existence of such betting options at this stage of a presidency, are unprecedented, it should also be noted that the market didn't crash yesterday.
The weekend news that Special Counsel Robert Mueller would file the first charges emerging from his extraordinary Russia investigation had already nudged that price above the 50% mark, where it has been hovering ever since Trump was elected.
Charges filed against former chair, deputy chair and advisor to Trump campaigns
Paul Manafort and Rick Gates, former chair and deputy-chair of the Trump campaign, are charged on 12 counts, including money laundering, tax evasion, acting as an unregistered foreign agent and conspiring against the USA. A third Trump advisor George Papadopoulos has also been charged, having admitted lying to the FBI about his connections and attempts to co-ordinate meetings between Russian officials and Trump.
Like all matters during the Trump Impeachment Saga, the significance of these developments rather depends on media preferences. Almost every mainstream media outlet reported it as a turning point - the beginning of a process that will engulf, weaken and perhaps destroy the Trump presidency.
On the other side, led by his own tweets, Trump's surrogates and online army persist with their alternative version of events. They claim the charges apply to an era long before Manafort and Gates represented Trump. That the charges offer no evidence of collusion with his campaign and that, in fact, the Russia investigation will end up rebounding on Hillary Clinton and the Democrats.
Sorry, but this is years ago, before Paul Manafort was part of the Trump campaign. But why aren't Crooked Hillary & the Dems the focus?????

? Donald J. Trump (@realDonaldTrump) October 30, 2017

Note the number of likes and retweets garnered by that tweet. If you think Russia will be a gamechanger with his fantastically loyal base, think again. It feels as if the market mirrors the divided politics and disconnected conversation, where every pound backing an early exit is matched by another, happy to lay these odds.
Opening charges suggest Mueller is not holding back
So what next? Having written about the Russia connections and Manafort for more than a year, these substantial opening charges feel like vindication. Whatever the White House and their followers' current spin, this investigation has not turned out to be the 'nothingburger' they promised. Mueller has brought charges quicker than many expected, and gone in big. His investigation has the power to go anywhere and the details emerging from these charges will likely lead to further arrests.
As explained in July, the key to the investigation involves the weaponising of hacked information to damage Hillary Clinton. Facebook and Twitter have both acknowledged the longstanding campaign by the Russian government to influence US politics via social media ads, with the latter banning RT and Sputnik only last week. The question now is to what extent US actors colluded with them - for example by targeting key voter groups with that hacked and sometimes completely fake information.
Expect greater focus and scrutiny of controversial data firm Cambridge Analytica and Wikileaks. They stand accused of weaponising information across Western elections - including the EU referendum - in favour of destabilising forces, usually involving the Alt-Right. If co-ordination between Russia, these groups and the campaign can be proven, the investigation will reach the Trump family. Son-in-law Jared Kushner led the data operation and took credit for it.
Note that, while Manafort's arrest was yesterday's big headline, Papadopoulos may be more significant, proving the campaign was willing and seeking to collude with Russia and there is an e-mail trail that seems to confirm it. Now this key witness has turned, more information about the infamous meeting with Russian lawyer Natalia Veselnitskaya may become available.
Mueller sacking a possibility but repercussions would be huge
If all that sounds grim for Trump, he does theoretically retain the option of killing the investigation by sacking Mueller. That idea is constantly mooted by supporters and the Wall Street Journal recently attacked the prosecutor in a controversial editorial. Whether Trump could get Mueller's sacking past Congress, however, is doubtful. Several Republicans have already warned they would resist and it would likely escalate his problems.
Back in March, I recommended backing Trump to leave office in 2018 at 6.05/1. While those odds about 2018 have since shrunk to 3.39/4 (30%), I have no plans to lay back just yet. Given the speed of the investigation and constant new revelations, Trump's position could become unsustainable next year.
Mid-terms panic among Republicans another big threat
Remember even without this scandal, Trump's term is not going well. His legislative agenda is stalled and approval rating just hit another new low, before these arrests. Ahead of next autumn's mid-terms, Republicans must be worried by polls showing the Democrats 15% ahead on the generic ballot. They face twin pressures from the mainstream media and median voter to act, and the Trump movement to stand up to this 'deep state conspiracy'.
My instinct is that, as next year develops, more and more Republicans will follow Jeff Flake and Bob Corker in either standing down, or overtly attacking Trump's character and suitability for office. Ultimately the pressure will prove unsustainable.
However, while I doubt his ability to survive, I must reiterate earlier betting advice. Opposing Trump to win in 2020 is a far better value option than any of these short-term exit markets. It is possible that this divisive chaos could ensue for the full four years but surely by the next election, voters will have had enough.

Recommended Bet
Lay (oppose) Donald Trump to win the 2020 Election @ 3.65

Follow Paul on Twitter and check out his website, Political Gambler.
Discover the latest articles