US Election State of Play: Hillary Clinton remains strong favourite
Hillary Clinton remains a very strong favourite to beat Donald Trump
As the total matched on Betfair's Next President market tops £100M, Paul Krishnamurty updates the state of play in terms of polls, markets, early voting and the decisive electoral college...

"For all the polling momentum, Trump's route to 270 remains an extremely tall order. Not only must he win the big three swing states - Florida, North Carolina and Ohio - but he'll need to win at least two more from Obama's 2012 haul."
Three days out from the conclusion of the most incredible election cycle and biggest political betting event in history, the verdict of Betfair punters remains the same as it has ever since the market opened - Hillary Clinton will be the Next US President.

After drifting significantly from 1.21/5 to 1.444/9 earlier this week, the money is pouring back in for her. She's now a 1.292/7 chance, which equates to a 78% likelihood. Donald Trump is trading at 4.47/2 (22%).
Polls: Trump has momentum but Clinton retains a clear lead

Trump enjoyed plenty of momentum last week, with both national and key state polls narrowing. According to the RealClearPolitics average, Clinton's lead is down to just 1.7% - roughly a third of the position just a fortnight ago.

Nevertheless, whilst the average is close, her lead is consistent. Since the beginning of October, only the USC/LATimes has recorded Trump in front. That particular survey has consistently looked like a pro-Trump outlier and, without it, Clinton's average lead would be higher.

However on the flip side her average is raised by polls including larger numbers of undecided/third party voters, in which her lead tends to be bigger. The wider trend suggests this group are likelier to break for Trump and this probably explains the recent tightening. Sceptical Republicans are 'coming home'.

Similarly, Trump has momentum in the key states. In pivotal Florida, Clinton's average lead is down to 1%. In Ohio, he leads by either 2.7% in a 2-way race or 3.3% in a 4-way. He's also grabbed a narrow 1% lead in North Carolina.

Most significantly, Trump is closing fast in his toughest target states. In New Hampshire, he's taken a narrow lead while her lead in Pennsylvania is down to 2.5%. Critically, though, he still hasn't led a poll in the latter since June.
Electoral College: Trump's route to 270 remains hard to map out

For all the polling momentum, Trump's route to 270 remains an extremely tall order. Not only must he win the big three swing states - Florida, North Carolina and Ohio - but he'll need to win at least two more from Obama's 2012 haul. With Nevada looking increasingly out of range, that will probably entail winning either Pennsylvania, Michigan or Wisconsin.

Clinton's best firewall is now PA, MI, CO, VA, WI and NV. Win all six and she almost certainly won't need FL, NC or OH. Her lowest likelihood rating in any of those six is 78%.

When 270towin.com last published their full table of expert projections on October 31st, every model had her beyond the winning 270 mark, even before toss-up states came into play.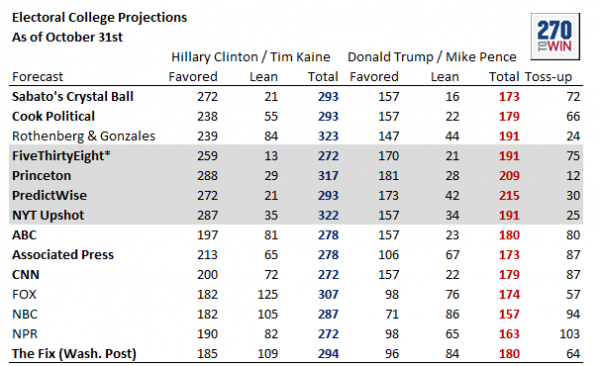 Early voting: Clinton is building a significant advantage

33M, roughly a quarter of the likely electorate, had cast their vote by Friday and many more will do so this weekend. Analysts have been poring over the numbers on a daily basis and the results seem to firmly point towards Clinton.

As noted last week, Nevada is swinging decisively for her, propelled by a much increased Latino turnout. The same phenomenon may be tipping deadlocked Florida towards her too and if so, Trump's route to 270 is effectively closed. It may also blindside the polls in other Latino-rich, red states such as Arizona, Georgia or even Texas.

It is these trends - involving actual votes rather than hard to measure polls that are moving the market back in her favour.
State betting: Trump needs to defy numerous market indicators

If we were to award each state to the current betting favourite, Clinton would be on 307. In the market for her electoral college votes, 300-329 is now clear favourite at 3.02/1 (33%).

Much of course could change in the closest states before polling day, but it seems at least as likely that Clinton will advance from 307 rather than regress. North Carolina, for example, has sneaked into the Trump column but remains a virtual 50/50 contest. She is also less than 3.55/2 in Ohio, Iowa and Arizona.

In contrast, Trump's targets tend to be bigger odds. He's competitive at 2.47/5 in Florida and 2.89/5 in New Hampshire. Switch those two into the red column and her tally is down to 274 - vulnerable to just one more market-defying victory. The problem is that his lowest odds for any other target is 4.3100/30, in Pennsylvania.

***

***

Follow Paul on Twitter and check out his website, Political Gambler.
Discover the latest articles
Read past articles