US Politics: Trump accuses China of meddling in midterms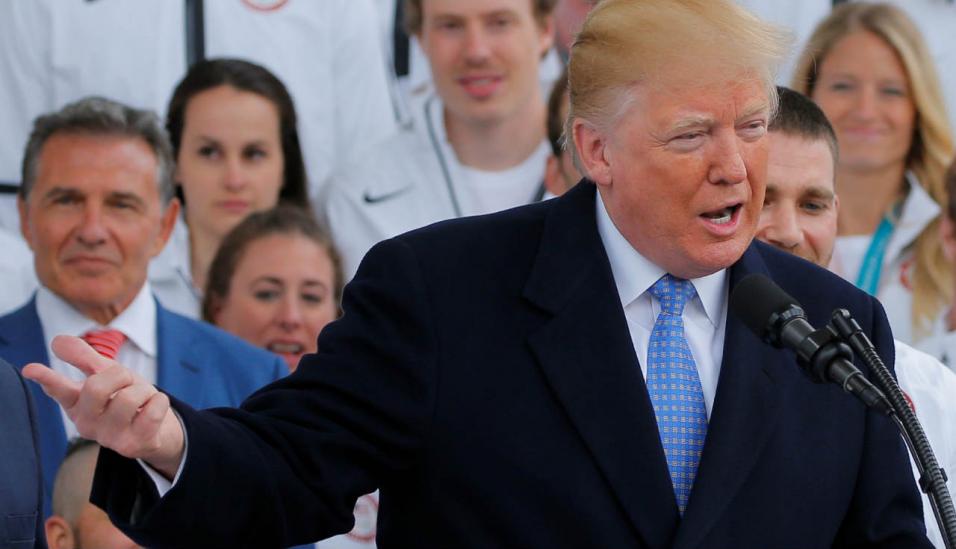 China is the target of Trump's latest outburst, alleging that Beijing is meddling in US elections.
President Trump has alleged that China is trying to meddle in the upcoming election, which could jeopardise the Republican dominance. The Tradefair team brings you the latest from US politics...
"They don't want me or us to win because I am the first President to ever challenge China on trade."

- Donald Trump, US President.
There's no denying that China and the US have had a turbulent year. The pair have spent most of 2018 swapping threats for trade tariff increases but now President Trump has gone one step further to sour his relationship with Beijing.
Speaking at a UN Security Council meeting in New York, he accused China of meddling in the upcoming midterm elections, which will take place at the start of November.
The US President said: "Regrettably, we found that China has been attempting to interfere in our upcoming 2018 election, coming up in November, against my administration. And we are winning on trade, we are winning at every level.
"They don't want me or us to win because I am the first President to ever challenge China on trade."
Trump provided no evidence for his claims and Beijing's representative at the meeting - Foreign Minister Wang Yi - strongly denied the allegations.
Can Trump stop picking fights?
The accusation from the US President was undoubtedly a surprise for many, as the meeting was scheduled to discuss countering nuclear, chemical and biological weapons. This is something that Trump has been passionate about, especially in the case of North Korea, but it appears as though his concerns about China were something he had to get off his chest.
Wang Yi called it an "unwarranted accusation" and stated that China refused to influence any other country's domestic affairs.
He said: "China has all along followed the principle of non-interference in other countries' domestic affairs. This is a tradition of Chinese foreign policy."
"We did not and will not interfere in any countries' domestic affairs. We refuse to accept any unwarranted accusations against China," Wang Yi added.
Taking to Twitter, it appears the US President was not going to let his accusations go.
China is actually placing propaganda ads in the Des Moines Register and other papers, made to look like news. That's because we are beating them on Trade, opening markets, and the farmers will make a fortune when this is over! pic.twitter.com/ppdvTX7oz1

? Donald J. Trump (@realDonaldTrump) September 26, 2018
Will Republican dominance continue?
The US congressional midterms, which are due to be held on November 6, could be a major test for Trump and his Republican party.
Figures suggest that Trump is likely to maintain control of the Senate but will probably lose the House of Representatives. This could dramatically change the political landscape in the US, giving the President's opponents far more sway.
There are 435 seats in the House up for grabs in the upcoming midterms. At the moment, Republicans hold 238 and the Democrats have 192. In the 100-seat Senate, just a third of seats will be eligible for re-election, meaning there are 35 to fight over. To stifle Trump's control, the Democrats would need to maintain the 26 seats it already has and take two from the Republicans.
Although midterms usually have a lower voter turnout than general elections, there's expected to be an influx of Democrat supporters heading to the polls to try and revert Trump's dominance in the House and Senate.
Political turmoil ahead?
However, there are concerns that it could lead to even more political turmoil. If the House is run by the Democrats and the Senate stays with the Republicans, there could be chaos. Some investors are worried that losing his dominance in the House would only cause Trump to dig his heels in and become more aggressive.
With trade talks with Canada, Mexico and China already up in the air, a more hostile US President could have negative effects on the global markets. But it's possible things could go the other way. A Democratic House could mean the impeachment of Trump is more likely and this could upset investors even more.
Nobody can predict with complete accuracy what could happen in November but one thing is for certain; the stock market has proven to be more resilient than anyone expected. Tax cuts and record employment has led to a bullish stock market that looks prepared to overcome any challenges the midterms throw its way.

What is Tradefair?
Tradefair is Betfair's new spread betting service, offering trading on thousands of financial markets such as Gold, EUR/USD, FTSE 100 and Twitter. Whether you think prices are going up or down, Tradefair lets you take a view.

Check out our latest Special Offers

Please note: Our services include products that are traded on margin and carry a risk that you can lose more than your initial deposit. The products may not be suitable for everyone - ensure you fully understand the risks involved.