US Election: Why the VP picks could matter more than usual this time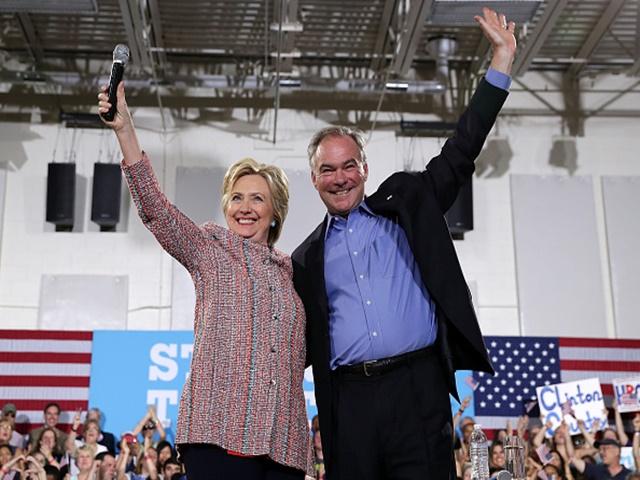 Clinton and Kaine are rated 70% likely to be the next Presidential team
Now both Donald Trump and Hillary Clinton have named their running mates, Paul Krishnamurty explains how Mike Pence and Tim Kaine could play a more important role than previous Vice Presidential candidates...
"Both Pence and Kaine have one particularly pressing challenge - to help detoxify historically unpopular candidates."
The first stage of the US Presidential Election betting cycle is finally complete. With Donald Trump and Mike Pence confirmed as the Republican ticket last week in Cleveland, Hillary Clinton named Virginia Senator Tim Kaine as her running mate last night, ahead of the Democratic Convention in Philadelphia.
While these veepstakes are always a hot source of speculation and make for great betting markets - Pence was matched beyond 100.099/1, while Kaine's peak was a much more predictable 7.413/2 - it isn't clear from recent elections that they make much meaningful difference to the main race for the presidency.
Joe Biden certainly helped Barack Obama, bringing foreign policy expertise to the ticket and negating his inexperience, but there was never any suggestion that he swung the result.
Paul Ryan and Sarah Palin helped unite sceptical conservatives behind Mitt Romney and John McCain but could not avert defeats driven by wider reasons. The former couldn't even deliver his home state of Wisconsin.
However we've seen already that history is less relevant than usual throughout this unique cycle and, arguably, this year's running mates may carry a greater burden of responsibility. Both Pence and Kaine have one particularly pressing challenge - to help detoxify historically unpopular candidates.
Trump's unfavourability numbers are famous but Clinton is fast catching up. In the latest CNN survey, Trump was viewed unfavourably by 59%, Clinton by 55%. They are the two least popular presidential candidates in living memory.
It is no surprise, therefore, to see neither pulling away in polls or getting close to the 50.01% that would assure victory. The current RCP average shows Clinton 2.7% ahead, but on only 44%. It is dangerous to read too much into those headline numbers while 15% remain undeclared for either. Extra candidates may take some but one would expect the majority to swing either red or blue. The battle for them will prove decisive.
Trump's numbers are surely being held back by his failure to unite Republicans, as we saw at the convention. Ted Cruz's speech, where he was constantly booed and heckled for refusing to endorse Trump, summed up the mood amongst a substantial section of Republicans. In that CNN survey, 48% of Republican voters or leaners would have preferred a different candidate.
This is where Pence could prove to be a smart pick, even if he wasn't Trump's first choice by any means. The Indiana Governor is an evangelical Christian, popular among social conservatives and other NeverTrump types. He endorsed Cruz for his state's primary and should be capable of bringing most of his supporters on board.
If Pence can somehow manage to stay on message with Trump, he adds an important degree of seriousness to the ticket. Governing experience could compliment Trump's celebrity appeal. On the downside, though, Indiana is already Republican so he doesn't bring a swing state.
Virginia most certainly is a swing state and among other attributes, that must have been a key Kaine selling point. Another is the fact that he speaks fluent Spanish. An essential component of Clinton victory is maintaining Obama's dominance among Hispanic voters, perhaps extending them given Trump's toxicity.
Kaine is the definition of a safe pick. He was vetted by Obama eight years ago and is very much seen as a Washington insider. A safe pair of hands who could be trusted if forced to take over as commander-in chief were tragedy to strike.
In selecting him, Clinton is making a clear pitch for the middle ground. Kaine is pretty rare in contemporary US politics in so far as he is a bridge-builder, with friends among the opposition. He can win moderate swing voters and perhaps some of that army of Republicans whose worldview will never be compatible with Trump.
Alternatively, though, there is an argument against Kaine. With voters angrier than ever and outsiders like Trump in vogue, is Clinton really best served by re-inforcing her image with an establishment colleague? She needs to get Bernie Sanders' supporters on side but it isn't obvious what Kaine offers in that regard.
Time will tell but so far, the market has not been moved by either selection. Clinton remains overwhelming favourite for the presidency at odds of 1.444/9, equating to a 70% chance. After peaking around 3.02/1 before the convention, another week of terrible headlines has seen Trump drift back out to 3.55/2 or 29%.

***
Follow Paul on Twitter and check out his website, Political Gambler.
Discover the latest articles