US Election: Five key takeaways from the first Presidential debate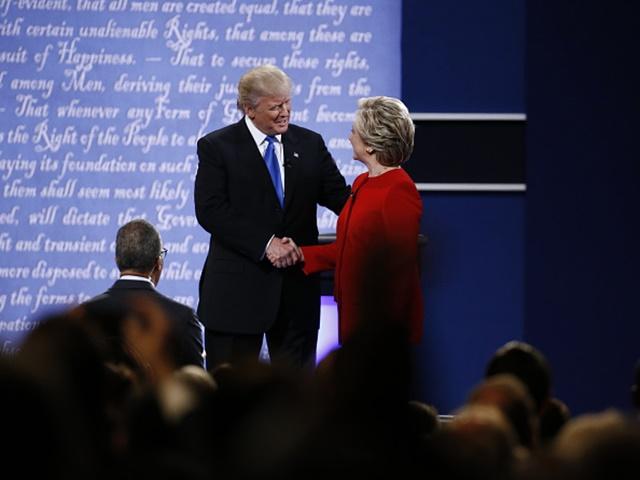 Clinton's debate victory has switched the negative narrative back to Trump
After gaining serious momentum in polls and Betfair markets, Donald Trump's poor debate performance is dominating headlines. Paul Krishnamurty weighs the fallout from a pivotal point in the US election cycle...

"The biggest challenge for Trump was to reverse the widely-held perception that he was unqualified and lacked the temperament to be president...it seems highly unlikely that he even begun to pass that test. Quite the reverse."
1 Clinton reversed a bad news cycle to resume pole position

Heading into Monday's opening debate, Hillary Clinton backers had plenty to worry about. A combination of health concerns, intense scrutiny of her e-mails and foundation, plus some improved performances from Donald Trump had whittled down a substantial poll lead to a virtual dead-heat.

Her Betfair ratings had fallen from 80% to 64%, with Trump hitting his shortest odds yet at 2.6813/8 after some very promising numbers in swing states. Yet almost from the moment proceedings at Hofstra University begun, money poured back in for Clinton. 95 minutes later, she was back to 1.454/9 (69%), around the same odds as before a health scare at a 9/11 memorial and admission she was suffering from pneumonia.

By winning the debate - by almost unanimous consensus besides die-hard Trump supporters - Clinton has reversed the narrative. Rather than being at death's door - as so many internet rumours had claimed - she looked strong and confident throughout. Instead it was Trump who tired, with his performance deteriorating as time progressed.

In doing so, the narrative has switched back from whether she is fit to be president to what most voters regard as dubious credentials of her opponent. Whilst we await the polling fallout, it seems likely that at least some of that lead will be restored.
2 Trump flunked his best and perhaps last opportunity to reset a negative image

As noted beforehand, the biggest challenge for Trump was to reverse the widely-held perception that he was unqualified and lacked the temperament to be president. Again, we await updated polling evidence but it seems highly unlikely that he even begun to pass that test. Quite the reverse. When he boasted 'I have a great temperament', Clinton's laugh said it all.

Despite starting well and probably winning the first 20 minutes, he soon reverted to type, reinforcing all the charges frequently levelled against him. He constantly interrupted Clinton, rising to her bait time and again. He told dozens of easily verifiable lies - for example denying that he claimed climate change was a Chinese conspiracy, contrary to the evidence from his own Twitter account.

So too rather than a reset, these exchanges probably hardened his negative image among women and minorities. Refusing to apologise or acknowledge that he was wrong to question Obama's birthplace, instead persisting with an implausible defence, makes him look both racist and dishonest. Worse, Clinton opened a new line of attack by accusing him of labeling of a Venezuelan Miss Universe as 'Miss Piggy' and 'Miss Housekeeping'. True to form, Trump doubled down the next morning, giving the story legs. The last thing he needs is to motivate Hispanics, amongst whom turnout is usually low, to register and vote in anger.
3 The exchanges proved that preparation and damage limitation are invaluable

Another memorable moment came when Clinton got applause from the crowd for saying "Trump just criticised me for preparing. You know what else I prepared for? Being president". It truly showed. For this debate need not have descended into a one-way investigation into Trump's past and credentials. It did because he wasn't prepared.

Trump's former campaign manager Corey Lewandowski was livid in the CNN studios afterwards that she hadn't been cornered over e-mails or the Clinton Foundation. But that was Trump's own fault for not hitting her on them. Whereas she came with well-planned attacks that hit the mark, Trump barely landed a blow.

Nor does he seem familiar with the concept of damage limitation. Clinton's defence on her weaknesses may not stand up in a court of law but, like all smart politicians, she has lines that either neutralise the issue or at least require further, time-consuming probing. As the birther, climate change, business or tax issues demonstrate, Trump hasn't even begun to figure out a workable defence.

To have any hope of a better outcome in the next debate, Trump will have to swallow some pride and prepare like a professional. Shooting from the hip may have worked in an anarchic multiple-runner GOP primary. It won't on these occasions in front of a general election audience.

**Watch** Will Trump's lack of tax transparency continue to dog his campaign?
4 Questions regarding Trump's tax returns and Russia will not go away

Arguably Trump's single worst mistake came when challenged about not paying federal income tax, saying "That makes me smart." This is bad on multiple levels. On the one hand, it undermines his play for struggling working-class voters. On another it made him sound like a plutocrat that thinks he's above the law.

Most importantly though, it will ensure pressure to release his tax returns persists. Even at his best polling moments, a large majority have said he should. The longer he doesn't, the more Clinton's accusation that he has something to hide will resonate. The more it will encourage journalists and voters to scrutinise a lifetime of controversial business dealings.

Likewise rather than shutting down any discussion of being in league with Vladimir Putin with a simple denunciation, Trump made matters worse by querying whether Russia was behind the DNC hack or other cyber attacks. This is at odds with virtually all expert opinion, including among Republicans. Again, Clinton will say he has something to hide.
5 Nevertheless, Trump has a good narrative for the key rust-belt states

There is one silver lining for Trump. For the first 20 minutes, he would have had Democrats worried with a coherent attack on the damaging effect of trade deals like NAFTA and TPP. It is the core of his "Make America Great Again" theme and will certainly play well in the key rust-belt states, that have seen manufacturing jobs disappear over the course of many decades.

This is where the election will be decided. Ohio is essential for any Republican but if Trump can also take at least one of Pennsylvania, Michigan or Wisconsin, victory in the electoral college moves within sight. He currently trails in all three but remains competitive.

Plus, this hits Clinton on a core weakness. Amidst all of Trump's disasters on Monday, Clinton's flip-flopping and misrepresentation of past trade deal positions was largely forgotten. If he comes back with a disciplined performance next time and hammers home these lines, she could be seriously damaged in the states that matter.

***

***

Follow Paul on Twitter and check out his website, Political Gambler.