US Election: Six reasons why the time has come to back Hillary Clinton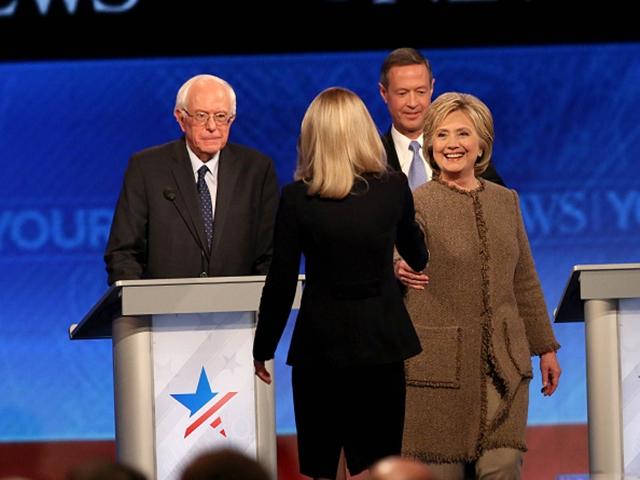 Hillary Clinton remains miles ahead of her Democrat opponents
2016 is expected to see the biggest political betting event of all time and our markets are already very liquid. Hillary Clinton has been favourite for Next President from the outset, and Paul Krishnamurty explains his belief that her current odds will only get shorter.

"Unless the Democrat vote collapses, their candidate will take the world of beating...Republicans have a longstanding favorability deficit compared to Democrats...and are seen as more extreme."
From the first moment I was asked to predict the winner of the 2016 US Presidential Election, my answer has been consistent - Hillary Rodham Clinton. However given her prohibitively short odds, I have yet to place a penny on her. Until now.
In my view, you won't get bigger than the 1.784/5 currently available on our exchange, the best in the industry, between now and November. Here's six reasons why.

Any Democrat candidate appears to enjoy an in-built advantage
There is a fundamental reason why the Democrats have consistently been favourite to be the Winning Party ever since the market opened after the 2012 election. The changing nature of the US population and distribution of votes within the electoral college appear to imply an in-built advantage.
Looking back at the last six General Elections, Democrats won four decisively. Otherwise in 2000, George W Bush won the most hotly disputed photo-finish of all-time, plus a bigger 2004 victory amidst unique, mitigating circumstances. 9/11 and the aftermath was still centre-stage in US politics, and Bush's "War on Terror" a popular response to it. US voters backed their Commander-in-Chief during a time of war.
As the US population has increased this century, the Democrats have overwhelmingly benefited. Obama's victories came with around 69.5m and 66m votes, compared to Bush's 62m at the Republican peak. Though Obama lost 3.5m votes between 2008 and 2012, the Republicans gained just 1m. Unless the Democrat vote collapses, their candidate will take the world of beating.

These demographic trends are accentuated by Republican strategy and immigration rhetoric.
With US politics becoming ever more polarised, there are fewer swing voters than ever. Republicans need to win new voters, especially among the fast growing Hispanic population.
Instead, hardline immigration policies and extreme rhetoric from the likes of Donald Trump seem set to alienate them further from minorities. His labelling of Mexican immigrants as 'rapists' and promises to build a wall with their neighbour - along with many of his rivals' reluctance to call him out for it - has done absolutely nothing to soften the GOP brand with Hispanics. Or for that matter, voters with liberal views on immigration, who might otherwise consider voting Republican.

Donald Trump could yet make victory a shoo-in for the Democrats
At the very least, Trump's relentless publicity is a negative stain on the GOP brand. Were he to win the nomination, Clinton would be regarded a certainty to win nationwide, at a small fraction of today's odds. In the latest Quinnipac poll, 50% say they would be embarrassed were he to become President. His favorability rating is an awful -26%, compared to -8% for Clinton.
Likewise, were he to lose the nomination but run as an independent, any Democrat candidate would win easily against a split Republican vote, at virtually unbackable short odds. Sure, Trump has promised not to do so, but can we really trust his word?

Whoever emerges from the GOP primary process is likely to be damaged
No wonder the GOP hierachy are in panic mode. Their primary process seems set to run and run, with speculation mounting about a 'brokered convention'. Even if that dramatic outcome - which threatens to cement the image of a divided, uncontrollable, extreme party - isn't needed, the nominee is unlikely to emerge unscathed.
The race is becoming ever more brutal. Never mind Trump - the professional politicians are taking lumps out of each other. Ted Cruz and Marco Rubio are warring over immigration and foreign policy. Chris Christie sneers at the inexperience and voting records of these one-term senators. In an era when voters generally believe the worst of politicians, these charges tend to stick.

Alternatively, Clinton looks certain for the Democrat nomination and can position herself for the General Election
While Republican candidates court their own, unrepresentative audience in pursuit of their party's ticket, Clinton is headed down an easy path towards the Democrat Nomination. After their latest debate, she is rated 31% ahead of Bernie Sanders and down to odds of just 1.091/11 - equating to a 92% chance. Sanders is running a great campaign, but lacks the nationwide appeal or organisation to meaningfully challenge Clinton.
As Republicans tarnish each other's brands, her machine can pick up the attack lines and fire them at will later on. Obama did precisely the same four years ago after Mitt Romney's rivals had exposed his weaknesses.

Though her poll numbers aren't great, they may be good enough at this early stage
Nevertheless, it must be acknowledged that Clinton has her own image and polling problems. Her favorability rating is -8% among all voters, compared to +9% for Rubio and +2% for Cruz. So far as match-ups are concerned, these latest Quinnipac numbers show just a 1% lead over Rubio and a tie with Cruz.
However a critical point to note about all these polls is the number of 'Don't Knows'. Roughly one in three respondents don't have a favorability view about Rubio and Cruz - probably because they are not firm GOP supporters, following the primary race in detail - compared to one in 16 for Clinton. In the match-ups, over 10% of the electorate are undecided.
While that offers the GOP candidates scope for improvement, those wider problems with the party brand and nature of their race mean they could struggle to advance. Republicans have a longstanding favorability deficit compared to Democrats - measured at around 16% in July - and are seen as more extreme. Unless their candidate can break the mould and appear to represent a new tack, Clinton seems likelier to pick up the undecideds.
Lest we forget, Clinton's disappointing personal ratings come after a long spell under attack from Republicans, particularly over the e-mail scandal. This will be old news come November, when the electorate are focused on big, national issues.
At that later stage, there is a tendency in national elections for a swing towards the status quo. Clinton is firmly associated with the Obama administration, which consistently gets around 47% favorability. Not a bombproof rating by any means, but good enough against an unpopular opponent.

Follow me on Twitter @paulmotty and at www.politicalgambler.com

***

For the latest on the US Election and all of our other politics markets, check out the new, improved Betfair Predicts, which forecasts outcomes based on the very latest Exchange data...
Discover the latest articles