South Carolina Primary Betting: Trump should win easily but race for places pivotal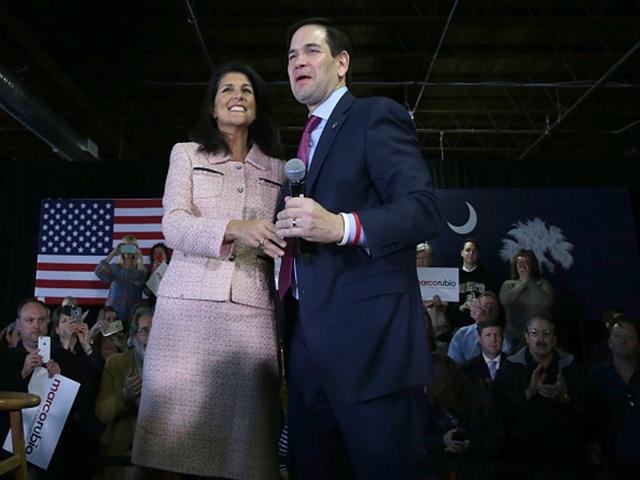 Nikki Haley's endorsement was a huge scoop for Rubio
Donald Trump is set for another runaway victory in the next GOP primary but, as Paul Krishnamurty explains, the race for second and third is equally significant...
"There is a vast chunk of Republican voters who are opposed to Trump and, to some extent, Cruz...there is a high chance that the rest will coalesce around a single alternative...Rubio is best placed to be that man."
When asked recently to list the ten greatest political betting events of all-time, I took a minor liberty in awarding the final spot to this year's US Elections, pre-empting the biggest ever markets in response to a fascinating and highly unpredictable race.
In truth, with over eight months until the general election, the Republican Nominee market is already a contender in its own right.
Already, we've had three short-priced favourites as the field has winnowed from 17 candidates to just six. Polls are all over the place, markets fluctuating dramatically and another potential gamechanger seems to emerge almost every day.
It remains quite possible that, even after the primary process, no clear winner will emerge, forcing what is known as a 'contested convention'. People not even running like Mitt Romney and Paul Ryan continue to attract bits and pieces of money in expectation of such a scenario.
The next stage is the South Carolina Primary on Saturday, for which Donald Trump starts overwhelmingly favourite at odds of 1.061/18
Polls consistently show the GOP front-runner double-digits ahead, just as they did before he obliterated the opposition in New Hampshire. Doubts concerning the likelihood of his voters actually turning out, reinforced by defeat in the opening Iowa Caucus, appear less of a salient factor now.
In response that runaway victory in NH, Trump has hardened to 2.26/5 to win the nomination, usurping Marco Rubio, who had surged to become the shortest favourite yet at 1.75/7 before a terrible fifth place in NH sent his odds into rapid reverse.
However the fickle and short-termist nature of Rubio's rise, fall and potential to rise again shows how quickly things can turn around. Within the space of five days before and after the last primary, in response to one bad debate performance, Rubio's nomination odds drifted from 1.75/7 (58%) to 5.04/1 (20%). They are now back into 3.412/5 (29%) after some promising developments.
Wednesday was typically incident-packed. First it looked like Trump was about to win his vitriolic war of words with Cruz, with the latter besieged by accusations of dirty tricks and lying from both Trump and Rubio. Cruz's favourability numbers have taken a hit in South Carolina, and the Texas Senator was forced into a defensive-looking series of rebuttals and press conference.
However Cruz came out fighting and doubled up on Trump - challenging him to sue over negative campaign ads, and promising to run them more frequently. Trump didn't rise to the challenge.
Then a dramatic new national NBC/WSJ poll emerged showing Cruz in the lead by 2%, compared to double-digits down elsewhere. It looks like an outlier, but given that it was conducted after last weekend's particularly poisonous debate, Trump's shrunken numbers might be an indicator of some damage. For example, Trump has since been hammered by many commentators after blaming George W Bush for the 9/11 attacks.
Another big development was Rubio claiming the key endorsement of SC Governor Nikki Haley. Known to be anti-Trump, her backing was sought by all the rival campaigns, and could have long-term implications for both the race, and her Vice Presidential claims. Her decision is a particular blow to Jeb Bush, whose failing campaign may be in its final days.
Our family was proud to endorse @marcorubio come see us tomorrow in Greenville @ Swamp Rabbit Crossfit @ 9am! pic.twitter.com/awVwdTZyjn

? Nikki Haley (@nikkihaley) February 18, 2016
There is a vast chunk of Republican voters who are opposed to Trump and, to some extent, Cruz. So far the other candidates have carved up the rest of the vote but, with a Trump presidential bid looking more realistic than ever, there is a high chance that the rest will coalesce around a single alternative.
Rubio was already best placed to be that man and if he can finish far ahead of Bush, John Kasich and Ben Carson, could set up a three-horse race. Were Haley's signal to encourage some of their substantial chunk of support - amounting to around 30% - to switch before Saturday, Rubio could suddenly find himself in a competitive second place.
Lest we forget in Iowa, the final poll showed Rubio 14% behind Trump but, after a similar late squeeze, he only lost by 1%. The media and market reaction was overwhelming, driving him up to that odds-on, 58% rating. Without that catastrophic debate, the same may have happened in New Hampshire.
Second place certainly looks a realistic target, and both Rubio and Cruz have both already traded below 1.51/2 in Betfair's "South Carolina without Trump" market. They're now both settled around 2.01/1, representing almost the perfect 50/50 race. If forced to pick, I'd go for Rubio.
Longer-term options look a better bet though. Rubio's Christian, social conservative credentials will allow him to compete with Cruz in the forthcoming Southern states. Even if he doesn't win states through Super Tuesday, earning in excess of 20% will produce a respectable share of delegates, well positioned for later, winner-takes-all contests.

Follow me on Twitter @paulmotty and at my website Political Gambler

***

For the latest on the US Election and all of our other politics markets, check out the new, improved Betfair Predicts, which forecasts outcomes based on the very latest Exchange data...
Discover the latest articles