New Hampshire Primary Betting: Sanders winning but watch out for Klobuchar surge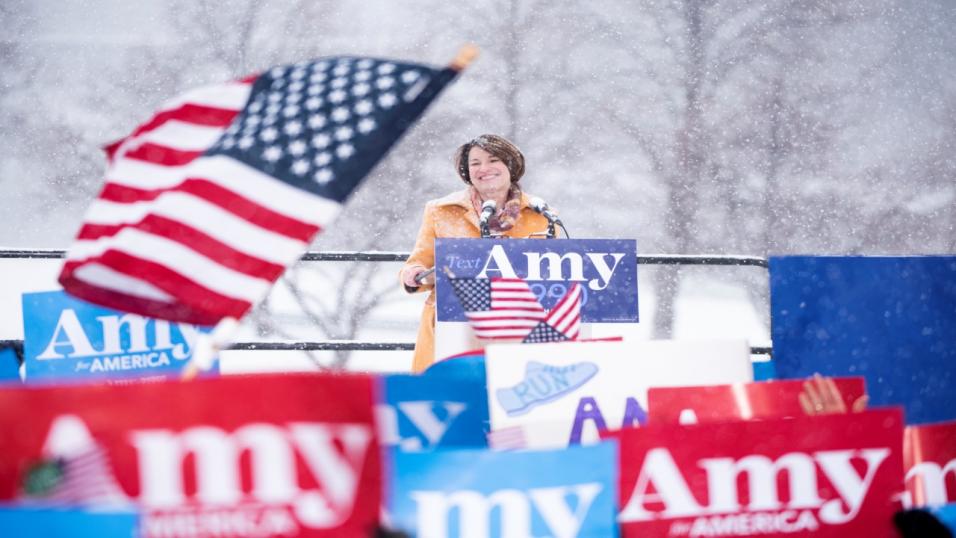 Amy Klobuchar is rising up the Democrat nominee list
Paul Krishnamurty analyses tomorrow's key open primary in New Hampshire and the implications for the Democrat race to face Donald Trump in November...
"If Klobuchar can finish top-three, staying in the race, there is big growth potential. Not only would she benefit from Biden's withdrawal but perhaps Elizabeth Warren too."
Of 3979 delegates up for grabs during the Democrat nomination process, a mere 41 were decided in Iowa. Once again though, the 'Hawkeye State' demonstrated the importance of going first in primary season as events in that chaotic race have reshaped the narrative and left several campaigns on life support.
Tuesday's New Hampshire Primary could all but finish them off. Victory is not essential but modern history says a nomination can't be won without finishing top-two in this open primary. Already, candidates lower down the list are seeing their votes squeezed, running out of relevance and money. To contend after this, into Super Tuesday, requires vast spending.
Iowa confirmed primary betting drama potential
The first race also demonstrated how wild the betting can be in these primaries. As the counting developed, both Bernie Sanders and Pete Buttigieg traded at very short odds to win Iowa. By the summer we might even know who actually won. We should have known - Iowa has form. Something very similar happened in the Republican race in 2012.
Recent New Hampshire results have been predictable, won comfortably by favourites. However the 2008 Democrat primary here produced one of the biggest ever shocks in the history of political betting, when Barack Obama lost from the minimum odds of 1.011/100 to Hillary Clinton.
Clinton didn't even get close to repeating that success in 2016 - she was trounced 60/38 by Bernie Sanders and the Vermont Senator is rated 75% likely to win again at odds of 1.321/3. Polls put him an average 5% ahead in New Hampshire, although only recording half his level of 2016 support.
Sanders poll share isn't so convincing
That lower tally reflects two key dynamics. First of course, votes are shared around a much bigger field. Second as the Iowa result and vote transfers implied, it is far from evident that Sanders will be able to gain majority support among Democrats once the field whittles. Given that NH is more or less perfect for him - neighbours Vermont, overwhelmingly white - 30% is an ordinary total.
Assuming he achieves that target - strongly expected, given the loyalty and fervency of his support - Sanders will become firmly entrenched as the frontrunner. It does not necessarily mean he'll stay there, once all the tactical implications have played out.
Buttigieg ahead, but not certain to win
The bigger story is less who wins than who emerges as Sanders' main opponent - from the relatively moderate wing of the party. After his Iowa success, Pete Buttigieg is in pole position and his NH numbers have predictably risen. However that new-found prominence means extra scrutiny - on his inexperience, record as Mayor of South Bend, Indiana, and ability to reach and enthuse the Democrat base.
As expected, the last TV debate put those weaknesses centre stage. Elizabeth Warren criticised his record on racism within the justice system. Amy Klobuchar made arguably the biggest impact of the night with this put down.
Amy Klobuchar praises Mitt Romney's "courage" for impeachment vote, then turns to Pete Buttigieg: "You said it was exhausting to watch and that you wanted to turn the channel and watch cartoons." https://t.co/93QauZSK6e #DemDebate pic.twitter.com/O4wFL1cfZR

? ABC News Politics (@ABCPolitics) February 8, 2020
Not to be outdone, Joe Biden attacked his inexperience and released this particularly brutal ad.
All of this is fair game - from both the perspective of road-testing a potential presidential candidate and in so far as rivals are entitled to retain their own hopes, however slim.
I expect the upshot will be Buttigieg stalling. A very good result would be 25%. Enough to finish second but not an overwhelming total or necessarily enough to lock down that 'top moderate' tag. It would not bode particularly well for looming races in more diverse states such as Nevada and particularly South Carolina - after which the battle to be the anti-Sanders will still be raging, and will probably include Michael Bloomberg.
Biden is on borrowed time
The key figure is Biden. His Iowa result was awful and his NH polls are stuck in the low-teens. His ongoing presence in the race revolves entirely around him winning in South Carolina and retaining his lead among black voters. If that doesn't materialise - there is some evidence that he's falling back - the former VP will quit the race.
I would argue that Biden's participation has badly damaged his party's process. By taking out a soft, but substantial share on little more than early name recognition, he has blocked the path for a moderate leader to emerge. After recent days, it feels clearer to me than ever whom that leader should be - Klobuchar.
Are Dems wising up to Klobuchar's electability?
Once again, the Minnesota Senator was widely perceived to have won the TV debate. Her message, allied to Biden, that the Democrats won't win with a socialist, resonates. She can win Republican voters in numbers about which the rest can only dream. Her odds have duly been crashing - into 60.059/1 and 100.099/1 respectively for nomination presidency, from 200.0199/1 and 270.0269/1 when flagged up in last week's piece.
Klobuchar's problem has simply been lack of publicity. Her ad-spend is a small fraction of her rivals. Some good news on that front - donations were pouring in after her debate performance. If she can finish top-three, staying in the race, there is big growth potential. Not only would she benefit from Biden's withdrawal but perhaps Elizabeth Warren too.
WOW! We've raised $3 million since the debate and just had the biggest New Hampshire rally of our campaign (since we set the record 2 hours ago)!

Thanks to the 1,100 people who came out in Nashua-- it wouldn't be a #TeamAmy rally without the snow!

We are surging. Let's do this! pic.twitter.com/BmRymjJPFu

? Amy Klobuchar (@amyklobuchar) February 10, 2020
I do believe she will get that bounce in New Hampshire, contributing to a result that will be anything but clear. Try this for a forecast.
Bernie Sanders 30%
Pete Buttigieg 23%
Amy Klobuchar 16%
Elizabeth Warren 14%
Joe Biden 9%
Others 8%
What would this mean? A re-run of the Republican race in 2016, when it appeared they were headed towards a contested convention with Trump short of a majority. Sanders will keep winning races unless or until his opponents sort themselves out and unite around a single alternative. Don't bet on that any time soon.

Follow Paul on Twitter and check out his website, Political Gambler.
Discover the latest articles
Read past articles