Nevada Caucus Betting: The Sanders surge gathers momentum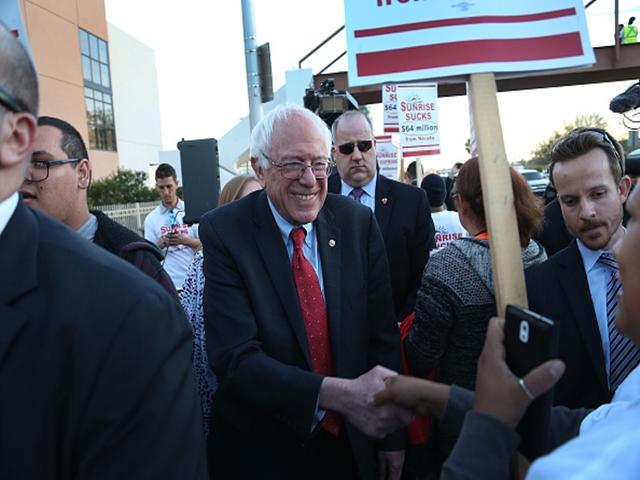 Bernie Sanders could be on the verge of landing an historic upset
Once rated 91% likely to win the Nevada Caucus, confidence is waning fast in Hillary Clinton. Could Bernie Sanders pull off a massive upset?

"A much higher turnout is expected and lots of newly registered voters. That should favour Sanders. Given the general trajectory of Democrat polls, Clinton looks a very risky odds-on bet."
The Democrats may have been solidly rated odds-on favourites to retain the presidency, but their primary process has been left trailing a poor second to the Republicans in the entertainment and betting stakes.
A polite head-to-head debate, in which defining an opponent as a 'moderate' as opposed to a 'progressive' becomes a talking point, just cannot compete with Donald Trump and the GOP cage fight.
That, however, may be about to change. Despite remaining rock-solid favourite for both nomination and presidency, at odds of 1.251/4 and 1.9720/21 respectively, the race is not going according to Hillary Clinton's plan.
74 year-old socialist Senator Bernie Sanders was never meant to provide a serious, nationwide challenge but results and poll trends increasingly point towards a tight race. If Sanders can win the Nevada Caucus on Saturday, he will land a significant gamble and speculation about Clinton's future will become rife.
First, Sanders was dismissed by the market in Iowa. At the start of the year, Clinton was rated 85% likely to win. She won on paper but it was effectively a dead-heat. Next Sanders won New Hampshire easily, by 20%.
Early on, Clinton was matched at just 1.11/10 (91%) to win Nevada, but remained strong even after the New Hampshire reversal at around 1.3130/100 or 77%. Following a surge of cash in the past few days, she drifted to a peak beyond 1.910/11 (53%), and is currently only 60% at 1.654/6. An upset here would demand a serious reappraisal of the entire race.
The reason Sanders' success to date has been underestimated by the market is a belief that he won't be able to cut through in more diverse states than overwhelmingly white Iowa and New Hampshire.
Nevada, in contrast, is much more diverse so it would represent a huge breakthrough. If his revolution takes another step forward here, dozens of unlikely states become realistic targets. He is receiving fortunes in small donations and therefore capable of running an effective campaign.
The outsider can also take great encourament from the latest head-to-head surveys against Republicans. In two measures against Donald Trump, he is rated 15 and 5% up, compared to 6 and 1% respectively for Clinton. That trend is repeated in Quinnipac's numbers comparing them with Marco Rubio and Ted Cruz. In both cases, Sanders fares 13% better than Clinton, turning clear defeats into clear victories.
An important caveat to make with so many recent Democrat polls is the large number of undecideds. The latest from Fox shows Sanders 3% ahead nationally - a remarkable turnaround - but 9% are undecided. Voters are likely to still be weighing up a challenger that has only just begun to be considered a serious candidate or president, promoting an agenda from outside mainstream Washington orthodoxy.
Nevada Caucus polls have a similar problem. The RCP average includes only three from this year. Targetpoint scored a tie last week, but included 10% undecideds. More recently,CNN recorded Clinton 1% up, with 5% undeclared. Only Gravis offered a complete prediction, with Clinton 53-47 up.
Polls in caucuses should always be treated with scepticism and particularly in this case. Apart from the lack of number and confidence in trusting lesser known polling firms, a much higher turnout is expected and lots of newly registered voters. That should favour Sanders. Given the general trajectory of Democrat polls, Clinton looks a very risky odds-on bet.
Regarding the wider nomination and presidency markets, we are yet to see a similar surge of money for Sanders. At 5.85/1 and 10.519/2 respectively, his Betfair odds comfortably outstrip anything available on the High Street. Why? Probably a recognition of the gargantuan task he faces winning the nomination while Clinton dominates among super-delegates.
She remains a popular odds-on bet, because the market factors that systemic advantage. It remains highly likely that in a couple of weeks, after Super Tuesday, she will hold a formidable delegate lead.
This may yet prove problematic. If Clinton loses Nevada, the excitement around Sanders will build, and other upsets become possible. That will panic the Democrat establishment, who regard him as unelectable and her as an increasingly unreliable candidate.
The Democrat Nominee market already factors in the possibility of a new entrant into the race, aware of the ongoing investigation into Clinton's e-mails, with Joe Biden available to lay at 36.035/1. Another Sanders victory in Nevada may well prompt calls for the Vice President to enter the race. Watch this space.

Follow me on Twitter @paulmotty and at my website Political Gambler

***

For the latest on the US Election and all of our other politics markets, check out the new, improved Betfair Predicts, which forecasts outcomes based on the very latest Exchange data...
Discover the latest articles