US Election: Seven reasons why Donald Trump won't win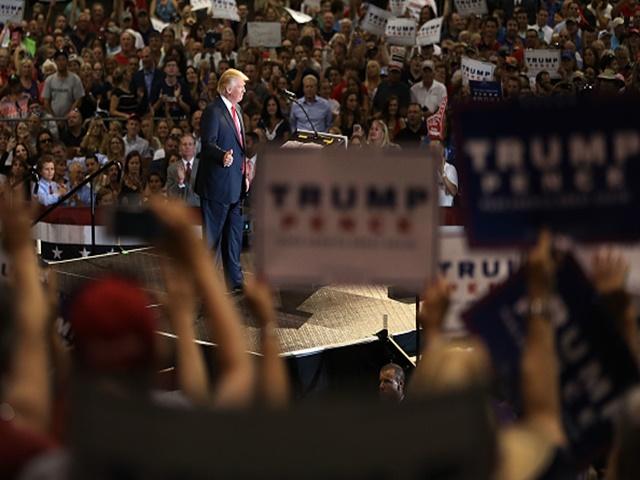 Donald Trump's adoring base is not representative of Middle America
Donald Trump's successful bid for the Republican nomination shocked the world and, following Brexit, many believe this is the year of the outsider. Paul Krishnamurty, however, is not buying it and offers seven reasons to bet heavily against Trump...
"Trump seems incapable of moving the conversation beyond his own problems. This election could develop into a referendum on his divisive, chaotic candidacy...Barely a day goes by without a new, self-induced controversy yet, unlike any conventional politician, Trump always fuels the fire by doubling down."
The idea that a celebrity, reality TV star could become US President always seemed faintly ridiculous - until Donald Trump defied the commentariat and betting odds to win the Republican nomination.
Betfair punters take a similarly dim view about his general election chances, rating him only 22% likely to beat Hillary Clinton at odds of 4.67/2 but could everyone be wrong again? My confident conclusion is no, for at least these seven reasons...

1. Republican primary voters are not representative of the wider electorate
While he won 14m primary votes, Trump will need nearly five times as many in November, tapping a very different pool. The type of swing voter that determines national elections always differs from those motivated to turn out in primaries. They are less partisan, hold a more balanced worldview and often only engage the process during the final few weeks.
In this extreme case, they are miles apart. Even in the key states where Trump performed best - Pennsylvania, Michigan, Florida - he is trailing Clinton by big margins. By enthusing a substantial minority with his maverick candidacy, he changed the maths and make up of the GOP electorate, but that does not reflect a wider change in US opinion.
Consider this one simple measure. President Obama usually records an approval rating above 50%. By definition, Trump needs to win some of these voters, despite repeatedly smearing Obama and declaring his era a disaster. Having laughed off Trump's infamous 'birther' theory, Obama is now on the front foot, labelling Trump 'woefully unprepared' and calling on Republicans to dump him.

2. A head-to-head with Clinton is far less suitable for Trump than the 17-strong GOP cage fight
Trump's primary success was built on his ability to dominate media coverage at the expense of rivals. The best known candidate produced the most memorable lines during the TV debates and social media reaction. While insults and Twitter tantrums were commonplace, Trump was rarely if ever scrutinised, or his positions and comments held to account.
Indeed, his worst spell came after swerving more debates in favour of set piece interviews in Wisconsin. During a catastrophic fortnight, Trump's positions on abortion and foreign policy were torn to shreds. As the election nears, that lack of coherent policy knowledge or plans is being exposed on a daily basis.
This bodes terribly for the debates with Clinton, who, is strong on detail and in my view, bettered Bernie Sanders in that format. Head-to-head polls are overwhelmingly one-sided. When the latest Fox News poll asked whether each is qualified, has the temperament or knowledge to be president, Clinton wins 65/43; 64/37 and 72/40 respectively. Not the numbers would associate with a would-be Commander In Chief, with the nuclear codes at his mercy.

***Watch: Donald Trump's incoherent foreign policy is a disaster in waiting***

3. This historically unpopular candidate will motivate opponents to turn out
Democrats often have problems getting their vote out and, against any other candidate, the much less popular Clinton would surely have struggled to maintain Obama's enthusiastic coalition. Trump's toxic presence on the ticket may negate that weakness.
There has never been a less popular presidential candidate. Trump's unfavourability rating is consistently around 60% - higher among women and Hispanics. When Republicans last won the White House, George W Bush earned 44% support among Hispanics. That number has fallen dramatically since and Trump's persistent casual racism and border wall are turning them even further away from the GOP. Registration amongst this substantial, growing segment of the electorate is well up on 2012.

4. His campaign is catastrophic, showing no sign of a general election pivot
Trump's saving grace is that Clinton is also unpopular - only 5 points or so less so. A smart campaign might relentlessly focus attention on her weaknesses but Trump seems incapable of moving the conversation beyond his own problems. This election could develop into a referendum on his divisive, chaotic candidacy.
Barely a day goes by without a new, self-induced controversy yet, unlike any conventional politician, Trump always fuels the fire by doubling down rather than apologising and trying to kill the story. He is still defending the infamous Heidi Cruz tweet from April! When you're already accused of racism and are endorsed by the KKK, it doesn't help to make racist comments about the judge in charge of his damaging Trump University lawsuit.
This week's worst, among several ongoing controversies dominating the news, was Trump's attack on the parents of a US Muslim soldier killed on duty in Iraq. In that Fox survey, 69% said his comments were out of bounds, compared to 19% in bounds. To Clinton, this opponent is the gift that keeps on giving.

5. He is even failing to unite his own party
Trump never truly won over the GOP base and continues to aggravate sceptics. His 45% vote share during the primaries was historically low, and heavily reliant on non-registered Republicans in open primaries. Down-ballot candidates across the country are in a dilemma over whether to endorse him and Trump is making no effort to convert them.
Most significantly, Trump is delaying an endorsement of Speaker Paul Ryan for his primary - a move that has infuriated the GOP hierachy. Stories of Trump being replaced are doing the rounds, but the likelier outcome is despair, defeat and a split. Numerous Conservatives will back Clinton, Libertarian candidate Gary Johnson or abstain on the presidential ballot.

6. The electoral college is increasingly weighted against any Republican
Regardless of Trump, any Republican faces a stiff task winning 270 electoral college votes nowadays. Demographic, social and political trends have moved once Republican states such as Virginia and Colorado into likely Democrat wins. Now, whereas they can theoretically win without Ohio or Florida, these two swing states are essential for Trump.
Trump's plan entirely depends on his ability to win reliably Democrat rust-belt states Michigan and Pennsylvania - an area in which he thrived during the primaries. The latest polls in both, however, show him trailing badly.

7. Trump's air and ground games are negligible compared to Clinton
All recent US elections have been close, making organisation and campaigning more important than ever. Right now, there is no contest in this regard and, given the doubts of so many Republican donors and footsoldiers, it is unlikely to improve.
Not only is Clinton spending vastly more than Trump, but the Democrats know the importance of ground game - a key component of Obama's victories. In contrast, Trump barely built an organisation during the primaries and was repeatedly bettered by Ted Cruz on the ground, in caucuses and in courting delegates.
One gets the impression that Trump thinks he can win the election by tweeting and riling up his base. Mobilising a large number of angry people who share your worldview via the internet is one thing. Being elected to the US Presidency quite another.

***

Follow Paul on Twitter and check out his website, Political Gambler.
Discover the latest articles