Will the Russia scandal destroy Donald Trump's Presidency?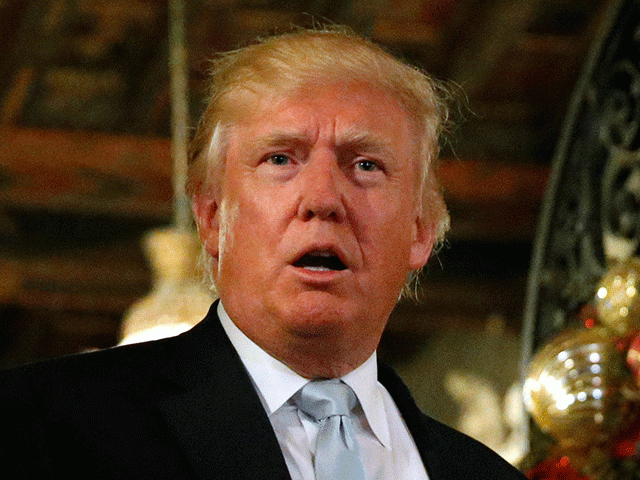 Donald Trump's approval ratings have dropped to a record low
With the FBI confirming an investigation into collusion between Russia and the Trump campaign and the story evolving by the hour, Paul Krishnamurty weighs up our markets on the new president's exit date...
"Whether or not the arduous process of impeachment materialises, this process must damage Trump...Already, there is a hint that the honeymoon is over before it started. His Gallup approval rating has fallen to new lows under 40% - unprecedented at this stage of a presidency."
It isn't everyday that one pities a man whose job is to head the FBI, but surely nobody could envy the political tightrope James Comey has walked these past 18 months and counting. In an ever more partisan environment where both sides seem intent on nothing less than the total destruction of their opponents, pleasing both conservatives and liberals is literally impossible. Especially when one side hopes, even expects, you to bring criminal charges about the opposition. Depending on the time of day, Comey shifts from hero to villain with either side.
Having first been elevated into global consciousness by the Clinton e-mail saga - and a late intervention that will be forever blamed for her defeat, Comey is now confronted with an even bigger scandal that could potentially destroy Donald Trump's presidency. His and NSA Director Admiral Rogers' testimony to the House Intelligence Committee on Monday was a classic piece of political theatre, from which there are inevitable ramifications.
The main takeaway headline was confirmation of an ongoing investigation into links between Russia and the Trump campaign, which begun last July. Another was a firm rejection of the current president's claim that Trump Tower had been wiretapped on the orders of his predecessor. Perhaps most dramatically, the tweets Trump sent out whilst the hearing was in progress were almost immediately debunked by Rogers and Comey.
Regarding the bigger picture, while there is no clarification yet of any wrongdoing on Trump's side, Comey confirmed what has felt obvious to many close observers of that remarkable campaign. That Russia sought to influence the result, to the detriment of Clinton, via state-sponsored propaganda, hacking the DNC and a sophisticated online smear campaign.
A bipartisan investigation or media coverage seems unimaginable

For Democrats, a stack of coincidences and circumstantial evidence point firmly to a conspiracy. For Republicans, the focus should be finding which federal employees are responsible for leaks. Inevitably, Comey was repeatedly forced to avoid commenting on precise, named allegations.

The coverage on CNN and Fox typically reflected those irreconcilable differences. A liberal watching the former will probably fancy taking odds around even money that Trump will fail to complete a full-term - due to impeachment, resignation or death. A conservative Fox viewer probably considers such punters to be clueless, just like the mugs that dismissed Trump's chances last year.
So who's right? Well, speaking as someone who falls into the latter category, the lesson from recent times is to dismiss Trump at your peril. This is a unique political phenomenon - a candidate who seems totally unsuited to the job, but to whom nothing sticks. No party leader in the history of Western democracy has been able to so readily lie, offend people or perform 180 degree u-turns without electoral consequences.
Trump's base remains utterly adoring, forgiving and contemptuous of anybody who criticises their hero. Moreover, they are taking over the Republican Party. In order to impeach the president, Democrats will need to win support from across the aisle. It would take a very brave congressman or woman to risk alienating their grassroots.
Nevertheless, Russia is an enormous problem for Trump. As Clinton's example demonstrates, a lack of actual wrongdoing or illegality does nothing to remove the cloud of suspicion or torrent of abuse from opponents. From what we know already, and have indeed known for months, there is enough material to fire out via blogs and social media for years or even decades.
There is nowhere near enough space here to deal with this incredible story but Politico's timeline of events is a highly recommended read. And to see the story's never-ending potential for his opponents, check out this 30-year timeline of Trump/Russia connections.
Whether or not the arduous process of impeachment materialises, this process must damage Trump and stain his already divisive brand. It invigorates his opponents, such as #TheResistance on social media. It takes media and public focus away from policy issues.
Therein lies Trump's other gargantuan problem - delivering on his radical promises. Watching Monday night's rally in Louisville, nothing has changed from 2016. His speech is still peppered with what he's going to achieve and how great it will be. Any politician can only sing that tune for only so long before results are demanded.
Already, there is a hint that the honeymoon is over before it started. His Gallup approval rating has fallen to new lows under 40% - unprecedented at this stage of a presidency. Perhaps reality is dawning in wake of the Trump budget and plans to repeal Obamacare which the neutral CBO revealed will result in 24m people losing health coverage.
Could fear of mid-term defeat eventually turn some Republicans?

While it may not suit Republicans to turn on their leader now, the time may well come soon. If a negative Trump effect threatens to damage their mid-term chances in 2018, be sure that many will distance themselves, with some becoming constant vocal critics.
From a betting perspective, that scenario could offer some trading potential in our Trump Exit Date market. We've already seen 2017 gambled down to below 4.03/1 about him leaving post this year - the current odds are 4.57/2, equivalent to a 22% likelihood. That move is purely the result of speculation and, in the current climate, there's no reason to think 2018 will be any different. It won't take much for the current 6.05/1 (17%) quote to shrink and a settlement this year seems far too soon, given a lengthy investigation and process.
Personally, while doubting he will be anything more than a one-term president, the experience of 2016 has left me very wary of writing Trump off. Normal rules simply don't apply to him. I retain the view that he performed worse than any Republican alternative would have done last November, and that an undamaged Democrat candidate would have won easily. If he runs again in 2020, it will be a struggle, dependent on delivering his promises beforehand.
A likely scenario is that Trump doesn't run for a second term. He will be 74 years old and, while his energy is astonishing, this job ages incumbents like no other. If a Republican opposes him in the primaries, would he be up for another marathon campaign? And if he does and wins, would he be able to beat the Democrats for a second time?
With that in mind, my advice is to primarily focus on the next election. By laying him around 3.185/40 to win next time, we have numerous routes to profit. Worst ways, even if he is the candidate, the recent volatility of political markets suggests trading out would be cheap, if costly at all.

***

Follow Paul on Twitter and check out his website, Political Gambler.
Discover the latest articles