US Election: Markets swing towards a contested GOP convention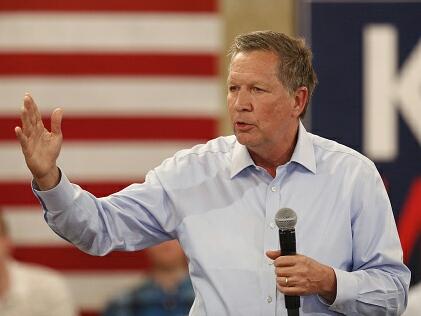 John Kasich has high hopes of denying Donald Trump in key states
Whereas normally primary race leaders would be easing towards their coronation, Donald Trump's path to the Republican nomination remains far from straightforward. Paul Krishnamurty explains.
"With Kasich also competitive in both Wisconsin and Pennsylvania, there seems no incentive for any of the three candidates to quit the race."
If one takes the view that the Republican Nominee can only be the candidate who earns the most delegates from the primaries, there is a rare opportunity to make money. Either Donald Trump or Ted Cruz will certainly emerge with the most delegates, yet their combined rating on the Betfair market is only 80%. Spread a £100 stake proportionally at respective odds of 1.491/2 and 8.07/1 now and, when one of that pair is confirmed at July's convention, your return will be £125.

As the odds imply, however, it is not so simple. In fact, given that third candidate John Kasich only takes out 9% of the book at 11.521/2, Betfair punters are effectively saying there is a 11% likelihood of an alternative candidate who isn't even in the race.

That extraordinary eventuality depends on whether either Trump or Cruz reach the target of 1237 'bound' delegates by the conclusion of the primaries on June 7th. Without passing that threshold, the 'winning' candidate may lack the numbers to secure the nomination on the first ballot at July's convention.

If Trump, (almost certain to be delegate leader), fails to reach 1237, a second ballot under new rules may be required. At this stage, previously bound delegates become free to back whoever they choose, and new candidates can enter the race.

This explains why John Kasich remains in the race, despite no mathematical chance to win. Punters backing the Ohio Governor - who polls vastly better than either Trump or Cruz in head-to-head polls against Clinton - figure that he could get the nomination via a second ballot.
It is also precisely why there is money for Speaker Paul Ryan, now rated the fourth likeliest candidate at odds around 34.033/1. Running mate to Mitt Romney four years ago, Ryan is liked and respected across the party and seen as a possible unity candidate.
Whether Trump supporters would see it that way is another matter! Cleveland authorities are already taking the precaution of ordering riot gear. A deal may well be reached, especially if Trump comes up only a few dozen short of 1237.
Nevertheless, the prospect yet another dramatic turn in this unique election saga will be a live talking point at least until June 7. Trump will need some of the 303 delegates from those final five contests - the most important of which is California, with 172 delegates.

Our Contested Convention market now rates it 59% likely that nobody reaches 1237, and various recent polls show Trump is not uniting the party in anything like the way previous candidates did. Normally at this stage, the party rallies behind their Nominee Elect, whose rising vote shares enables an easy sweep of the closing contests. That seems very unlikely this year.

The next is Wisconsin on April 5th, where Cruz is favourite around 1.68/13. The last three polls showed two Cruz leads and Trump winning a tight three-way race. So far as all-important California is concerned, yesterday's substantial LA Times poll rated Trump just 1% ahead among likely voters.

Notably, nearly all these recent polls include a large number of undecideds - a group which generally favours Trump's opponents. Cruz will take great comfort from those Wisconsin and California numbers.
However while Cruz could pick up big prizes at the start and end of the remaining process, Trump is expected to dominate the middle section in the North-East, notably New York's 95 delegates.
With Kasich also competitive in both Wisconsin and Pennsylvania, there seems no incentive for any of the three candidates to quit the race. That means a sharing of delegates, less chance of a Trump majority and constant drama in this incredible political market all the way through to the convention.

Follow me on Twitter @paulmotty and at my website Political Gambler

***

For the latest on the US Election and all of our other politics markets, check out the new, improved Betfair Predicts, which forecasts outcomes based on the very latest Exchange data...
Discover the latest articles