US Election: Five pivotal races for Super Tuesday 3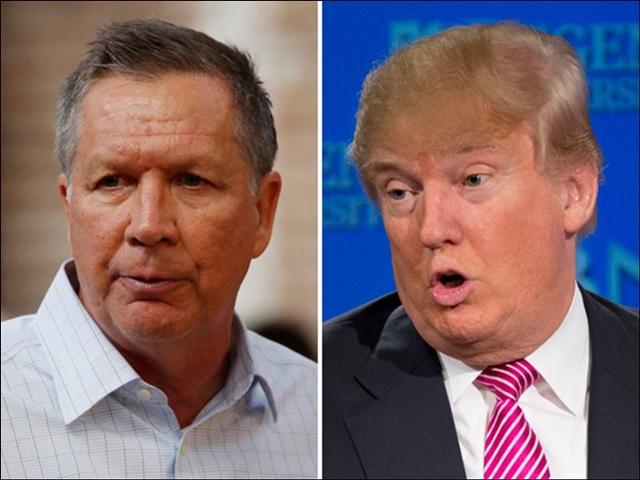 John Kasich must win his home state to slow Trump's momentum
Ahead of another series of US Election primaries, Paul Krishnamurty weighs up five pivotal races with huge implications.
"If Kasich beats Trump in Ohio, it could propel a run of late victories in potentially favourable, delegate-rich states... Defeat would narrow Trump's path to the 1237 delegates needed to avoid a Contested Convention."
This year's US Election cycle differs from the historical norm in so many ways, and not just due to unique candidates like Donald Trump and Bernie Sanders.
Normally by mid-March, the parties would be in the process of coalescing around an overwhelmingly likely candidate. This time, with protest and violence at GOP front-runner Trump rallies dominating the daily headlines, consensus seems a thing of the past. 
While the Republicans tear themselves apart, Democrat voters also remain reluctant to simply rubber-stamp what the market considers a virtually inevitable Hillary Clinton candidacy. After Sanders pulled off an enormous 33 to 1 upset in Michigan, nobody can be quite sure about the path ahead.
Consequently while the term 'Super Tuesday' normally applies to one day in the cycle, it is an apt description for the third straight week. Leaving aside the small GOP caucus in the Northern Mariana Islands, five states go the polls. All are significant, and all are interesting betting heats.

Florida
Latest Republican odds: Trump 1.12, Rubio 7.6
Latest Democrat odds: Clinton 1.06, Sanders 14.0
Always a crucial General Election swing state, Florida's role in this year's GOP primary process is also pivotal with 99 winner-takes-all delegates up for grabs. Having dominated the polls for months, Trump is overwhelming favourite, rated 89% likely at odds of 1.121/8, to take a big step towards the nomination.
Unless polls showing him around 20% ahead are spectacularly wrong, he looks certain to win and, in doing so, end the realistic challenge of one-time odds-on nominee favourite Marco Rubio. His exit would dramatically alter the maths ahead of later races, assuming Rubio voters transfer predominantly to other candidates not named Trump.
On the Democrat side, Hillary Clinton is red-hot at 1.061/18 (95%), reflecting an average poll lead above 30%. However, after last week's stunning upset from odds of 1.031/33 in Michigan, dare punters trust the favourite?

Ohio
Latest Republican Odds: Kasich 1.31, Trump 3.9
Latest Democrat odds: Clinton 1.4740/85, Sanders 3.02/1
Another big winner-takes-all contest in the swing state of Ohio. Here, however, Trump is very much the outsider. John Kasich is the Governor here, with sky-high approval ratings, and the market rates him 76% likely to take all 66 delegates at odds of 1.3130/100.
If Kasich beats Trump, it could propel a run of late victories in potentially favourable, delegate-rich states. Especially if establishment rival Rubio is forced out after Florida. Significantly, the Rubio campaign has effectively advised supporters to vote Kasich in Ohio. Defeat would narrow Trump's path to the 1237 delegates needed to avoid a Contested Convention.
This one of the most interesting Democrat primaries. Clinton is 1.4740/85 favourite, which seems great value if an average poll lead of 18% is to be believed. The trouble is, after being so far out in neighbouring Michigan, punters are entitled to be sceptical about polls. Clinton urgently needs them to be right, because another defeat in the rust-belt would raise major concerns about her electability in November.

Illinois
Latest Republican odds: Trump 1.251/4, Cruz 4.94/1, Kasich 14.5   
Latest Democrat odds: Clinton 1.341/3, Sanders 3.412/5  
With violence prompting the cancellation of a Trump rally in Chicago, weighing the fallout could be the key to predicting a state which presents a critical test for his opponents. 
Though topping polls, Trump's 34% average would be vulnerable to a unified, tactical vote. Whereas the other three had been locked in a close fight for distant second, the latest numbers suggest Cruz is emerging as the clear alternative, just 4% down.
That progress seems logical, given that previous surveys had included a large number of undecideds, amongst whom Trump has lagged.  Whether and how the non-Trump voters coalesce - in this case the 27% supporting Kasich or Rubio - is a key indicator for both this result and the race ahead. 
The home state of President Barack Obama may not seem fertile territory for a Bernie Sanders upset, but there has been a major market move for him in recent days. From being matched earlier at 1.021/50, Clinton is out to 1.341/3 Polls are contradictory here, with the last three showing one narrow win apiece, plus a 37% Clinton lead. No wonder the market is unsettled!

North Carolina
Latest Republican odds: Trump 1.11/10, Cruz 9.417/2
Latest Democrat odds: Clinton 1.08, Sanders 12.0
Markets and poll trends point strongly towards Trump, for whom a thumping victory over clear second-best Cruz would represent big momentum. Again though, there is scope for a big transfer of voters to Cruz to alter the maths. The key task for Cruz here is to get close to Trump in terms of delegates.
After dominating elsewhere in the South, the market points strongly towards Clinton at 1.081/12 (93%), backed up by polls showing her 20% ahead. Having struggled in other key General Election states, Clinton could do with a big here to settle Democrat nerves, as North Carolina could prove decisive in November.

Missouri
Latest Republican odds: Cruz 1.9, Trump 2.1
Latest Democrat odds: Clinton 1.75/7, Sanders 2.26/5
Finally, this is Cruz's best chance of a victory. The market rates it a virtual tie, but the lack of polls makes for a confusing picture. The one recent, small-sample survey showed a 7% Trump lead, but included 18% undecided. Given their contrasting fortunes among late deciders, that points towards Cruz wiping out the gap.
This editorial endorsing Cruz in the Missouri Times may be indicative of a mood among establishment Republicans. They note that Rubio would have been a natural fit but isn't even campaigning in the state and that, while Kasich may be the best overall candidate, he has no realistic chance. The potential for such co-ordination remains the biggest threat to a Trump nomination.
The only Democrat poll was equally inconclusive, with Clinton 7% up but 13% undecided. She's favourite at 1.664/6 but hardly obvious banker material.

Follow me on Twitter @paulmotty and at my website Political Gambler

***
For the latest on the US Election and all of our other politics markets, check out the new, improved Betfair Predicts, which forecasts outcomes based on the very latest Exchange data...
Discover the latest articles