2020 US Election: Warren is proving a heavyweight and is very well-placed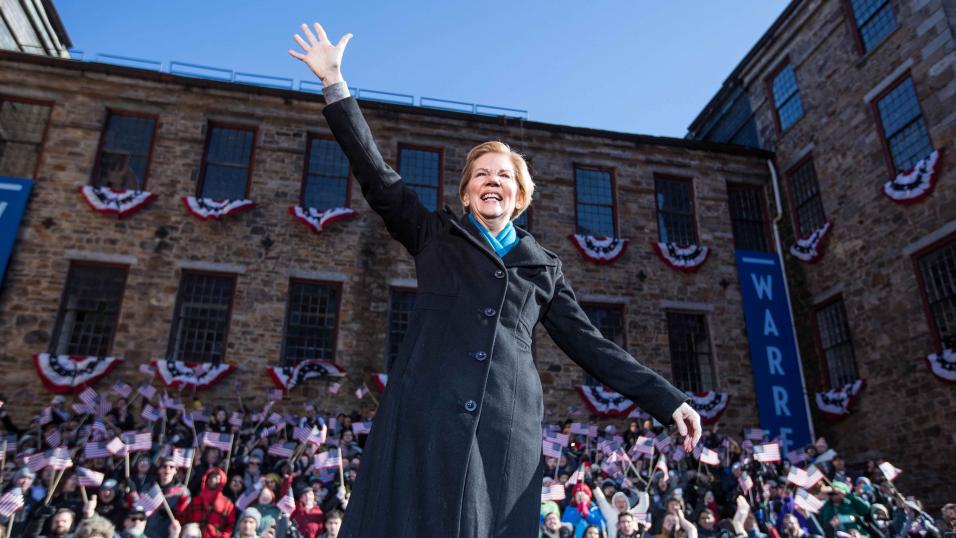 Elizabeth Warren is surging in the polls
As the race to face Donald Trump hots up, Paul Krishnamurty says Elizabeth Warren is best placed and still available at decent odds...
"The early dynamics suggest these leading women will generate more positive noise than the baggaged Biden or Sanders - whose campaign simply lacks the excitement and unique selling points of 2016."
It has been three weeks since the first of the Democrat TV debates, as they search for their nominee for the 2020 US Presidential Election. During that short window, the betting has changed dramatically.
Harris now favourite as Biden slips
When former Vice President Joe Biden entered the race, buoyed by big poll leads, he became the clear favourite, matched down to 2.9215/8 to be the Democrat Nominee and 5.69/2 for Next President. One poor, if not entirely unpredictable performance later, those odds have doubled to 5.95/1 and 11.010/1.
Having stolen the headlines by challenging Biden over his past support for segregationists and opposition to school busing during that divisive era, Kamala Harris resumed her earlier status at the head of the field. The California Senator is now 3.412/5 and 7.06/1 respectively in those markets.
Biden nevertheless retains poll lead
These market trends are driven more by how bettors think the race might pan out over time, rather than a reflection of polling shifts. We've had five polls in the last seven days, each led by Biden with support averaging 28%. He's far from done. Harris is fourth, mustering less than half that total.
So should we place greater weight on polls at this early stage? It is worth recalling the 2016 Republican contest, which offers contrasting signals. Jeb Bush dominated both the early polls and betting yet wasn't even competitive by the time voted started for real.
There are clear parallels between Bush and Biden. Their early position owes much to name recognition and proximity to a former president who retained a big following among the base. Yet once he was challenged on the debate stage, he instantly looked like yesterday's man. When Trump attacked his moderately pro-immigration stance, amplified on social media, Bush was labelled RINO (Republican in name only) - anathema to the base.
Centrists liable to struggle in polarised era
Biden will face the same problems. His pitch as a unifier, who has Republican friends, looks increasingly pointless as the GOP line-up behind Trump's racist attacks on Democrats. His policies, for example on healthcare, are attacked as too centrist by large, vocal parts of the primary audience. Historic positions on race and gender equality now look very outdated for anybody seeking support on the Left.
Unlike Bush, who was generally regarded as a heavyweight before running, Biden has already lost two presidential campaigns and badly. His market weakness assumes that his positions will unravel under scrutiny and history repeat itself.
Everything we know about recent elections, especially internal party contest, implies that social media activism cannot be overstated. The left wing of the Democrats - that supports Medicare for All, free university tuition, economic reform, impeaching Trump - is in the ascendancy, and will create a lot of noise that more centrist candidates struggle to match.
That is how I see it panning out but a word of warning from 2016. Bush was soon headed by Trump in those polls but almost everyone under-rated the next leader. Rivals avoided attacking him in the expectation he would unravel, focusing instead on destroying each other. In doing so they let Trump consolidate his lead.
Debate format favours front-runners
One conclusion drawn from those opening debates involves the similar dynamics. The stage is too crowded to expect any outsider to cut through. The poll leaders stand at the centre of the stage and are assured more airtime. If lesser rivals are to be heard, they need to come up with something extremely memorable. This will soon evolve into a smaller race and it is already difficult to see anyone outside the top-five winning.
A second conclusion drawn, albeit from the first debate which didn't include Biden, Harris or Bernie Sanders, is that Elizabeth Warren is definitely one of the heavyweights. She totally dominated her debate and, in my view, is running by far the most eyecatching and comprehensive campaign.
Just catching up on the first Democrat primary debate. Elizabeth Warren very strong. I've backed her at 13 for Next POTUS.

? Political Gambler (@paulmotty) June 27, 2019
Once Trump was elected, the Womens March had outnumbered his inauguration and the #MeToo campaign had taken off, there was much expectation of Democrats choosing a woman. Polls asking that specific question tend to endorse the theory but nevertheless remain dominated by old men.
The early dynamics suggest these leading women will generate more positive noise than the baggaged Biden or Sanders - whose campaign simply lacks the excitement and unique selling points of 2016.
Warren set to usurp Sanders on Left
It may very well be Harris - a top-level politician who is very well funded and represents the most populous blue state. However at the current odds, Warren is much preferred at 5.04/1 for the nomination and 11.010/1 for the presidency. She is up to 19% with NBC and outpolling Sanders more often than not.
This sub-race is critical as I would expect supporters of each to mostly transfer to the other. Had Warren run in 2016, she may well have beaten the socialist Sanders - a long-term ally with whom there is little disagreement. She has been a darling of the Left ever since standing up to Wall Street during the financial crisis and her credentials remain pure.
In 2020, Bernie has baggage and is hated by the moderate wing of the party. Whereas his actions in 2016 were blamed for splitting the party, Warren remained loyal and is relatively well-placed among the mainstream. A forthright speaking, left-wing woman, who can attract support from across the party spectrum will be hard to beat.
Bet on US Politics here
2020 US President
2020 Democrat Nominee
2020 Republican Nominee
Will Trump be impeached by the House of Representatives during his first term?
Will Trump survive a full-term?
What year will Trump leave office?
Follow Paul on Twitter and check out his website, Political Gambler.
Recommended bets
Back Elizabeth Warren to be Next President @ 11.521/2
Discover the latest articles
Read past articles