US Election: Rubio takes the fight to Trump, but is it too late for Super Tuesday?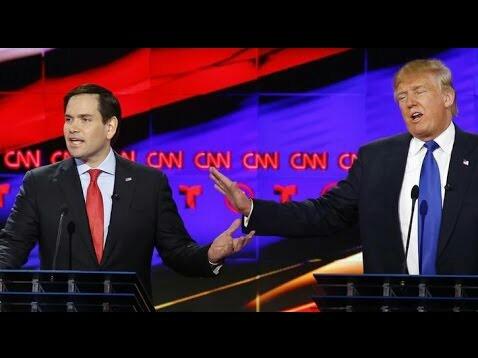 Marco Rubio appears to be the last remaining threat to a Trump nomination
Paul Krishnamurty looks forward to Super Tuesday, when Donald Trump and Hillary Clinton are expected to tighten their strangleholds on their respective nominations...
"Having won three states on the bounce, by huge margins, Trump is poised to open up a daunting delegate lead next week, starting red-hot favourite in every Super Tuesday state bar one - Texas."
The question, posed immediately after Thursday's CNN Debate by so many pundits, is why on earth did Marco Rubio wait until the tenth debate to truly take the fight to Donald Trump?
There is no doubt that the longstanding GOP front-runner emerged more bruised from the Texas debate than any to date. Constantly attacked from either side by Rubio and Ted Cruz, Trump was taken to task over his previous hiring of illegal immigrants, obfuscation in releasing his tax returns, a swathe of liberal policy positions and the embarrassing history of Trump University.

Watch Marco Rubio and Donald Trump spar at the CNN Debate

Betfair markets immediately roared approval of Rubio's new aggressive stance. As they exchanged blows on the stage, his odds for the Republican Nomination shortened markedly from 4.57/2 to 3.55/2, equating to a rise in probability from 22% to 28%. In contrast, Trump drifted from 1.384/11 (72%) to 1.511/2 (66%).
However whilst hostilities continued on Friday, becoming ever more personal, those market moves were swiftly reversed. Demonstrating yet again his genius for news management, Trump changed the narrative by unveiling his most significant endorsement to date - New Jersey Governor Chris Christie, who quit the race only recently, having wounded Rubio on the New Hampshire debate stage.
The result is that Trump is rated likelier than ever at 1.321/3 or 76%, heading into the biggest day in the primary cycle. The same can be said on the Democrat side, where Hillary Clinton just hit her shortest odds yet for the nomination at 1.091/11 (92%). Super Tuesday, when 13 states cast their votes, will not decide the nomination, but the results could generate unstoppable momentum.
Having won three states on the bounce, by huge margins, Trump is poised to open up a daunting delegate lead next week, starting red-hot favourite in every state bar one - Texas, which also offers the most delegates. Here, Cruz is rated 1.251/4 (80%) to win his home state but, unless he can upset the odds elsewhere, the result may perversely work to Trump's advantage.
Given Trump's loyal fan base, it is imperative for his opponents to unite around an alternative in later, winner-takes-all contests. As the market indicates, Rubio is best positioned to be that man. To have a chance of doing so, he needs the others to quit, but if Cruz has more delegates after Super Tuesday, he's hardly likely to quit the race.
Besides Texas, the most competitive GOP races will probably be in Oklahoma, Tennessee and Arkansas.
All three have the potential to be three-way heats, although apart from Texas, polls have been very thin on the ground, and we have no measurement since the last debate. Keep a close eye on the RealClearPolitics list for updates, as they are bound to move the markets.
Another good market which could measure the effectiveness of the challenge to Trump concerns whether Rubio wins Over or Under 2.5 states. The early market signals here are grim for Rubio, with 1.041/25 available to lay about under.
The same Over or Under 2.5 market is available about Bernie Sanders for the Democrats. Although he remains a big outsider for the nomination, this is much more realistic. Sanders is favourite in Vermont, Minnesota, Colorado and rated around 45% to win Massachusetts.


Follow me on Twitter @paulmotty and at my website Political Gambler

***

For the latest on the US Election and all of our other politics markets, check out the new, improved Betfair Predicts, which forecasts outcomes based on the very latest Exchange data...
Discover the latest articles