Republican Nomination: Rubio hardens in the betting but dividing lines are emerging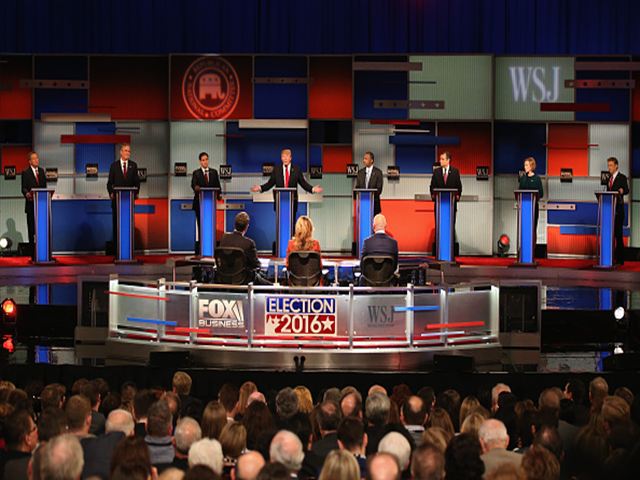 Donald Trump's immigration plans remain central to the debate
Yet another record audience watched Tuesday's Republican debate on Fox Business Network, with eight candidates sharing the main stage. Paul Krishnamurty reviews the debate, market reaction and the developing race.
"As with the wider party, these eight candidates on the main stage represent quite different brands of conservatism, differing over key electoral issues such as immigration."
Market confidence behind Marco Rubio for the US Presidency hit a new peak today, following the latest TV debate. At odds of 5.95/1, the Florida Senator is now rated 17% for the Presidency - the only candidate with a double figure rating besides Democrat front-runner Hillary Clinton, a 55% chance at 1.834/5.
So far as his party's nomination is concerned, Rubio remains runaway 2.546/4 favourite, which equates to a 39% rating. Donald Trump remains next best at 6.411/2 or 15%, followed by Ted Cruz 8.615/2 (12%), Jeb Bush 9.617/2 (10%) and Ben Carson 13.012/1 (8%).
None of these numbers appear to have been particularly affected by the debate, for which there was no obvious headline winner or loser. Unlike previous exchanges, the Fox Business Debate was very policy-heavy.
Rubio, the star in earlier debates, performed confidently again but, given the chance to spell out their plans with more airtime in a slightly smaller field, others also came to the fore.
Ted Cruz will be happy again with his efforts, capitalising on the most airtime to clearly define himself as the ideologically pure, 'true Conservative' candidate.
John Kasich staked out his position at the other end of the spectrum, referring to his Governorship of Ohio as evidence of his ability to deliver 'realistic' solutions based on problem-solving, not philosophy.
Rand Paul enjoyed easily his best debate so far, getting a lot of airtime and landing a blow when branding Rubio's tax plan as 'unconservative'. Nevertheless, Paul's aim to cut military spending didn't go down well with a largely positive crowd and he remains a no-hoper at 80.079/1 (1%) for the nomination.
To this observer, the losers were outsiders Donald Trump and Ben Carson, who appeared slightly out of their depth in such a dense, detailed conversation. However before concluding this signals their imminent demise, remember neither seemed to thrive in the previous debate, yet still dominated subsequent polls.
Carson will be happy to have got through the evening with barely any reference to his ongoing row with the media, regarding his back story. Given the distrust of the media amongst GOP voters, the former neurosurgeon may have survived the saga without damage or even enhanced his outsider credentials.
Perhaps the most useful signals regard the future direction of debate. These exchanges were less personal, much more political. As with the wider party, these eight candidates on the main stage represent quite different brands of conservatism, differing over key electoral issues such as immigration.
On one wing, Trump's plan to build a wall with Mexico and deport 11M illegal immigrants has been part of his appeal to hardliners. On the other, Kasich derides the plan as a 'silly argument', unworkable and inhumane. Their spat was arguably the night's most memorable moment.
Rubio's positioning on this subject could ultimately determine his fate. As the sponsor of reforms that stalled in Congress, he is already labelled 'pro-amnesty' by Trump.
Cruz has notably avoided criticising Trump's rhetoric, openly targeting his voters. Without actually naming Rubio, his warning to not become the 'party of amnesty' signalled a dividing line for the wider race ahead, which many believe will eventually be a Cruz/Rubio head-to-head.
Follow me on Twitter @paulmotty and at www.politicalgambler.com
Discover the latest articles