US Politics: Cohen testimony was merely the start of Trump's nightmare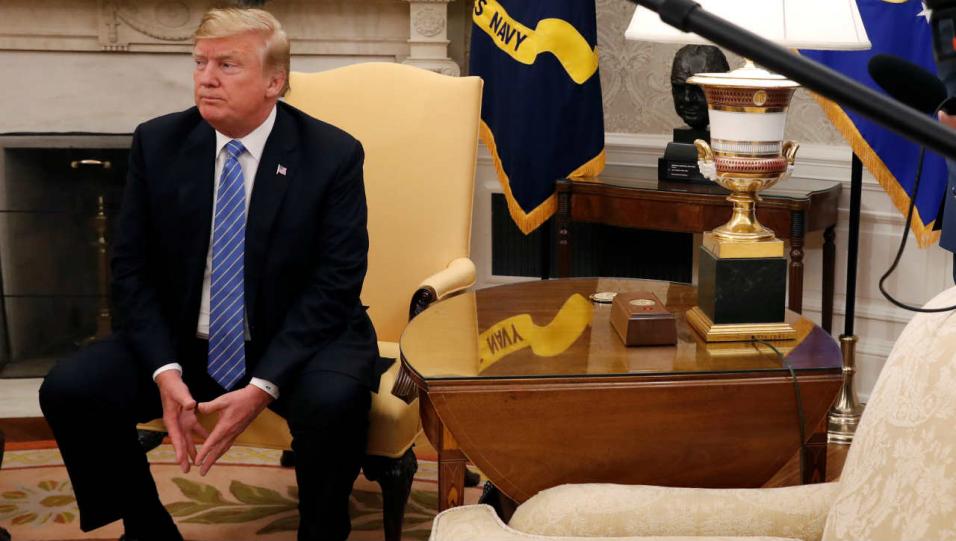 Trump's time in the Oval Office is running out
The bombshell allegations emerging from Michael Cohen's testimony to Congress are only the start of a process that will finish Donald Trump, says Paul Krishnamurty...
"Cohen either confirmed numerous crimes or told the committee precisely who to ask. The evidence given behind closed doors to the House Intelligence Committee was reportedly a gamechanger."
It made instant news around the world, overshadowing the North Korea summit failure, It even knocked Brexit off the Newsnight lead. Michael Cohen's testimony to Congress was both captivating in detail - laying out the president's crimes and sparking new lines of investigation into several more - and political theatre. But did it move Betfair's array of markets on Trump's future?
Trump rated weak for 2020 but likely to survive
In short, not much. Trump remains 3.1511/5 to win the 2020 Election and 1.42/5 to be the Republican Nominee. While those represent historically low ratings for a sitting president, punters remain sceptical about an early exit. Trump is rated 75% likely to complete a full term at 1.331/3, and 88% to survive 2019 at 1.121/8.
There was, however, a move for first-stage impeachment - passed merely on one count by the Democrat-controlled House of Representatives. Odds about that dramatic development came down to 3.02/1 following a significant drift since the mid-terms.
Democrat-led House is a nightmare for Trump
These hearings demonstrate why the mid-terms were so important. A Democrat-controlled House means oversight, theatre and political clout to support the plethora of criminal investigations encircling Trump, his family, business and Inaugural Committee.
Cohen's three days and counting of interviews - two were behind closed doors, and he will return soon with documentation to back up explosive claims - are just the beginning.
In public at least, Trump's former fixer came across as the epitome of an apologetic co-operating witness. Cohen either confirmed numerous crimes or told the committee precisely who to ask. The evidence given behind closed doors to the House Intelligence Committee was reportedly a gamechanger.
Swalwell: "We truly were at the edge of our seats, listening intently as Mr. Cohen told us information that he certainly did not tell us in October 2017 when we interview him, and he certain did not testify to in the open hearing." pic.twitter.com/LPd1VwSbhg

? Maddow Blog (@MaddowBlog) March 2, 2019
Cohen claims warrant further investigation
The president and his messengers understandably dismiss it as unreliable evidence from a proven liar and criminal but this misses the point. Leaving aside the awkward fact that this lying criminal did so on behalf of Trump, it matters less whether people like or believe him than whether he can provide useful information to investigators.
I don't think people have appropriately processed the incredible number of felonies that Cohen directly implicated Trump in today. And its understandable, because its an incredible number. But here is my rough tally:

? Ken Gude (@KenGude) February 27, 2019
Each of these demonstrable crimes or allegations will now prompt further investigation, subpoenas and theatre in Congress, each dominating the news cycle. A narrative will emerge of a life of financial crime - tax and insurance scams; vastly inflating and deflating wealth; money laundering; buying and burying negative stories.
After Cohen, the next key witness will likely be Allen Wiesselberg - Chief Financial Officer of the Trump Organisation since Donald's father's era. The New Yorker have helpfully laid out fifteen questions for Democrats to ask the man who knows the Trump family's notoriously opaque finances better than anyone.
The subpoena of Deutsche Bank - apparently the only Western bank to lend Trump money in recent times - may prove the most explosive and central to understanding the wider conspiracy. They are currently embroiled in a massive investigation into Russian money laundering and have been hit by record fines.
Beyond Congress, the infamous prosecutors at the Southern District of New York are ramping up their cases against Trump, and reportedly taking indictment very seriously. New Jersey just voted to demand the tax returns of any putative 2020 candidate.
Impeachable crimes aren't dependent on Mueller
To get an idea of the scale of Trump's legal problems, consider that Robert Mueller barely warranted a mention last week. While that investigation is widely regarded as the trigger (or not) for impeachment, it evidently isn't the only controversy or crime that could bring Trump down.
Mueller business was either kept behind closed doors, redacted or are working way through the legal system. Before finalising his report, the indictments and guilty pleas are piling up. Paul Manafort is looking at spending the rest of his life in prison and deep co-operation between Trump's campaign and Russian government actors has already been proven.
Why, therefore, isn't there a big market move against Trump? I suspect the answer is scandal fatigue. There are so many charges against Trump - more in one day than previous presidents endured over a lifetime. It becomes hard to differentiate between the issues and a perception that nothing touches him sets in.
This is wrong. It gets lost in the 24/7 media cycle that investigations and legal cases take time. It may feel like longer but Trump has only been in power for just over two years. The Watergate process took longer. I remain fervently of the view that 2019 will be Trump's 'hell year'.
Will it result in impeachment? Although Democrats probably want to avoid it and would rather destroy him via these investigations, my feeling remains that the scale of 'high crimes and misdemeanours' exposed will leave them no choice. I don't envisage Republican Senators finishing the job but that secondary vote does not apply to landing the bet at 3.02/1.
Longer term, nothing has changed with my predictions. I've laid around an average 2.915/8 to win the 2020 election and, for smaller stakes, around 1.4740/85 to be the GOP nominee.
Regardless of his dismal polling now, I cannot see how what is left of Trump's reputation or credibility survives 2019. As argued last summer, running a year-long presidential campaign against the backdrop of criminal investigation, while your brand becomes mired in corruption, is not realistic strategy. It destroyed Hillary Clinton and, whatever her weaknesses, using a private email server hardly compares to the litany of crimes piling up against her old foe.
Bet on the Trump Presidency here
Will Trump be impeached by the House of Representatives during his first term?
Will Trump survive a full-term?
What year will Trump leave office?
2020 Republican Nominee
2020 US President
Follow Paul on Twitter and check out his website, Political Gambler.
Discover the latest articles
Read past articles