2020 US Election: The next big political outsider - Avenatti for President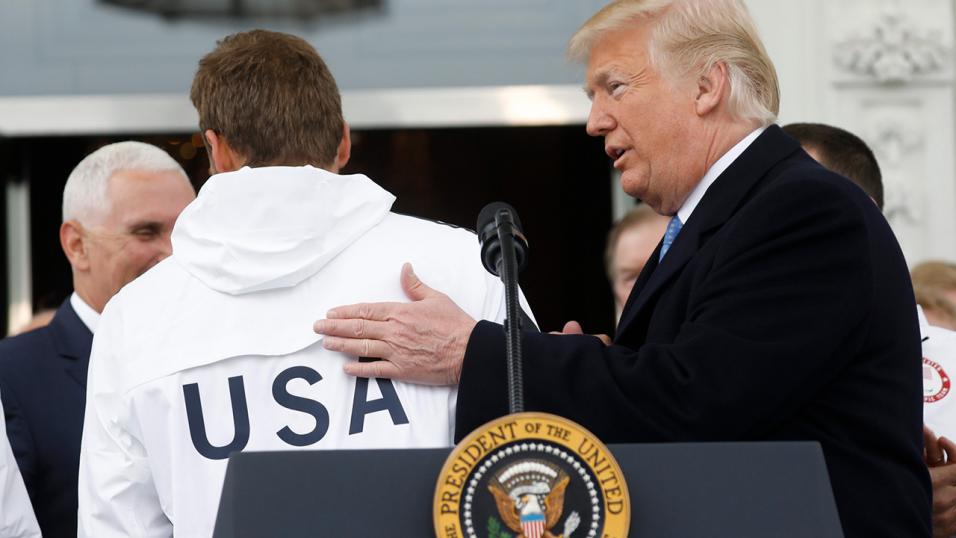 Could Michael Avenatti be the one to take down Donald Trump?
Donald Trump's victory proved non-politicians can win the presidency and Paul Krishnamurty says its highly plausible he could be taken down in 2020 by the charismatic lawyer who is fast becoming his nemesis...
"Confident, articulate and telegenic, he has become almost omnipresent on cable news...He receives ovations on chat shows for promising to bring Trump down and his political moves show he's pitching to lead that fight."
Three years of unprecedented volatility in politics have taught us two betting lessons. First, there has never been a better time in the history of this particular medium to take big odds about upsets. Second, Donald Trump and Emmanuel Macron showed you don't need to be a politician to win elections and that outsider candidates may even be at an advantage nowadays.
Indeed in the aftermath of Trump's victory, all sorts of unimaginable presidents were backed to win the 2020 Election. Oprah Winfrey was backed down to 9.08/1 merely on the back of a Golden Globes speech. Facebook chief Mark Zuckerberg was popular at 21.020/1 before the Cambridge Analytica scandal soiled his brand. Most bizarrely, Dwayne 'The Rock' Johnson was matched down to 15.5.
Just got £20 matched at 267 for Next President https://t.co/rmvbWgweVM

? Political Gambler (@paulmotty) July 4, 2018
None of them ever made any appeal but here's another with much more realistic credentials and tremendous potential, at much bigger odds. When tweeting this seven weeks ago, it was merely a speculative punt at an average of 267.0 on somebody who probably wouldn't run but whose odds would likely shorten.
In light of subsequent events and behaviour. Avenatti now rates a confident, top value trade at anything down to half his current 100.099/1 odds. He's running.
Below is an updated summary of where I stand on over 20 key issues. This is not an exhaustive list; more positions and details will follow. I am pleased to report that I still have not had to take a poll or hire a political consultant to tell me what to say or what to believe. pic.twitter.com/51F9zF88OG

? Michael Avenatti (@MichaelAvenatti) August 27, 2018
The media has been hanging on Avenatti's every word ever since entering the public arena on behalf of his most famous client, Stormy Daniels. Confident, articulate and telegenic, he has become almost omnipresent on cable news.
Nobody has done more to expose the criminality and corrupt dealings of Michael Cohen that now threaten the president. He receives ovations on chat shows for promising to bring Trump down and his political moves show he's pitching to lead that fight.
Avenatti is already courting key primary voters
In recent months, Avenatti has visited the opening primary states, Iowa and New Hampshire, generating incomparable coverage than any other Democrat candidate would expect.
He's making set-piece speeches and spearheading causes of fundamental importance to the Democrat base - reuniting detained immigrant children with their families, championing womens' equality. Correctly gauging the mood amongst 'The Resistance', he wants to get big money out of politics.
The Equal Rights Amendment has been in limbo far too long. It is frankly shocking that it has yet to be ratified after all of these years. The time has come to change this. Women deserve equal rights across the board, especially equal pay! #Basta

? Michael Avenatti (@MichaelAvenatti) August 26, 2018
I have been negotiating with the government since my stmts to the press this morning and my last tweet. It now appears that they will grant me custody and allow me to take Antony home to his mother in Guatemala on a flight tonight,after 81 days of being separated. #FingersCrossed

? Michael Avenatti (@MichaelAvenatti) August 14, 2018
ALL candidates for president in 2020 should agree to refund ALL corporate PAC donations they have received since Jan 2016 within 30 days of announcing. We must get big money out of politics and even the playing field. #NoMoreLipService #Basta

? Michael Avenatti (@MichaelAvenatti) August 19, 2018
These factors alone make him a better bet than celebrities who rarely if ever intervene in politics. He is certain to remain a central figure either directly taking the fight to Trump via those cases and other women accusers he represents, or relentless commentary on Twitter and cable news.
It is the perfect audition for 2020 and, were he to confirm his candidacy sometime next year, it would likely garner the sort of publicity Trump kickstarted in 2015.
Trump proved media saturation is the key
Indeed he could could repeat some of the 21st century tactics employed to such devastating effect in 2015. Hog the news cycle and squeeze out rivals in what will probably be a crowded field for the Democratic Nomination, at the exact moment they urgently need coverage to gain name recognition. Ensure you are the centre of attention when their chance arrives at TV debates, by which time his momentum could be unstoppable.
New rule - any Dem candidate for president that whines about not getting enough press coverage or about other candidates getting too much coverage, should be immediately eliminated. We cannot be a party of whiners and hope to win what we need to win. #Basta

? Michael Avenatti (@MichaelAvenatti) August 18, 2018
Lack of political baggage is an advantage
Whilst lacking baggage, he is not without political credentials either, A self-described 'Bill Clinton Democrat', Avenatti worked for the party back in the 1990s and, having vigorously promoted liberal causes recently, might be able to ward off attacks on being an outsider.
His lack of political definition and inclusive policy language will also appeal better to independents and anti-Trump Republicans than from most Democrats.
Of course there are plenty of counter-arguments. After Trump, the last thing Americans might be yearning for is another outsider with no governing experience. He lacks the organised, committed following of rivals such as Bernie Sanders or Elizabeth Warren. Does he know enough about policy and how to position a campaign? His personal and professional life has yet to be scrutinised. Sure, Trump won despite breaking all the rules but everybody now knows the new rules.
No matter - those are fair risks to take about a 100.099/1 chance. I'm confident these odds will go a lot shorter. As reiterated last week, my prediction remains that Trump won't run again in 2020. However if he is the Republican Nominee, Avenatti is right that the Democrats need a streetfighter. If as seems increasingly likely, the election turns out to be Trump on trial, I can't think of a more convincing prosecuter.
Bet on the Trump Presidency here
Will Trump survive a full-term?
What year will Trump leave office?
2020 Republican Nominee
2020 US President

Follow Paul on Twitter and check out his website, Political Gambler.
Recommended bets
Back Michael Avenatti to win the 2020 US Presidential Election @ 100.099/1
Discover the latest articles
Read past articles