US Politics: Corruption will finish Trump but don't bet on impeachment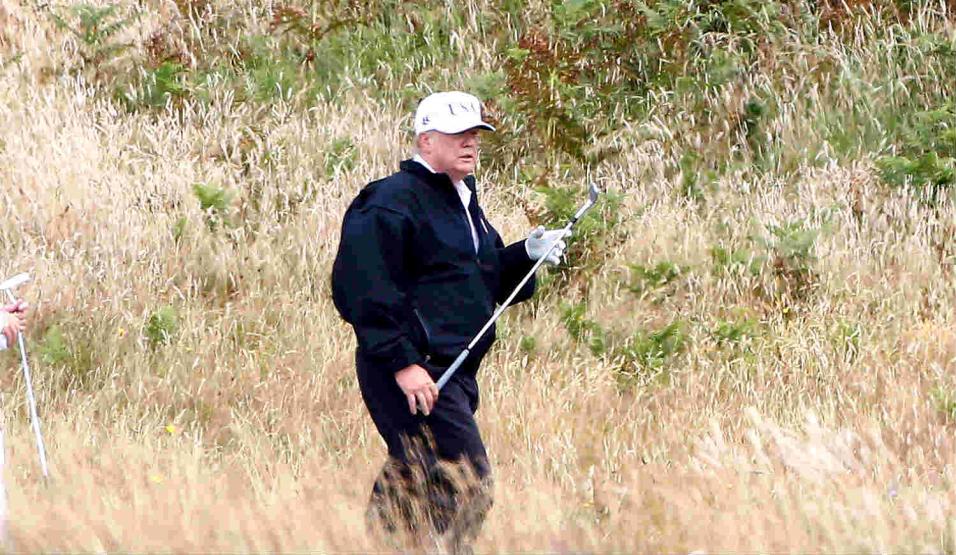 Paul predicts that Trump will have much more time for golf in 2021
Betfair's array of Donald Trump markets are spiking again after two of his close advisors were convicted of multiple crimes. Is impeachment on the cards? Here's Paul Krishnamurty's latest...
"This could be merely the first Cohen revelations. He has been at the heart of Trump operations for years and is a key player in the Russia investigation."
Its all kicking off again in what has become the most bizarre political market in history. Just when it seemed that bettors were giving up on Donald Trump leaving office prematurely, the US legal system deals the President a double-whammy.
Last night, Trump's former campaign manager Paul Manafort was convicted on eight counts of financial crime in the first of two trials that could see him spend the rest of life in prison. That news was widely expected, and could actually have been worse, but few predicted the second bombshell.
Cohen flip has massive implications
Michael Cohen - ex lawyer and fixer to the President - pleaded guilty to eight counts of tax fraud, bank fraud and, critically, campaign finance violations regarding hush money paid to Stormy Daniels and another Trump accuser, Karen McDougal. A man who once claimed he'd take a bullet for Trump now directly implicates him, saying his crimes were 'on behalf of a candidate with the purpose of influencing the election'.
Most seriously, this could be merely the first Cohen revelations. He has been at the heart of Trump operations for years and is a key player in the Russia investigation. Just as Manafort's deputy Rick Gates flipped to become a star witness rather than face a life in prison and financial ruin, so too Cohen may be forced to testify.
Convictions spark a new gamble on Trump leaving early
Late last night UK time, Betfair markets immediately reacted. The likelihood of Trump surviving a full term fell from 72% to 63%, before settling around (65%) this afternoon at odds of 1.538/15.
The odds on him leaving in 2018 also fell sharply to 10.09/1 (10%) and Trump's odds to win the 2020 Presidential Election is out to 2.727/4 (37%).
With the mid-terms less than three months away, Trump would obviously love to change the subject but that simply won't happen. The remainder of his presidency, however long that is, will be conducted against a backdrop of legal threats and relentless exposure of corruption.
Nobody following the Manafort/Cohen investigations will have been surprised by yesterday's spike. It is the first of many. The news cycle will next be dominated by the Cohen case, Manafort's next trial, collusion with Russia, obstruction of justice and an emoluments case bound to expose a plethora of conflicts of interests.
Mueller's bombshell evidence only just starting
Although he may still try, it is now that much harder for Trump to sack Robert Mueller. His investigation has already yielded hundreds of criminal charges, guilty pleas from all the Americans besides Manafort, now convicted. As regular readers will know, I've had every faith in this process from the start and at this point, believe Mueller is playing a very smart game, laying out the details of this vast criminal conspiracy piece by piece.
Manafort's first trial laid out in uncontested documentary evidence how he was deeply tied to various pro-Putin, Ukranian politicians and oligarchs. Next month the second trial - for money laundering, failure to register as a foreign agent and witness tampering - will expose it in further depth and how Kremlin-backed actors sought to influence Western politics.
Eventually, we will get to the star defendant, currently incarcerated in the same Virginia jail as Manafort. Maria Butina, the alleged Russian spy who bought her way to the heart of the Republican and NRA establishment with money and sex. Like everything else in Trumpworld, it will be ratings gold.
Of this course of events, I am in little doubt and absolutely reiterate past predictions that he will not win a second term in 2020. However it may surprise readers who know my longstanding anti-Trump bent to learn that I would rather be on the other side of these survival markets.
Impeachment nevertheless remains unlikely
I do expect the Democrats to win the House of Representatives in November, leading to the release of all manner of damaging evidence regarding Russia from committees. They won't be able to resist voting for impeachment but, at this divided moment in US history, it is simply unimaginable that impeachment could be backed by two-thirds of a Republican-dominated Senate.
Moreover after the Manafort trial, I'm sceptical that it will be possible to get unanimous jury verdicts against future defendants. That looked an open and shut case and was effectively uncontested, yet the jury was split on ten counts. Trump supporters remain as fanatically loyal as ever.
Of course, sentiment can change and if four decades of mob connections finally become common knowledge, perhaps even Republicans will turn on Trump. Heavy losses in November might also change some minds. Nor, whilst it may seem unlikely and out of character, can a sudden resignation upon realisation of legal jeopardy be totally ruled out.
However, whilst the markets may have swung back and forth, my prediction hasn't changed. Drip by drip, the Trump brand will become synonymous with corruption and venality, to all bar his hardcore base, and finish his political career.
By the end of 2019, it will be clear that he will face a primary challenge nothing like 2016 and the entire election year will be dominated by these ongoing investigations. I'm confident he'll be well behind potential Democrat rivals in general election polls too, just as he was to everyone bar Clinton in early 2016.
At this point, Trump will withdraw from the next election and spend his final year in office doing what he does best - a victory lap, congratulating himself at rallies of adoring fans, telling them how Trump made America great again and selling merchandise. Next move? Trump TV.
Bet on the Trump Presidency here
Will Trump survive a full-term?
What year will Trump leave office?
2020 Republican Nominee
2020 US President

Follow Paul on Twitter and check out his website, Political Gambler.
Discover the latest articles
Read past articles