US Politics: The Trump ship may finally sink in 2018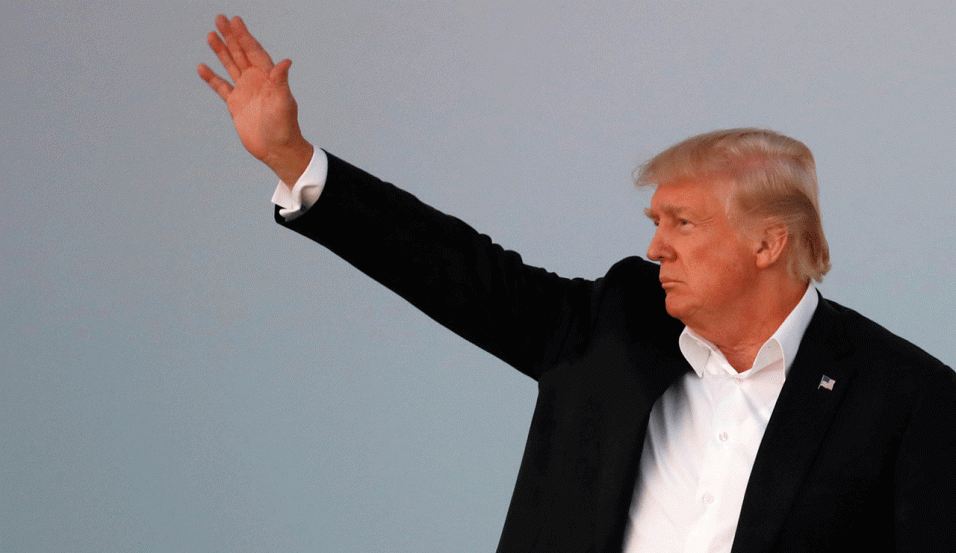 2018 could be the worst year yet of the chaotic Trump era
A salacious new book on his chaotic presidency means Donald Trump starts 2018 in familiar, crisis-ridden territory. Paul Krishnamurty says the madness may well end this year...
"Michael Woolf has merely created the narrative that will accompany its implosion. The question of whether Trump is mentally unstable and unfit to serve will dominate politics in 2018. With each Mueller-generated or self-inflicted spike, it will become more pertinent. Each Trump response will continue to fuel the fire."
In a stark change from the trajectory of recent years, Betfair markets are taking a steadily improving view of Donald Trump's prospects. From a low point of 43% in the wake of indictments related to the Russia investigation, the US President is now rated 53% likely to survive a full-term in office at odds of [1.9].
Considering that no such market existed about President Obama or Bush's survival, or would have attracted much interest, the current odds are hardly a ringing endorsement. Nevertheless, it is notable that markets remain unmoved by the agenda-hogging revelations in 'Fire and Fury' - the book on Trump's presidency that has rocked US politics and whose author predicts will bring him down.
Woolf's book reveals even Trump allies agree with his critics
Michael Woolf's claims echo countless news reports and the longstanding warnings from his biographer Tony Schwartz about his behaviour - obsessively watching cable TV, eating cheeseburgers, lacking the attention span to read anything of length or concentrate - and childlike, narcissistic personality. The lack of basic political knowledge is not a feigned stump tactic. Woolf says 100% of the people around Trump question his intelligence.
It reinforces the consensus that has grown across the spectrum since he entered the political fray in 2015. These barely refuted anecdotes confirm that consensus is shared by his friends, allies, colleagues and even family. This isn't even the GOP establishment, whose belated support for Trump was blatantly opportunistic. Steve Bannon is a true believer and architect of his agenda, while others extensively quoted in the book are still serving in government.
It all fits the commonly-used Mad King analogy and feels more like a movie than the real world. Comical and terrifying in equal measure and surely unsustainable. Yet Trump has been generating chaos and absurdity ever since his primary campaign began over two years ago, and repeatedly defied those of us who deemed it unsustainable. Then, as now, removing Trump requires the acquiescence of Republicans.
On that front, there is no sign of progress. GOP lawmakers lined up to fawn over Trump following their tax reform win and many are working to undermine the Mueller investigation. Before assuming duty will force them to act, check out this gloomy end of year analysis from Charlie Sykes - previously a solid Conservative talk-radio host, who broke ranks over Trump, whom he hilariously exposed during this radio interview way back in April 2016.
Nevertheless, the past does not always repeat itself. If something is unsustainable, then it will fall. It is irrelevant that previous tipping points failed to materialise - the time will come. Events have a life of their own and there are a series of disasters coming down the track.
Mueller's money laundering investigation could be a gamechanger
Critically, there is Mueller. Bannon's claims about the investigation are the most striking to emerge from the book. Not merely that the meeting with Russians at Trump Tower was 'treasonous' but that the family will become ensnared in money laundering charges.
Granted, Bannon is hardly an impeccable source but he reiterates the work of numerous investigative journalists. Trump's connections to Russian oligarchs and relentlessly controversial business affairs have been newsworthy for decades. The significance of Mueller immediately choosing a money laundering specialist was widely noted. Bannon is merely confirming that those inside the Trump bubble do not really believe the Russia scandal is 'fake news'.
The investigation is bound to ramp up this year. Mueller brought significant charges very quickly and clearly more leads, regarding more serious crimes, are emerging. Numerous people around Trump are already spending fortunes on lawyers to address a problem that isn't going away. Some might flip and rumours of mass resignations seem likelier to materialise, given the difficulty for those insiders quoted to credibly maintain a White House role.
Any political campaign involves a stack of political professionals who will exit the moment it no longer serves their career. Most credible voices have long distanced themselves, leaving the likes of Stephen Miller to endure yesterday's car-crash interview on CNN, during which Jake Tapper mocked him for performing for an audience of one before cutting him off. Eventually the likes of Miller will realise there's no future in being the next Sean Spicer.
***Watch Trump adviser cut off after disastrous interview on CNN***

All of this drama will further cement the image of the Mad King, completely detached from - and increasingly abandoned by - the machine operating around him. Fire and Fury will not, in itself, destroy the Trump presidency. Michael Woolf has merely created the narrative that will accompany its implosion. The question of whether Trump is mentally unstable and unfit to serve will dominate politics in 2018. With each Mueller-generated or self-inflicted spike, it will become more pertinent. Each Trump response will continue to fuel the fire.
Michael Wolff is a total loser who made up stories in order to sell this really boring and untruthful book. He used Sloppy Steve Bannon, who cried when he got fired and begged for his job. Now Sloppy Steve has been dumped like a dog by almost everyone. Too bad! https://t.co/mEeUhk5ZV9

? Donald J. Trump (@realDonaldTrump) January 6, 2018

What might the tipping point, to turn senior Republicans, be? Mass Cabinet resignations? Charges filed against the Trump family? The prospect of Congressional candidates across the land marching towards defeat, tied to a toxic president in mid-terms that have effectively become a referendum on him?
All are highly plausible but we can only guess the timing and means of departure. Perhaps it takes a beating at the mid-terms - for which I must reiterate advice to back the Democrats to win a majority in the House of Representatives - to kickstart a GOP revolt in 2019. Perhaps a Mueller development or new disaster forces a sudden resignation? It could happen overnight.
Opposing Trump for 2020 remains the best bet
That uncertainty is precisely why I've preferred playing the 2020 election markets. Trump remains awful value at [3.5] to win a second term. That would involve passing three hurdles - survive a full-term, win the GOP nomination and then win an election for which he will likely be a big outsider. Opposing him for 2020 - by which time he will be 74 - is a vastly superior option compared to exit date markets.
For those, I have only one live bet on 2018 at [6.0], recommended last year and now a little shorter at [4.5]. I'm happy to hold on to it, in the hope that the tipping point - or at least serious speculation about it - emerges this year. The madness of the last two will not become business as usual. Yes, Trump has been wrongly written off before but there were always plenty prepared to give this experiment a chance. As that number diminishes, normality will eventually resume. This is the real world, not Hollywood.

Follow Paul on Twitter and check out his website, Political Gambler.