UK Politics: To become Tory leader, George Osborne must defy betting history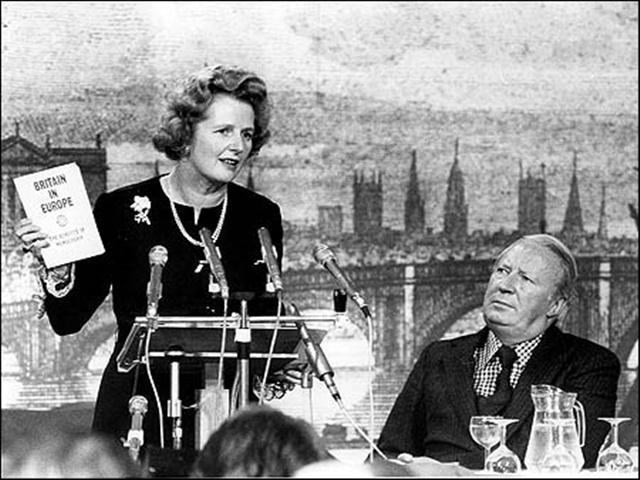 Few regarded Margaret Thatcher to be a future PM in 1975
The eyes of the political world are on George Osborne's speech to the Tory conference today, in expectation of an address that cements the Chancellor's status as the favourite to succeed David Cameron. However as Paul Krishnamurty explains, the early favourite tag has proved an impossible burden to carry in the past...
"Since the advent of political betting during the early 1960s, no early favourite went on to win any of the seven Tory leadership contests."
Since masterminding a famous election victory, George Osborne has soared in the betting to be Next Conservative Party leader. From 9.417/2 when I tipped him in March, the Chancellor is now the clear 2.89/5 favourite.
However political historians will confirm that being the early favourite for this contest is a far from comfortable position, and perhaps even a jinx. Remarkably, since the advent of political betting during the early 1960s, no early favourite went on to win any of the seven Tory leadership contests. Here's how.

1963: Rab Butler loses to Lord Alec-Douglas Home
In the first ever big political betting heat, bookies and pundits called it spectacularly wrong. One of the leading politicians of his generation who had held every major office of state below PM, Rab Butler was considered a shoe-in for a job many felt he deserved earlier. However in a move that would be unimaginable now, and seemed outdated even 50 years ago, Tory MPs rejected him for an unelected peer, Lord Alex Douglas-Home.

1965: Reginald Maudling loses to Ted Heath
Home duly lost the 1964 election and stood down in the following year. Maudling was favourite on the basis of his personal popularity with both voters and party members, but his outside business interests and strong association with the previous government hurt his bid. His failure has obvious parallels with the Labour Party's recent troubles.
As Chancellor in the previous government, Maudling carried the blame for a grim economic legacy. He famously left a note for the incoming Labour government saying "Good luck, old cock. Sorry to leave it in such a mess!" A joke that secured an unfortunate footnote in history, which Labour's Liam Byrne would so ruinously repeat in 2010.

1975: Ted Heath loses to Margaret Thatcher
Perhaps the most significant leadership contest in modern times, that saw the ideology of the Tory party change and ultimately transform the country. Heath called a party vote to assert his authority, and was expected to win easily when his principal rivals either backed him or, in the case of Keith Joseph, ruled himself out after saying poor people should have fewer children.

Thatcher's leadership bid changes the course of political history

An acolyte of Joseph, Thatcher threw her hat into the ring and pulled off an enormous upset, securing the backing of many MPs who weren't regarded as her natural, ideological supporters but wanted change. With Heath defeated, a five-runner contest then took place a week later, with Thatcher maintaining momentum, as she would for the next 15 years.

1990 Michael Heseltine loses to John Major
In this infamous contest, Heseltine was another losing favourite, whose experience would shape the future behaviour of others. 'Tarzan' was Thatcher's most significant internal opponent, widely known to be ambitious. As the architect of her downfall, he made lifelong enemies within his own party, who ensured he wouldn't inherit the crown. Major, the Chancellor and never seen as a future leader, was a 66/1 chance just days before becoming PM.
Since Heseltine's defeat, no would-be assassin has had the guts to risk such a fallout. Most notably, Michael Portillo and Labour's David Miliband both kept their powder dry, but their public loyalty never paid off when the job eventually became free.

1997: Ken Clarke loses to William Hague
The party was in crisis after a historic landslide defeat, with no clear vision of how to go forward. Should they go for experience, offered by successful Chancellor Clarke or Home Secretary Michael Howard? Or skip a generation for somebody untainted by the unpopular Major government? More pertinently, who was best placed to heal divisions over Europe?
Once it boiled down to a choice between arch-Europhile Clarke or a more Eurosceptic voice, MPs preferred the little-known, youthful former Welsh Secretary. Hague was just 36 when getting the job and his inexperience ultimately proved costly.


2001: Michael Portillo loses to Iain Duncan-Smith
TV train pundit Portillo was once the standard bearer of the Thatcherite Right and hot favourite to succeed John Major after the Tories' widely expected 1997 defeat. The shock loss of his seat, later voted the third greatest TV moment ever, put paid to that plan. A rapid makeover ensued and in 1999, Portillo returned to Parliament.
This was the first leadership contest of the Betfair era, and he was heavily backed into short odds-on favouritism once Hague had stood down. However his image conversion and social liberal tendencies alienated many old supporters, and a successful 'Stop Portillo' plot among MPs excluded him from the newly created run-off amongst party members.
Initial 33/1 chance Iain Duncan-Smith eventually defeated perennial runner-up Clarke, but survived only two years before being replaced by Michael Howard in an uncontested 'coronation'.

2005: David Davis loses to David Cameron
One effect of Portillo's demise was that his supporters on the party's social liberal wing were seen to be in a minority, always vulnerable to a more authoritarian candidate. Thus the leading Portillistas - Cameron and Osborne - were relative outsiders to begin. Davis had impressed as an outsider in the 2001 contest and quickly built up a formidable list of endorsements from MPs expecting him to take control after the 2005 election.
Davis headed to the Tory conference trading around even money but, once all four candidates had made their pitch and focus groups were consulted, he was in trouble. Whereas his speech was widely panned, newcomer Cameron went down extremely well and dominated the contest from there on. Proof, after the 2001 debacle, that Tory members do know how to pick a winner!

Watch the 2005 speech that propelled David Cameron from outsider candidate to Tory leader here

Follow me on Twitter @paulmotty and www.politicalgambler.com
Discover the latest articles