Next Tory Leader: Johnson is playing a smart PR game but he won't succeed May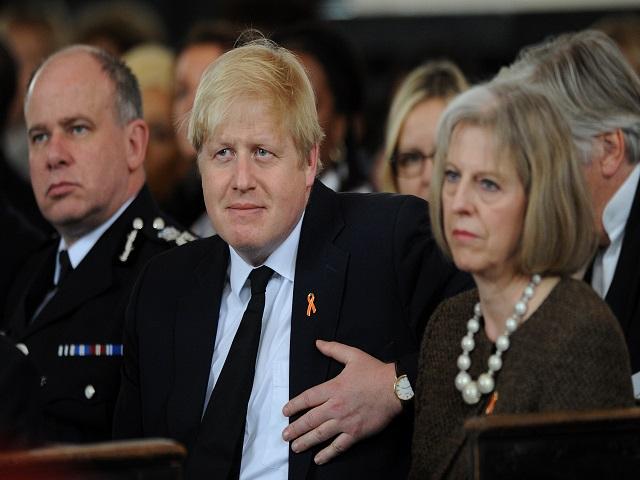 The news cycle remains focused on May's Brexit speech and Johnson's reaction
What on earth is going on with Boris Johnson? Paul Krishnamurty tries to make sense of the chaos and discusses the implications for the race to be next Tory leader...
"There will be no imminent leadership challenge. Nobody else wants May's job until we have actually left the EU...Afterwards, being the PM of 'newly independent' Britain becomes a great gig, full of opportunity. The current drama is all about positioning for that contest."
It is good to know there are still some timeless certainties in politics. The Conservative Party will be split over Europe. The media will be obsessed with leadership challenge rumours and Boris Johnson will be doing anything within his power to generate publicity for himself.
Ever since the Foreign Secretary dropped his 4,000 word Brexit article last Friday, all other issues have been relegated to a back seat. Even yesterday's implication of a nuclear war only momentarily halted the speculation. Was this a coup attempt? Will Johnson challenge Theresa May for the leadership? Will he be sacked? Will they clash at the UN? Will he resign if her speech doesn't meet his demands?
The answer, I suspect, is none of the above. Instead it was a cunning PR move with profound implications for the wide-open race to succeed May. The actual substance of Brexit is only secondary. All that remains subject to change. Besides, as we know from his two articles backing either side of the referendum ahead of the vote last year, Boris likes to hedge his bets.
Johnson now claims to be mystified by quit rumours

As things stand, Johnson remains part of a government that is a "nest of singing birds". Yet 'friends' are leaking to serious newspapers that he could quit by the weekend if he doesn't like May's speech. That he 'could not live with the version of Brexit under consideration." On the other hand, this morning's Times says he's staying and Bloomberg report him to be 'mystified' by the speculation.
So far as specific detail is concerned, these 'versions' of Brexit are merely speculation, at least until May delivers her speech, let alone agreement actually reached with the EU. Clearly, differences concern the length and cost of a transitional deal after Brexit, with reports suggesting she is leaning towards a Switzerland-style deal. The harder Brexit group - now apparently led by Johnson - prefer a looser arrangement.
I suspect that by next week these facts could have changed and few will remember the details. Brexit will remain an incredibly complex, controversial process, to be driven by developments that few, including the chief participants, can be expected to foresee.
There will be no imminent leadership challenge. Nobody else wants May's job until we have actually left the EU. Why risk being blamed for the fallout? Be sure, critics will persistently portray everything as a disaster. Afterwards, being the PM of 'newly independent' Britain becomes a great gig, full of opportunity. The current drama is all about positioning for that contest.
So what of these latest Johnson tactics? There is a school of thought that he's blown it already - exposed as an opportunist by publishing the article in the wake of a terror attack and shown to be a liar by the head of the UK Stats Authority. The problem with this theory is that it's proponents are invariably Remainers, or at least enemies. They are usually people who will either not have a vote in any future Tory leadership election, or would never support him anyway.
In contrast, senior Brexiteers such as Michael Gove - the man whose famous assassination killed his leadership hopes last year- have come out in his defence. On this reckoning, Johnson is playing a smart game. Conservative members are overwhelmingly pro-Brexit and will likely vote for someone who led the charge. This restores his referendum status as chief Brexiteer - ahead of Gove, Andrea Leadsom or up and comers like Jacob Rees-Mogg, Steve Baker and Dominic Raab.
Punters unimpressed as Davis remains favourite to succeed May

That said, this Tory leadership race remains as wide open as any in living memory - illustrated by market leader David Davis trading at 7.26/1. At 8.88/1, Johnson is the only other candidate in single figures, having drifted like a barge since opening as sub 3.02/1 favourite.
It is easy to envisage a beleagured May resigning suddenly. In which case the replacement would surely need to be a senior minister. Davis remains the likeliest beneficiary of that scenario - probably after a coronation. He would be a safer, less divisive pick than Johnson and the members would prefer him to Philip Hammond or Amber Rudd.
However if May sees the process through until 2019 or beyond, literally dozens of alternatives could come into the reckoning. Besides the Brexiteer wing listed above, more liberal types such as Ruth Davidson, James Cleverly, Stephen Crabb and Heidi Allen might fancy their chances.
It is that scenario for which Boris, I believe, is positioning. One where he dominates in terms of name recognition and encourages alternative Brexiteers to unite around him. In short, the scuppered plan from last summer.
I'm not interested in backing him though, for numerous reasons. Many MPs retain doubts about his credibility and professionalism, let alone loyalty. Members may increasingly share those doubts. He is not a unifying figure. Plus after the latest shenanigans, plenty in the media will be out to get him. They don't react well to false flags and leaking alternative stories to rival newspapers.
History suggests those that either wield the knife, or are even thought to be plotting to wield it, never inherit the crown. Ask Michael Heseltine, Michael Portillo or David Miliband. Without doubting his ambition for a second, that alternative narrative might satisfy Johnson's ego. To be remembered in popular folklore as the man who won Brexit - the best PM we never had.

****

Follow Paul on Twitter and check out his website, Political Gambler.

Discover the latest articles