UK Politics Betting: May survives for now but can she last the year?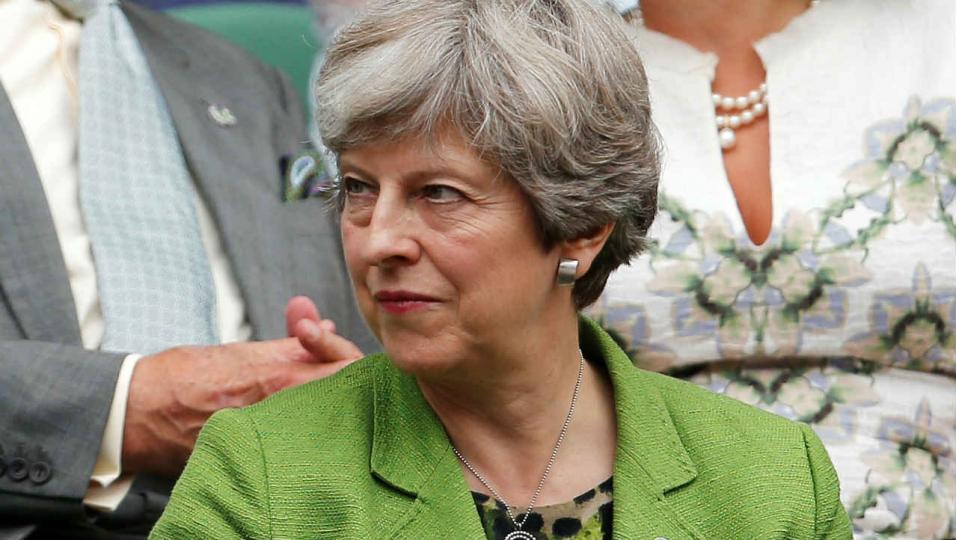 Beleagured Theresa May is hanging onto her job by a thread
Despite the Cabinet imploding and the Conservative Party racing towards civil war, there remains no direct threat to Theresa May's job. Paul Krishnamurty says that situation is unsustainable and is looking to late 2018 for a changeover...
"A key date is the European Council meeting on October 18, when the transition deal is scheduled to be finalised. Unless May somehow emerges with something palatable to both Brexit MPs and a majority of Parliament, something has to give."
After an unforgettable day of political drama, Betfair markets were downgrading the likelihood of Theresa May being imminently forced out of office but her position remains perilous. The Prime Minister is rated 42% likely to leave office this year at odds of 2.47/5. In our tri-monthly market, July-Sept is trading at 3.55/2 (28%) down, from around 8.07/1 over the weekend. Earlier in the day, however, both markets had traded odds-on, down to 1.618/13 and 1.8810/11 respectively.
As Max Liu reported yesterday, the betting exploded into life late Sunday after David Davis' resignation, to be followed later by Boris Johnson. As May dealt with a largely hostile and even derisory Commons, Sky News ran a split-screen with footage of Foreign Secretary's official residence, avidly awaiting Johnson's resignation statement.
No imminent challenge leaves May safe for now
That seemed a moment of maximum peril but, as the subsequent market drift implies, there remains no indication of an imminent confidence vote or leadership challenge. None of the resigning Ministers called for May to go and other prominent Brexiteers like Jacob Rees Mogg were quick to reaffirm that they were after a change in policy, not PM. Later, she reportedly survived a meeting of the backbench 1922 Committee unscathed. Betfair Sportsbook is now offering 5/6 about a Conservative leadership contest this year.
Predictably, Number 10 was adamant that she would fight any challenge and that is probably enough to deter rebel MPs, for now. They don't have the numbers to force her out yet, or a challenger in-waiting. However none of these internal party machinations do anything to resolve the fundamental problem. Their belatedly agreed Brexit negotiating position - constantly over-billed as a 'deal' - is doomed. Cabinet unity took all but 48 hours to disintegrate, further parliamentary defeats look likely and much of it is unacceptable to the EU.
Grassroots dismay leaves the PM extremely vulnerable
If Tories and Brexiters among the wider public didn't like the Chequers proposals - weekend polls showed confidence in her Brexit deal-making ability at a new low, while 56% of Tory members want her to stand down within a year - they will hate the eventual, watered-down deal that emerges. Talk of betrayal is already in the air from MPs, activists and the Brexit media. A narrative is building that, whatever emerges, it will be "Brexit in name only."
MPs will soon be on their summer break, spending more time in their constituencies, hearing these complaints from activists and voters. Defending a government position few of them truly believe in will become intolerable for many, as Davis testified. It is certainly no fun for a would-be leader of the party either, as Johnson belatedly realised. Expect more plotting and positioning ahead of the party conference in September.
Johnson barely strengthened by resignation
Regarding successors, there is no evidence yet that resignation has boosted Johnson. That he waited for Davis to resign first smacks of opportunism and does little to redeem his damaged reputation with colleagues. YouGov polls show him losing to several main rivals in head-to-heads. Historically a very popular pick in our markets, Boris is merely rated a 8% chance at 13.012/1.
Boris Johnson has just resigned as foreign secretary. Our new Conservative members survey indicates he would lose in a head to head contest for party leader against...
Rees Mogg: 56% vs 44% for Boris
Javid: 55% vs 45%
Gove: 55% vs 45%
Davidson: 54% vs 46%https://t.co/UCngzUeSzG pic.twitter.com/lw88RxtIqN

? YouGov (@YouGov) July 9, 2018
One big mover in the Next Conservative Leader market is my long-range pick, Dominic Raab, into 15.014/1 from around 28.027/1 after taking over from Davis as Brexit Secretary. That job was a poisoned chalice but Raab will hardly be blamed for the current mess and will now be very well positioned after the fallout.
The tipping point could come this autumn
A key date is the European Council meeting on October 18, when the transition deal is scheduled to be finalised. Unless May somehow emerges with something palatable to both Brexit MPs and a majority of Parliament, something has to give.
If further concessions yield the softest of Brexits, it is hard to see why an overwhelmingly pro-Brexit party would retain her, or rivals hold their fire. That YouGov poll showed a huge 54% of Tory members believe a 'Hard Brexit' would be best for the country. Grassroots pressure will be brought to bear.
In my view, once May has been seen to fail in meeting her objectives following that European Council meeting and taken the resulting flak, her usefulness to Tory MPs will have expired. Either a challenge materialises or MPs and donors quietly tell her to quit, towards the end of 2018.
Bet on UK politics here
Theresa May Exit Date 1
Theresa May Exit Date 2
Next Conservative Leader
Year of Next Election

Follow Paul on Twitter and check out his website, Political Gambler.

Recommended bets
Back Oct-Dec 2018 for Theresa May Exit @ 6.611/2
Discover the latest articles
Read past articles