UK Politics: Just how much trouble are Labour and the Tories in?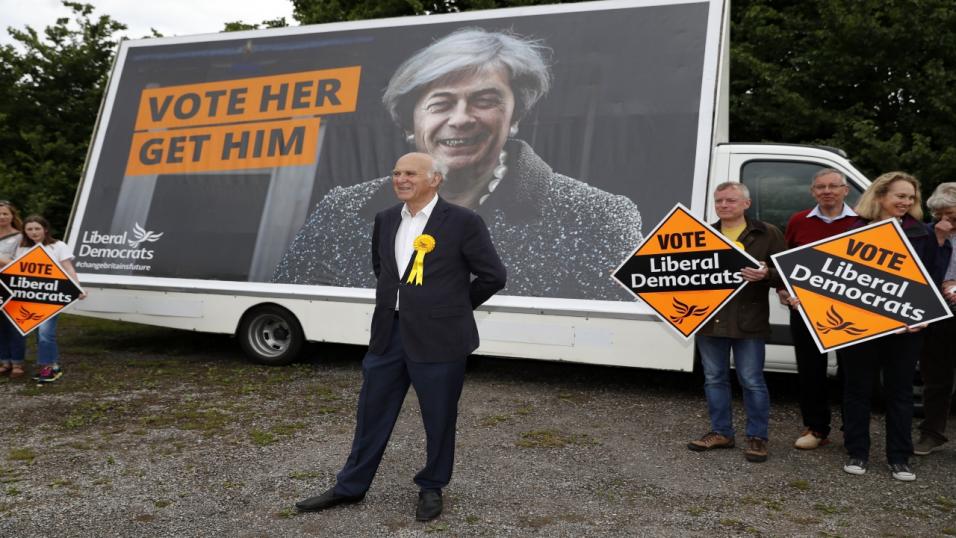 The Lib Dems just hit their best polling rating in nine years
The next general election betting is getting extremely interesting with both the Conservative and Labour vote share in freefall. Here's Paul Krishnamurty's latest analysis...
"The Lib Dem surge is the latest demonstration of how quickly sentiment, and a narrative, can change almost overnight."
Just when you thought UK politics couldn't get any more predictable, we get a poll like this.
Westminster voting intention:

LDem: 24% (+6)
Brex: 22% (+4)
Con: 19% (-5)
Lab: 19% (-5)
Grn: 8% (+2)

via @YouGov
Chgs. w/ 17 May

? Britain Elects (@britainelects) May 30, 2019
Five days on from European elections that saw Labour and the Conservatives relegated to third and fifth place, this is the first Westminster poll anyone can remember where both were outside the top-two. Their combined share is less than half of their 2017 General Election tally.
Tories and Labour weaker than ever on markets
Their share of our Most Seats market has also never been lower. Anyone brave enough to bet that either will ultimately prevail can make up to 17% profit minus commission by taking 2.35/4 about the Tories and 2.546/4 about Labour.
Alternatively if you believe revolution is really in the air, Any Other Party is available to back at 9.08/1 - equivalent to an 11% chance. The Lib Dems remain outsiders at 20.019/1 (5%).
Lib Dems eye an historic opportunity
Their surge over the past month - comfortably beating Labour for second in the Euros, making vast gains in the locals and now leading a poll for the first time since 2010 - is the latest demonstration of how quickly sentiment, and a narrative, can change almost overnight.
Many may be aghast to learn the Lib Dems led a poll as recently as 2010. For a fortnight or more at the peak of Cleggmania, they went beyond 30%. The Sun apparently buried a poll showing 50% would back the Lib Dems if they thought they could win.
As it turned out, they underperformed with 24% as youth turnout failed to spike as hoped. Going into coalition with the Tories involved the disastrous abandonment of key policies.
For five years, they were kicked around by the Tory press for diluting the government, particularly blocking any EU referendum, and by Labour for enabling austerity. All bar eight of their seats were lost in 2015 as their vote share disintegrated by two-thirds.
Their pitch was as the 'nice' part of the coalition. Few bought it and deep suspicion on the Left persists. Labourites and Remainers now have the Greens as a meaningful option.
Brexit has enabled distancing from Tory policies
Nowadays though, with the Tories governing alone, they rarely take flak for coalition policies. Blame for austerity or the hostile environment fall on Theresa May. Brexit is an entirely Tory affair.
The Lib Dems are not seeking to re-construct their 2010 vote. Now their principal target is Remainers in the overwhelming Tory South. More generally, suburban and rural seats where Labour aren't a threat.
Often, these are voters that think fondly of the coalition years, while despairing of current Tory policy. Many already lent their vote to Jeremy Corbyn and have now given up. Then there are centrist-types alienated by the current Labour set-up.
This is a rich pool of voters and, while this is one month and one poll, I wouldn't be in the least surprised were the Lib Dems to maintain or advance on their current position.
Jo Swinson is rated 1.21/5 to become Next Lib Dem Leader within weeks and
this fluent media performer could well get an early polling bounce. The Next Tory Leader betting suggest she will be the only female leader of the three main parties.
On the other hand, were Labour to understand the message from the Euros and become explicit advocates of a second referendum, a large chunk of voters would surely return. It remains highly unlikely that the Lib Dems would make many advances in London, despite winning the vote share there last week.
Brexit Party yet to prove general election credentials
The Brexit Party, meanwhile, are centre stage after their stunning achievement. However while Farage remains king of the Euros, there was little evidence that they would fare that much better than UKIP did in 2015.
Their 5.2M voters amount to less than a third of all 2016 Leavers so it would be wrong to assume the less motivated Brexiters would back them in a General Election - for which they have only one policy.
The Brexit Party vote is spread relatively evenly across the country and may not ultimately amount to many seats, if at all. Remember UKIP.
Tories in a much worse position than Labour
Whilst the big-two are both in a terrible state, they are not facing equivalent peril. Labour retain a rock-solid inner-city base and could improve by changing leader, or Brexit policy, or both.
The Tories really do face an existential crisis. They can only repair vote share by delivering Brexit, which nobody bar the DUP has an incentive to deliver.
Without that, whenever the election is held and whoever is the leader, they risk losing ruinous amounts of what is a fast ageing core vote.
Strategically, they are on a road to nowhere. Brexit leaves them fighting to retain or gain seats in places like Stoke-on-Trent, Mansfield and Labour's northern heartlands. Voters with little Tory history, acquired in 2017. For many, the bond may already be broken.
Oppose Tories at current odds
The pursuit of those scant gains has alienated a far wider audience in their own heartlands. A solid Brexit Party vote will hurt them much more than Labour, and bring many more Lib Dem targets into play. Jacob Rees Mogg is vulnerable in North East Somerset.
Even if a pact were made with Farage and no deal Brexit become party policy - it is easy to imagine a deeply unpopular Tory government collapse and face a three-pronged attack across the country, fuelled by tactical voting, from the SNP, Labour and Lib Dems.
In any normal circumstances, the recommended bet at this stage would be Labour for Most Seats at 2.526/4. However with so much uncertainty, I'd rather lay the Conservatives at 2.35/4. Don't be surprised to see more poll drama and the outsiders shorten further in the weeks ahead.
Bet on the Next UK General Election here
Most Seats
Overall Majority
Year of Next Election
Total Conservative Party Seats
Total Labour Party Seats
Total Brexit Party Seats
Total Lib Dem Seats

Follow Paul on Twitter and check out his website, Political Gambler.
Recommended bets
Lay Conservatives for Most Seats @ 2.35/4
Discover the latest articles
Read past articles