Next Conservative Leader: Pure Brexiter Dominic Raab is perfectly poised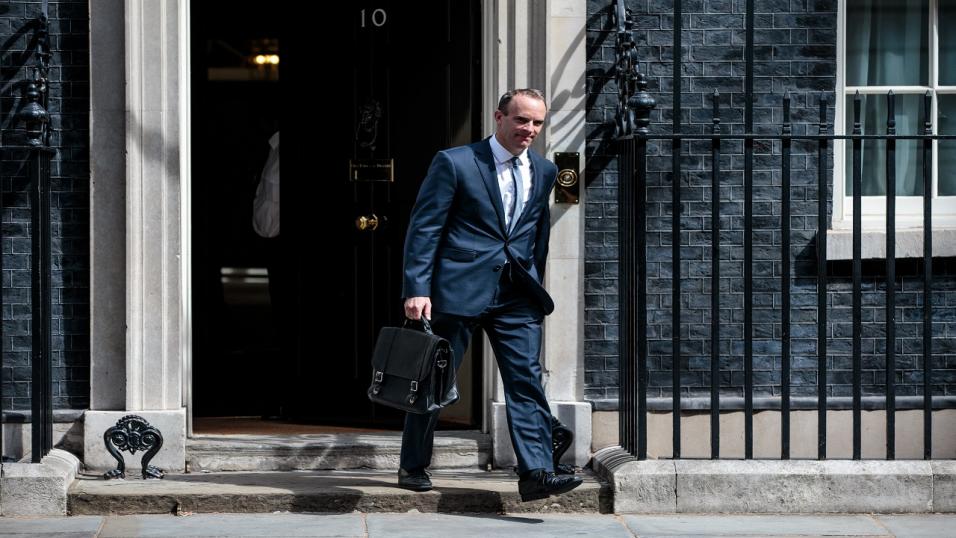 Dominic Raab is second favourite behind Boris Johnson
Money is pouring in for Boris Johnson to succeed Theresa May as Tory leader and PM. Paul Krishnamurty, however, predicts the favourite won't be able to win the support of enough MPs...
With the news that Theresa May will imminently announce her departure date, the starting pistol has been fired on the Next Conservative Leader race.
In reality, that kicked off before the final results of the 2017 General Election were in and hardened political punters are doubtless managing several positions already. It has been quite a ride.
Boris Johnson is early favourite
Boris Johnson was matched down to 2.6613/8 the aftermath but soon ceded favouritism to various alternatives. However after declaring his bid yesterday, the former Foreign Secretary is once again the front-runner at 3.45.
Note Johnson is a full price bigger at 4.47/2 to be Prime Minister after Theresa May, which will almost certainly amount to the same thing. If you're prepared to take the miniscule risk that May leads her party into another election before this is settled, then better odds are available on everyone.
Before piling into Johnson, remember the appalling record of early front-runners in this market. Basically, they never win. Note too that an unbelievably large number of candidates are likely to throw their hat into the ring. The Sun's Tom Newton-Dunn has counted 17.
But their entries to the race takes the number of serious contenders now organising bids to 17 (and that's just the ones we know about). pic.twitter.com/DL2eqUgNal

? Tom Newton Dunn (@tnewtondunn) May 16, 2019
Tory MPs will whittle down those 17 to just two, with the membership settling the final run-off. Their machinations are famous and have killed many a promising candidacy. It is why, for instance, Michael Portillo never became leader while Iain Duncan Smith did. Some of the 17 may even be running the race on another's behalf - to take votes from a rival in the early round.
Brexit credentials are the key
Many of the 17 are no-hopers. In fact anyone who voted Remain in 2016 is up against it and perhaps even anyone who won't back a no deal Brexit. Why else would the ambitious Jeremy Hunt - once perhaps an ardent Remainer - say they need to embrace no deal?
Hunt knows the mood of the members who will ultimately decide and that tendency has been confirmed by the mass defection to Nigel Farage's Brexit Party ahead of next week's Euro elections. The litmus test for candidates may well be whether they back no deal or, in the immediate term given the parliamentary maths, an electoral pact with Farage.
The grassroots website ConservativeHome has been polling members regularly and, in April's round, they included several plausible head-to-head finals. The indications were clear. Johnson beat Dominic Raab in the final 46-39 - the two most prominent Brexiter ministers to quit the Cabinet over May's deal. Best of the rest by some way was the other best-known Brexiter Michael Gove but, perhaps due to him backing the deal, he lost 52-36 to Raab.
There are, however, obvious limitations with these polls. First, they only assessed the best-known senior ministers. The likes of Andrea Leadsom, Penny Mordaunt, Esther McVey, James Cleverly and Kit Malthouse also voted Leave in 2016. If their campaigns get a head of steam, members will take that into consideration.
They also don't take into account how the MPs could fix the final-two between them. Without at least 80 votes, a candidate can be easily blocked.
Johnson will struggle to get backing of MPs
In any case, early leadership polls are always name-recognition led. Johnson has a following and is associated with Brexit. That doesn't mean he has what it takes to win this contest or thrive in debates. If memory serves, his performance in London Mayoral hustings was ordinary at best.
I have never thought Johnson would win this and remain strongly against at these odds. I doubt he has anywhere near enough allies in parliament to reach the final-two and even friendly focus groups have shown members doubting his competence. That he is only beating the lesser-known Raab by 7% at this stage is a bad sign.
Little has changed regarding my long-range predictions. I first tipped Raab on these pages at 27-1 in October 2017 and have pressed up twice at an overall average of 22.021/1. At 8.615/2 to be Next PM, the former Brexit Secretary's odds still have plenty to fall.
Raab poised for Brexiter backing
Raab has run an impeccable race so far. He voted Leave, rose to a plum Brexit job and beat everyone in being first to resign after May presented the deal at Chequers. Where others wavered, he's stayed pure on the issue that matters most to Tory members.
That propelled him to pole position among Brexiters, attracting donors and significant endorsements. The backing of his predecessor David Davis carries plenty of weight and I reckon the fact Nadhim Zahawi - an archetypal survivor in government - will be his campaign manager is another straw in the wind.
That suggests he'll be among the early front-runners among MPs and, given his strength with the members, more will ultimately regard backing him to be a smart career move. In contrast some of the most obvious Johnson supporters - Zahawi, Cleverly, Malthouse (the last two worked alongside him in London) - have different plans.
Gove could be the compromise candidate
Gove has been another repeat bet and he too remains a heavyweight candidate. Raab's support for no deal, and perhaps what they regard disloyalty, will be hard for many Tory MPs to stomach and the Environment Secretary is the natural compromise candidate.
Impeccably connected to Tory and Brexit-backing media, Gove was reported weeks ago as having a team in place, ready to take over as PM. Again, expect a strong early performance among MPs and a subsequent boost.
If looking for wildcards, Cleverly and Mordaunt have potential if not quite the seniority to take over as PM. They are in the same nuanced position as Gove - Leavers who didn't resign over May's deal. The former is a good communicator and was recommended alongside Raab in 2013 at the same 27-1. Mordaunt has a great back story and interesting if she runs.
For now, though, watch Raab's odds shorten as punters realise the difficulty Johnson will have securing the support of 100 plus MPs.
Bet on UK politics here
Next Conservative Party Leader
Prime Minister after Theresa May
Most Seats at European Elections
Most Seats at Next General Election
Overall Majority at Next General Election
Year of Next Election
No Deal Brexit in 2019
Article 50 to be Revoked
Brexit Date
First to Happen - Brexit/May to leave?
EU Referendum before 2020?

Follow Paul on Twitter and check out his website, Political Gambler.
Discover the latest articles
Read past articles