Wythenshawe and Sale East By-Election: UKIP to maintain momentum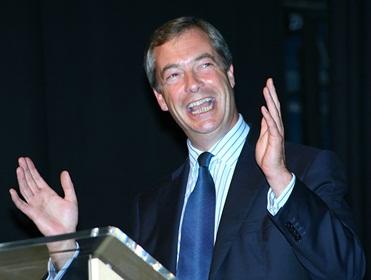 Nigel Farage is proving a more adept party leader than any of his rivals
UKIP are becoming significant players in UK politics and are eyeing up further gains in this week's Wythenshawe and Sale East by-election plus May's European polls. Paul Krishnamurty is backing Nigel Farage's party to maintain their recent progress...
"The biggest electoral story right now is UKIP and...they are likelier to gain, rather than lose, momentum in the months ahead. They have finished runner-up in five by-elections during this parliament, including four of their last five."
This Thursday sees the 17th by-election of this parliament, of which the vast majority cut very similar profiles. Discounting the two in Northern Ireland, Labour have won 13 out of 15, all by substantial majorities and, barring an enormous upset, Wythenshawe and Sale East will not be an exception.
This Greater Manchester constituency is rock-solid Labour, returning a majority over 7,500 even at the disastrous 2010 election. Not withstanding the fact that even such certainties cannot be taken for granted on a low turnout in these anti-politics times, (Labour lost both Bradford West in 2012 and Dunfermline West and East Fife in 2006 despite trading at the minimum odds of 1.011/100, there is limited mileage in betting on the seat winner. Instead, the principal focus concerns the race for second and what it tells us about the national picture just 15 months away from the next General Election. 
The biggest electoral story right now is UKIP and, however much the main parties may wish Nigel Farage's party to disappear, they are likelier to gain, rather than lose, momentum in the months ahead. They have finished runner-up in five by-elections during this parliament, including four of their last five, and are a solid 1.42/5 chance to achieve the same on Thursday.
The latest constituency poll puts them in a distant second place, one point ahead of the Conservatives with the rest nowhere. Once differential turnout, the appeal of a protest vote and lack of an effective Tory campaign are taken into account, I expect UKIP to win second place considerably easier than the poll suggests.
As the SNP and Lib Dems proved over several decades, by-elections are fertile territory for smaller opposition parties. However as those two now find themselves in government, UKIP have become the main outsider party in a time when mainstream politics has never felt more distant, or discredited. UKIP have been hit by a number of embarrassing stories regarding their candidates and will doubtless continue to face relentless hostility in the media, yet the negative publicity has yet to dent their poll ratings. If anything such coverage improves their name recognition and reinforces outsider status.
Much of the Westminster Village commentariat, (a body of opinion that rarely offers any useful analysis for betting purposes), are happy to dismiss UKIP in the same way they dismissed Nick Clegg at this stage of the last parliament. According to this view, when it comes to the General Election, the public will realise they face an important, binary choice between the Conservatives and Labour for the right to run the country, therefore squeezing the smaller parties.
However, this well-worn theory lacks any supportive evidence. Last time only 65% voted for the big two, in 2005 that number was 68% and since 1979, it has never been higher than 76%. Given the Lib Dems' new brand as a governing party and probable meltdown, where else has the anti-establishment, protest vote left to go?
Moreover, the decline of establishment parties is an international phenomenon dating back to the 70s and gaining traction in these austere times. Various 'Poujadiste' parties, (similar to UKIP), have grown throughout Europe. When political establishments unite across the left/right divide on contentious issues, it stands to reason that the alternative will pick up votes. In Britain, UKIP are the only prominent party that opposes EU membership and immigration, regardless of the economic benefits. Such positions look certain to win at least a pivotal minority of votes, especially when all the main parties and their leaders are unpopular.
If comedian Beppe Grillo can pick up a quarter of the Italian vote without a coherent manifesto, it really isn't asking much for UKIP to score 10% in a General Election. Yet even that unambitious target, well below their current polling average, would represent a dramatic advance from the 3.1% they earned in 2010 and have profound implications for the overall result.
The general consensus is that UKIP's rise hurts the Conservatives most. Whilst this is hard to dispute on ideological, or even tactical, grounds, they are winning votes from across the spectrum. In Labour strongholds across the North of England, they are rapidly becoming the main opposition. They are increasingly competitive in Con/Lib marginals across the South. In last year's high turnout Eastleigh by-election, they won more votes on the day than anyone, only losing narrowly to the Lib Dems because of postal votes. Since then, Farage has become almost omnipresent on TV, whilst David Cameron has remained ineffective at blunting his progress, despite a range of populist announcements. 
Momentum can never be understated in politics and another solid second place on Thursday will be a useful springboard towards the next significant election in UK politics. May's European Parliament Elections represent a golden opportunity for both UKIP and political punters, thanks to a couple of very interesting markets. When the same elections were held in 2004 and 2009, UKIP polled over 16% despite a wider rating below 3%, little name recognition and a miniscule number of activists.
Given their vast subsequent improvement and the two governing parties' electoral decline, 25% plus looks well within range, which would equate to topping the poll. There is no likelier time for their rising popularity to be measured by results and no easier situation for a protest vote. UKIP have already been backed down to around even money to win Most Seats and Most Votes and I expect those odds to shorten further.
Recommended Bets
Wythenshawe and Sale East By-Election
Back UKIP to win Without Labour @ 1.42/5
European Parliament Elections
Back UKIP to win Most Votes @ 1.910/11 

Discover the latest articles