UK Politics: Should Labour be further ahead in the polls?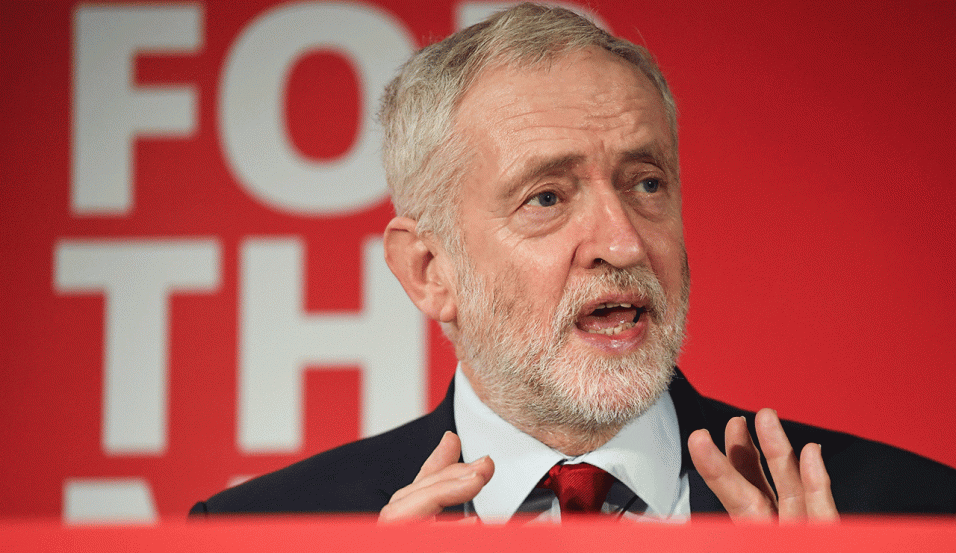 Jeremy Corbyn has repeatedly defied, but not yet disproved, his critics
Is Jeremy Corbyn on course to become PM or is Labour's tiny poll lead insufficient at this stage of the electoral cycle? Paul Krishnamurty considers their prospects ahead of the next election...
"While he has done a great job in reviving the fortunes of a moribund party, Corbyn is not necessarily their best bet for the next election. It is quite plausible that a new leader, espousing a very similar vision, adds 5% or so to Labour's vote share."
We may be living through a volatile, unpredictable political era but there is little evidence of it in recent opinion polls. Since last June's election, they have moved only slightly towards Labour and another snap election would likely produce a very similar result. Such is the inertia that pundits feel compelled to comment on 1% swings either way. The betting has barely moved in months, with Labour now 1.9310/11 favourites to win Most Seats, with the Conservatives on 2.1411/10.
A more interesting discussion involves thinking ahead. There is no election on the horizon and conditions will inevitably be very different when it does arrive. The big question, therefore, is whether Labour's positive trajectory will continue, or whether they are vulnerable to a Tory comeback. The answer is far from straightforward.
Under Corbyn, Labour support has a low ceiling
Although the commentariat has been repeatedly proved wrong about Jeremy Corbyn, most pundits remain hugely sceptical. They argue that, regardless of his and Labour's progress during 2017, Corbynism has a low ceiling which has already been reached.
According to this analysis, Labour should be much further ahead at this stage of the cycle given the government's travails. It notes Corbyn's stubbornly poor personal ratings - he consistently trails the hapless Theresa May for best PM - and deep public distrust of Labour's economic competence. The government will recover and, when May is inevitably replaced, the Tories will regain the lead.
Proponents of this theory - including Tony Blair - point to most previous electoral cycles when governments did indeed recover, and note that Labour lost three elections on the bounce during the 1980s and 1990s, despite substantial mid-term leads. Before Blair became PM in 1997, he regularly held leads in excess of 15%. So too David Cameron's Conservatives before winning power in 2010.
The UK party system has fundamentally re-aligned this century
Regardless of the personalities and differences in their particular Labour agendas - which may or may not be relevant - that theory cannot simply be applied to a very different era. No analysis of recent election shocks is complete without reference to the transformation of our party system.
Just between the 2015 and 2017 elections, the combined CON/LAB vote share rose from 67.3 to 82.4%. Whereas for the past 40 years, the Lib Dems or their Alliance predecessors were a significant third-party force, they are now stuck in single digits. UKIP collapsed to less than 2%, losing over 80% of their 2015 voters.
The current state of play is closer to 1970, when that combined share was nearly 90%. Without the SNP dominating Scotland, it would be even closer. Unfortunately we don't have mid-term polling for the sixties, when we last could legitimately describe a 'two-party system'. Perhaps back then there would have been big mid-term swings. Likelier, however, is that the overwhelming majority of voters were loyally fixed to one side or the other.
It certainly seems like we are returning towards that scenario. Politics and society in general is becoming ever more polarised. Debate is ever more partisan, and abusive on social media, as the UK mimics the culture wars that have marked US politics for decades, leading to the current shutdown and mass protests.

Comparisons with the Blair-era are of little relevance. Not only are Labour in a totally different place now but so is the electorate. Today's divide has less to do with class than it does age or ethnicity, changing the challenge for Labour. Then the key was assuaging the fears of middle-class Tory voters. Now it is reconnecting with the so-called white working-class voters who switched this century, particularly over immigration.
Corbyn and Momentum may have re-written the campaign rulebook
Another profound change involves campaigning. Before last June, it was assumed that oppositions would fall back during the election campaign. Instead, Corbyn all but wiped out a 20% deficit. Numerous factors played a part but, as I've argued before, social media, Labour's mass membership and their Momentum pressure group were key.

Corbyn's manifesto painted Labour values in primary colours and Momentum's savvy social media campaign took the message to an unprecedented number of voters, particularly under-50s. In crystallising the choice between Right and Left, it won over millions of mid-term waverers. Progressive types that would never vote Tory, but may very well have voted Lib Dem, Green, Respect or another minor party.
In contrast to the 'Labour have peaked' theory, this should deeply worry Conservatives. On any historic reading of polls, the Tories are close to their own ceiling which, overwhelmingly reliant on socially conservative older voters, falls further every day. Moreover, the trajectory of 2017 suggests Labour have the scope to significantly improve during the campaign, once their activists are properly mobilised on social media. If so, 45% plus and a majority is within range.
Labour could change leader before the next election
The consensus that said Corbyn was a disastrous choice of leader has now coalesced around the idea that he is totally impregnable. True, his supporters and Momentum now very much hold the whip hand within the party but again, we need to think longer-term. If as I believe, the next election will be in 2022, Corbyn will be 73. He's going nowhere soon but who knows how he, the party, or his supporters will feel at that stage.
If Labour plan and time the succession well, it could work dramatically in their favour. I'm sure Corbyn does have a ceiling. He inspires and alienates in equal measure. His brand is fixed and baggage impossible to shed. While he has done a great job in reviving the fortunes of a moribund party, he is not necessarily their best bet for the next election. It is quite plausible that a new leader, espousing a very similar vision, adds 5% or so to Labour's vote share.
When he became leader, I argued that his revolution was a ten year job. That the next election (then scheduled for 2020) was already lost, and the task was therefore to remake Labour into a grassroots-led, mass membership party, before handing over to a younger, more electable figure. Less than three years on, he is well ahead of that timeframe and many new faces are emerging on Labour's frontbench. Regardless of currently deadlocked polls, Labour have good reason to be optimistic and less cause for concern than the Tories.

Follow Paul on Twitter and check out his website, Political Gambler.