Next Conservative Leader: Lay George Osborne, fast!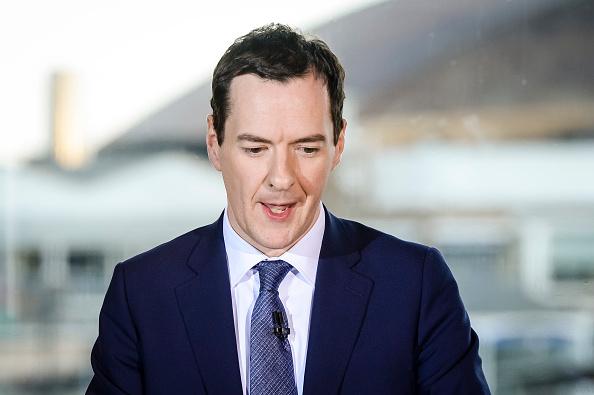 The Chancellor struck a gloomy note about the economy last week
With David Cameron standing down before the next election, the race to succeed him is a huge betting market. Having tipped George Osborne at three times his current odds earlier, Paul Krishnamurty is banking the profit and switching horses...
"Even if that gloomy economic forecast doesn't materialise, Osborne has another huge problem to overcome - unpopularity. Whilst his backroom strategic skills may be highly regarded in political circles, he has never cut through with the public."
With much of his party on the verge of open revolt as Britain's referendum on EU membership nears, David Cameron felt the need this weekend to stress that if the country votes to leave against what are now obviously his wishes, rather than resign, he would try and make it work.
We don't know the exact date of the referendum yet but many suspect it will be this summer. Whether 2016 or 2017, the issue will dominate UK politics in the months ahead, and has profound implications for the race to succeed Cameron as Conservative Party Leader. Given that he's already said he won't run again in 2020, this is effectively a contest to be Next Prime Minister.
When I last wrote about this in March, tipping George Osborne at 9.417/2 , it was far from certain that either man would still be in government now. As it turned out, a famous, against-the-odds election win worked wonders for this supreme strategist and he's been red-hot on the Betfair market ever since.
The chancellor is now 2.942/1 favourite to succeed his long-term friend and ally, with punters assuming his strategic brain and stewardship of the economy mean he's the darling of MPs and the Tory members who will ultimately decide. My advice, however, is to bank the profit and switch horses. Fast!
Anyone who knows politics will tell you fortunes and sentiment can change incredibly quickly, and that applies particularly to chancellors. Just ask the previous PM Gordon Brown - once hailed as Britain's most successful chancellor and generator of record economic growth, even in newspapers like The Sun that would later seek to destroy him.
Like Brown before him, Osborne has played a brilliant game of massaging statistics to create the appearance of economic success, whilst setting traps which the opposition cannot avoid falling into. Again like Brown before him, it may be beginning to unravel.
The first cracks in Osborne's reputation began to appear last autumn when forced to u-turn on cuts to tax credits - a policy that had been pivotal in their election winning narrative. He got out of a hole by conjuring up £27BN in his Autumn Statement, but the OBR economic watchdog has since implied the calculations were based on arbitrary and unreliable forecasts, saying "what the sofa gives, the sofa can easily take away."
The central purpose of Osborne's austerity programme - to eliminate the deficit - has already failed every target set and continues to do so. Moreover, a negative global economic outlook does not bode well for any finance minister. Last week's speech warning of looming risks was seen by many as Osborne getting his excuses in early.
Regardless of whether they are personally to blame, economic downturns are always bad news for chancellors. Blaming a world-wide banking crisis did nothing to save Brown or Labour when the last recession hit.
Even if that gloomy economic forecast doesn't materialise, Osborne has another huge problem to overcome - unpopularity. Whilst his backroom strategic skills may be highly regarded in political circles, he has never cut through with the public.
Even when his political stock was high, Osborne's ratings were below those of Brown following his budgets. More recently, his favorability was measured at a dismal -19% .
To put that in perspective, his leading rival for the Tory leadership was rated at +17%. Boris Johnson is the most popular politician of his generation and, when this race begins in earnest, we must expect Tory members to take this into account. They will want to back a winner, as they did with Cameron 11 years ago, despite his politics not always chiming perfectly with the base. It is hard to see how Boris trades any bigger than the current 5.24/1 in the short to medium term.
A further problem is the EU, and by extension immigration, both of which can only rise in salience during the referendum. Tory members poll 71% in favour of leaving - in contrast to Cameron and, one must assume, his chancellor. Osborne can hardly question the benefits of immigration - as Home Secretary Theresa May does - when it has been a key driver of the economic growth for which he claims credit.
Where senior Tories line up over Europe will be pivotal during the leadership campaign. May, expected to run and currently third favourite at around 10.09/1, could well support leaving the EU. Boris has shrewdly remained undefined on the subject.
In my view, the race will principally boil down to Osborne, Johnson and May. There is perhaps room for one or two others - either arch-Eurosceptic Liam Fox, Sajid Javid or an outsider like Liz Truss - but they all start way behind the big-three in terms of winning the support of Tory MPs, who will be tasked with whittling the race down to a head-to-head, to go before the members.
The latest poll of Tory members scored it May 20%, Fox 19%, Boris 18%, Osborne 17%, Javid 15%.
Taking those various numbers and factors into account, the betting plan seems obvious. Sell Osborne, tripling our money if you took the advice back in March. Buy Boris and May at 5.24/1 and 10.09/1 respectively.

Recommended bets

Lay George Osborne to be Next Conservative Leader @ 3.02/1
(Already advised to back at 9.4)
Back Boris Johnson to be Next Conservative Leader @ 5.24/1
Back Theresa May to be Next Conservative Leader @ 10.09/1

Follow me on Twitter @paulmotty and at www.politicalgambler.com

***

For the latest betting on the Next Prime Minister and all of our other politics markets, check out the new, improved Betfair Predicts, which forecasts outcomes based on the very latest Exchange data...
Discover the latest articles