Wimbledon Men's Betting: Murray can win again and Delpo the best big priced bet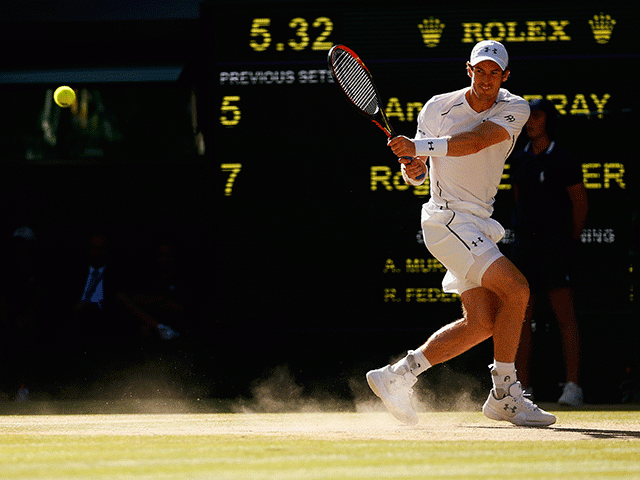 Can Murray land a second Wimbledon title in 2016?
The third major of the 2016 season is upon us and the short grass court swing culminates at the All England Club for The Championships Wimbledon. Sean Calvert picks out his best outright bets for the tournament...

"Djokovic has never beaten Murray on the grass or even taken a set on the surface against him and although much has changed since Murray's 2013 Wimbledon triumph it's very hard to look anywhere else when opposing the Serb."
It continues to be a pretty thankless task to try and find good value outright winners of majors and Masters 1000s and realistically is there much chance that we'll get anything other than another Novak Djokovic vs Andy Murray final?
Probably not and in the French Open we went with Murray and he did go favourite after leading Djokovic in the final and on grass the Scot and back with Ivan Lendl he looks the bet again.
Djokovic has never beaten Murray on the grass or even taken a set on the surface against him and although much has changed since Murray's 2013 Wimbledon triumph it's very hard to look anywhere else when opposing the Serb.
Third favourite Roger Federer's chances have diminished by the year and now at almost 35 years of age it would be remarkable if the Swiss maestro were able to regain his crown.
Fed has had a season blighted by injury and illness and he looked well below the sort of form needed to dethrone Djokovic in his grass warm-ups in Stuttgart and Halle.
Milos Raonic will have his backers, but I won't be one of them, with the Canadian's limitations again highlighted all too comfortably by Murray at Queen's and the truth is that there are few if any genuine alternatives to the top two.
Raonic has John McEnroe on board, but Mac can't play for him, and while he's a likely semi finalist he's too stiff and mechanical and doesn't move well enough or have the tennis brain of a Murray, Djokovic or Federer.
Rafa Nadal is out injured and probably wouldn't have been a threat anyway, so for me the only two players who have the level in them to beat the best - or at least come close are Nick Kyrgios and Juan Martin Del Potro.
Kyrgios has that bit extra to his game that Raonic lacks and on his day he has the ability to beat the very best and it would be great to see the Aussie take on Djokovic on grass.
Whether NK has the maturity and the physical and mental stamina to win a two-week major is the big question regarding Kyrgios and that would be my big concern about backing him.
Another concern would be a tough round one against wily veteran Radek Stepanek and also that he's drawn to face Murray if he gets past Steps and Feli Lopez.
So, not a good draw for NK, but Del Potro has a great draw, with only Stan Wawrinka, who has failed to show anywhere near his clay or hard form on grass, the opposition in his immediate section.
Bernard Tomic may be the only other tricky one for Delpo if his fitness holds up and for me the popular Argentine looks the clear choice as a back-to-lay wager at 170169/1.
He skipped the clay swing to prepare on grass and he could grow into this tournament if he beats Wawrinka.
It's a speculative choice given Delpo's struggles with wrist problems, but that Wawrinka section looks wide open and I can't see an exhausted (according to his coach) Dominic Thiem or the likes of Lucas Pouille, Joao Sousa or Roberto Bautista Agut doing much.
Flo Mayer is an interesting contender at 730729/1 on the form he showed in Halle and he's a former quarter finalist here. He's already beaten Thiem and Alexander Zverev on grass this swing and if he's fully fit he might cause a few shocks.
Tomas Berdych recently fired Dani Vallverdu and is readily opposable in that section as well as Wawrinka, and 400399/1 shot Tomic is another back-to-lay possibility.
But were hoping a bit with these and it'd be a shock if it wasn't Murray vs Djokovic again and perhaps that little bit extra that Lendl brings to the Murray camp and facing Djokovic on grass will be the edge.
He didn't help himself in Paris by becoming embroiled in five set matches early on and his early draw here looks an absolute cakewalk, so that won't be happening again.
Murray clearly strongly believes in Lendl and his methods and I can't see anyone in his half beating him, unless Kyrgios comes up with something very special indeed.
As for Djokovic only a peak form Kevin Anderson or maybe Raonic could trouble him in his quarter, but it's hard to envisage either being more than pests to the Serb, who would probably face Federer in the last four.
That's not a given though with the season that Fed has had and Marin Cilic or Kei Nishikori seem the ones most likely to beat the Swiss in a potential last eight clash.
But I'll be surprised if I'm not writing about a Murray/Djokovic final in a fortnight's time and on grass with Lendl provided the guidance it could be enough for Murray to at least go very close indeed.

Recommended Bets
Back Murray at 4.3100/30
Back-to-lay Del Potro at 170.0169/1
Tennis 2016 season P&L
Profit based on £10 stake per bet = +£363.00 (result pending from Andreas Seppi in Nottingham at the time of writing)
Discover the latest articles