SPOTY Betting: There's still plenty that can go wrong for Rory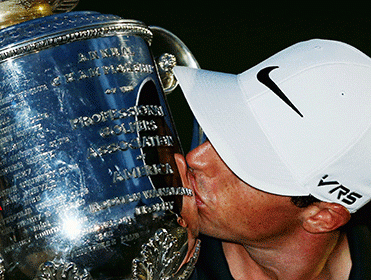 Rory McIlory with his USPGA prize - could the SPOTY award be one trophy too many?
Everybody loves Rory McIlroy at the moment - but Ralph Ellis warns that there's four months between now and when the public starts hitting the SPOTY voting buttons...
He's had lunch with Bill Clinton. He's been described by Paul Casey as hitting a golf ball like no other player ever seen. Even Caroline Wozniacki, the fiancée he dumped with a phone call, says she could never hate him. So what's to stop Rory McIlroy becoming this year's BBC Sports Personality of the Year?
Well here's the thing (or maybe two things). In the 50-year history of the event only two golfers have ever walked away with the honour. The most recent was Nick Faldo back in 1989 - and before that you have to go back to 1957 when Welshman Dai Rees captained the winning Ryder Cup team.
McIlory is such a hot favourite in this year's SPOTY betting - currently trading at 1.192/11 - that there's already a winner without McIlory market formed. I could be wrong, but that looks like a big opportunity to hit the 'lay' button.
There's no doubting that Rory's form in the second half of the season has been simply sensational. He's won back to back majors, and sandwiched another title in between them. Even last week when he lost his magic touch on the first day of The Barclays he shot a 65 the next day to put himself back in contention.
Indeed I wouldn't try to put off anybody thinking of backing him at his current price of 3.052/1 to collect the $10million bounty by being the FedEx Cup winner, and I don't argue with The Punter's view that he's a very fair price at 5.79/2 for the Deutsche Bank Championship this weekend.
It's just there's so much to go wrong between now and December, and I can't help going back to the old adage that when something is too good to be true, it very often turns out not to be true.
At the moment McIlory is the market leader because there's such an absence of obvious other contenders. Turn the clock back to 2012 and it seemed like there were dozens of potential winners. This year's a different story entirely.
But this award is not always won simply on achievement. The new system of a phone vote means things can get skewed for all sorts of reasons. Think of Ryan Giggs, swept home by a Manchester United fans' conspiracy in 2009 ahead of Jenson Button who had won the F1 World Championship.
When we get to the dark nights of December the story of 40-year-old Jo Pavey winning a European Championship gold medal just 10 months after giving birth to a beautiful baby daughter will tug at the heartstrings. Could it also be the time the Great British public chooses to give thanks to Jonny Wilkinson for that dramatic 2003 World Cup final drop goal? After all he retired by winning both the French domestic title and the Heineken Cup within the space of a fortnight.
And what if Rory's form doesn't sustain him through a successful Ryder Cup? He could go in three days from being the European team's Gleneagles golden boy to the bloke who gets the blame if it all goes wrong.
McIlroy might be the man of the moment, but when it comes to SPOTY the moment that matters is when the viewers start picking up the phones just before Christmas, and definitely not when it's still the end of August.
Discover the latest articles