SPOTY 2014: The Betting.Betfair guide to the runners and riders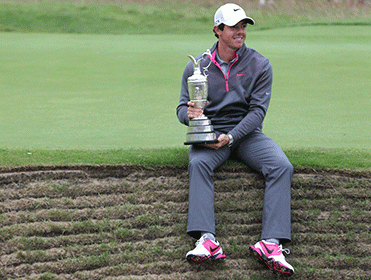 Rory and the Claret Jug - will he add the iconic SPOTY trophy to his collection?
Two men dominate the betting with only a pair of rivals trading at less than 100.099/1 but there could still be some value out there, says Joe Dyer, who runs through the 2014 hopefuls
"Athletics dominates SPOTY like no other sport, with 17 winners of the award in total. Back her now and you may be able to trade the bet on the night - or you might just have got yourself a monster priced winner."
Rory McIlroy 
Odds to win 1.4840/85 
No-one has dominated the sport of golf like Rory did this year since Tiger in his pomp. In truth it was a slow burner of a year for the Northern Irishman but once he'd put up his first tournament win there was no stopping him over a four month stretch. It all kicked off with the European Tour's flagship BMW PGA Championship at Wentworth, and his first Open followed two months later. McIlroy then took the ultra high-quality WGC Bridgestone Invitational before winning the second Major of his season and fourth of his career at the US PGA in August. A successful Ryder Cup and a string of high finishes followed but that was it for solo tournament victories - yet what a quartet of wins they were. 
Against McIlroy is golf's poor record in SPOTY with Nick Faldo last lifting the award for the sport in 1989, though the Englishman had only won one Major that year. 

Lewis Hamilton 
Odds to win 3.259/4
SPOTY loves formula one with the sport putting up six winners in the history of the award. Hamilton has been here before though and not won, finishing second to Joe Calzaghe in 2007 and then behind Chris Hoy the following year when he'd won his first drivers' title in F1. He occupies second place in the betting after a dramatic championship win which was sealed in the last race of the season. 

Jo Pavey 
Odds to win 60.059/1
Pavey's story is most likely to win over voters on the night as Ralph Ellis explains here. As an athletic achievement winning 10,000m gold just months after giving birth is remarkable, and having daughter Emily at the awards will doubtless persuade more than a few to take to their mobiles and get behind Pavey. 
Athletics dominates SPOTY like no other sport, with 17 winners of the award in total. Back her now and you will surely be able to trade the bet on the night - or you might just have got yourself a monster priced winner. 

Gareth Bale 
Odds to win 65.064/1
In the absence of any big club success in Europe and with England flopping at the World Cup, Bale is the footballer on the list largely thanks to his goal in the Champion League final.  It's a major moment in what will doubtless be a glittering career but it doesn't really have the unique impact of Pavey, the sheer dominance of McIlroy or sustained brilliance of Hamilton. 

Lizzy Yarnold 
Odds to win 690.0689/1
Any Brit who wins a Winter Olympics gold must be respected - we've only won 10 in our entire history! But the odds tell the story and it's amazing to see she was backed at a low of 4.216/5 in the market. Keeno! 

Charlotte Dujardin 
Odds to win 890.0889/1
The Enfield-born double Olympic champion dominated the World Equestrian Games, winning two golds and a silver. Named the Sky Sports/Sunday Times Sportswoman of the Year and don't write her off due to her sport - eventing has taken the trophy twice. Both of those trophies were won by royals, however, and those enormous odds tell their own story. 

Carl Froch , Adam Peaty, Kelly Gallagher, Max Whitlock
Odds to win 1000.0  
Though the achievements are, of course, remarkable it would be a major shock if any of the four (boxer, swimmer, alpine skier and gymnast respectively) were to even make the top three. 

Verdict 
Ralph Ellis makes a good case for Jo Pavey and she looks the only one who could trouble the two at the top of the betting. I certainly prefer her chances of pulling off a shock compared to Gareth Bale's anyway. You'll get slim odds-against on a Top Three finish or 32.031/1 in betting without McIlroy. Hamilton didn't win this when nominated twice before and it could be that Pavey pulls off another shock to usurp the driver from his likely position behind McIlroy. 

Discover the latest articles