Boris Johnson is PM: What happens next under his Premiership?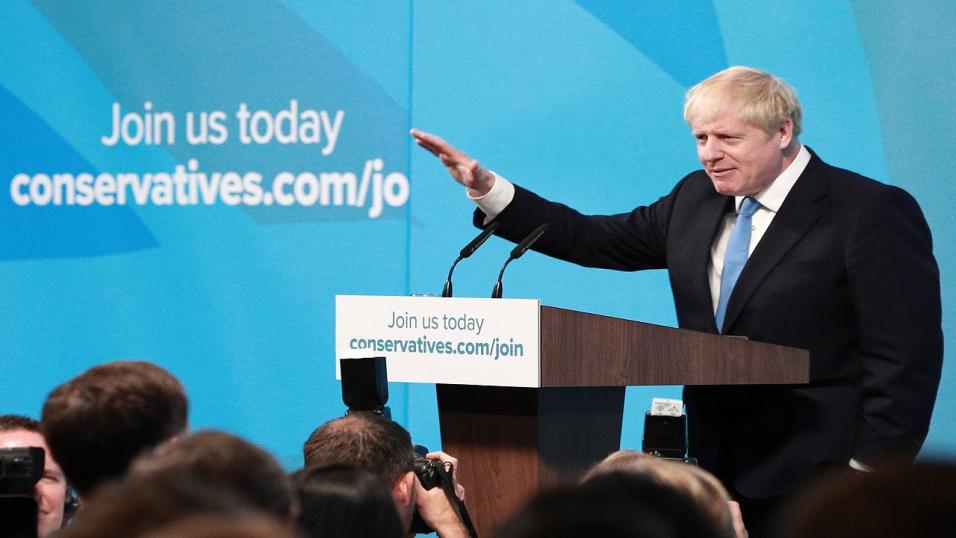 Boris Johnson's premiership could be over very quickly
As the new PM takes office in the midst of a Brexit stalemate he helped create, Paul Krishnamurty explains four of the many plausible scenarios for how the drama will play out...
"Once Johnson faces the reality of a parliament that is majority against him...the need for a mandate of his own will be obvious. He would frame an election as politicians versus will of the people and form a pact with the Brexit Party."
Johnson inherits Brexit stalemate
Outside of war, it is hard to imagine a worse political crisis to inherit - albeit one that Boris Johnson played a profound part in creating. Three ministers have already resigned rather than sign up to his agenda and dozens more of his MPs are determined to block it. Next week, the Tories are rated 90% likely to lose another seat in the Brecon and Radnorshire by-election, thus reducing their majority with the DUP to just three.
Meanwhile, the Brexit clock ticks down. Johnson has committed to leaving on October 31st, with or without a deal. Although he and his surrogates claim they can change the current deal and get rid of the Irish backstop, virtually no expert on the subject agrees. It seems he will inevitably face the same dilemma that Theresa May faced, at the cost of her job.
No confidence vote could be imminent
In resigning yesterday, Alan Duncan tried to force an immediate vote to test whether the new PM had a Commons majority. The Speaker denied it, but something similar will happen once parliament returns from the summer recess. Another Vote of No Confidence in 2019 is available to back at just 1.261/4 on the exchange - equivalent to a 79% chance.
Half a dozen Tories are reportedly in talks with the Lib Dems, so that tiny majority could disappear during the summer. No wonder there is speculation of Johnson being the shortest lived PM in history. Assume nothing - there are countless scenarios that could play out.
Scenario A - No Deal in 2019
This is rated 30% likely at the current odds of 3.412/5. Leaving on October 31 remains the legal default but, as seen previously, the EU may well be prepared to grant an extension. Unlike May, Johnson has committed firmly against an extension and threatened to prorogue (suspend) parliament to force Brexit through.
That may have convinced Tory activists during the leadership contest but last week parliament demonstrated how they can block it. By voting to sit during October, they will get the chance to add amendments to other bills, in relation to Brexit. It has never been clear quite how parliament is supposed to block Brexit if the PM is unwilling, but they have the numbers, if need be, to revoke Article 50.
Scenario B - A General Election before Brexit
This is priced at 1.75/7 - equivalent to 59% - while a 2019 General Election is available to back at 2.447/5. Given the probable no confidence vote and lack of majority, this must be highly likely. If the government loses and no alternative can be formed in the two week cooling-off period, an election is the default.
Once Johnson faces the reality of a parliament that is majority against him and determined to block his signature plan, the need for a mandate of his own will be obvious. He would frame an election as politicians versus will of the people and form a pact with the Brexit Party. Rebel Tory MPs would have to sign up to no deal or be deselected. Note the u-turn from once arch-Remainer Amber Rudd.
However, this would present an enormous electoral risk. Once internal polling starts indicating that the Tories would face a pincer movement of tactical Remainers across every nation and region, they may get cold feet. Nevertheless, events seem to be moving inexorably towards a general election, as predicted back in March at odds of 2.767/4.
Scenario C - Brexit followed by an election
This is surely Johnson's ideal scenario. Destroy the raison d'etre of the Brexit Party then take on a very beatable Labour led by the historically unpopular Corbyn.
As we've seen though, parliament won't allow a no deal Brexit so he would need to do something radical such as call a state of emergency - hardly the ideal election preparation. Or, somehow, finally get the Withdrawal Agreement through parliament.
Scenario D - Brexit but no immediate election
Do not underestimate the opportunism of this PM. He's been famously flipping sides and doing 180s since his days running for Oxford Union President. The fact he was so bitterly against Theresa May's Brexit deal does not mean he won't rebadge it as a brand new shiny thing.
The deal only lost by 58 last time. With Tory MPs now largely desperate to deliver Brexit in order to save their party, more backbench critics could come round with some cosmetic changes. So too, some Labour MPs in strongly Leave seats. Abstentions are always an option - little wonder that 3.9 is available about the Meaningful Vote passing in 2019.
But wouldn't that simply reek of betrayal - Brexit in name only? Wouldn't Nigel Farage scream from the rooftops during the transitional period that we were still ruled by Brussels? Yes, but would that matter to the longer term ambitions of a Johnson government?
Not necessarily. Averting No Deal could well generate an economic upturn as investment returns. The Tories would boast they delivered Brexit and it turned out great - proving the Remainers wrong. Yes they would then spend two years fighting among themselves about the eventual deal, but the public might largely move on. Farage would continue to scream from the sidelines, earning a fortune in the media, but his electoral relevance would swiftly diminish to sub 10%.
Of course, Johnson would still need a mandate and a better parliament. But in this scenario he gets to choose the date and frame the election narrative. That isn't a prediction - I prefer Scenario B - but anything remains possible - including that we're still running through these scenarios in 2020.
Bet on UK politics here
Brecon and Radnorshire By-election
Second Vote of No Confidence in 2019
Most Seats at Next General Election
Overall Majority at Next General Election
Year of Next Election
No Deal Brexit in 2019
Article 50 to be Revoked
Brexit Date
First to Happen - Brexit or General Election?

Follow Paul on Twitter and check out his website, Political Gambler.
Discover the latest articles
Read past articles