Richmond Park By-Election: Heathrow split offers golden opportunity for Lib Dems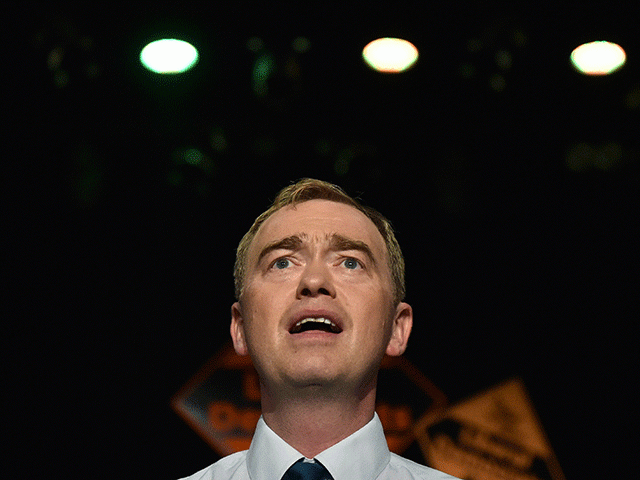 Can Lib Dem leader Tim Farron capitalise on his party's return to the media spotlight?
The government's decision to give the green light to a third runway at Heathrow has given the Lib Dems a golden opportunity to seize the spotlight and attract support from anti-Brexit voters, says Paul Krishnamurty...
"If Remain voters want a specific party to fight their cause, the Lib Dems are their best bet. With a history on the Left but recent experience in government with Tories, they are perfectly positioned to attract voters from both the main parties."
As various recent events on both sides of the Atlantic illustrate, conventional political parties are creaking under the weight of international, cultural and ideological pressures. Voters are less inclined to affiliate or identify themselves with one party, or one set of policies. Party members less likely to take instruction from leaders.
The British party system looks particularly outdated. The last three General Election winners won less than 37% - around a quarter of eligible voters. Yet that small minority was enough to produce majority governments on two of the three occasions. Last May we were treated to the dubious pleasure of an anarchic, seven-party TV debate. MPs from the main opposition party are engulfed in a bitter, suicidal civil war.
Indeed compared to Labour's existential crisis, the issues that triggered the forthcoming Richmond by-election seem trivial and predictable. Zac Goldsmith has always been an independent-minded MP and a majority Tory government was always likely to give the green light to a third runway at Heathrow. Goldsmith has long been committed to resigning if the decision went against him and, since losing the London Mayoral election, the backbencher has less incentive to stay loyal to his government than staying true to the principles on which he was elected.
Plus, Goldsmith knew from previous defections in the last parliament that his constituents would probably back their local MP over the party. Significantly, unlike Douglas Carswell and Mark Reckless, Goldsmith will not even have to fight a Conservative candidate. Though his tag will be independent, one must assume he will at least mop up the core Tory vote.
Nevertheless, the Heathrow decision has created a big political (and therefore betting) event. In between major elections, the media love a fiercely competitive by-election, especially when it's within reasonable distance for London journalists. During the last parliament by-elections in Eastleigh, Clacton and Rochester became major media events.
Anti-Brexit sentiment offers Lib-Dems big chance

So too will Richmond. Immediately, there was speculation about the creation of a progressive or anti-Brexit alliance, where Labour and the Greens would stand aside to help the Lib Dems monopolise anti-Tory voters. Such an idea was always likely to be a non-starter and has already died with Labour's confirmation that they will field a candidate. The enmity between the two parties and their activists goes far too deep for a pact, and they remain fierce rivals elsewhere.
The voters of Richmond, however, are perfectly capable of creating their own tactical alliances and this will almost certainly boil down to Richmond's usual, straight-up CON/LIB fight. That is precisely how the early Betfair market sees it, with virtually nothing to separate the main protagonists at odds of 1.910/11 and 2.01/1 respectively.
Importantly, Heathrow itself won't be a wedge issue, as the Lib Dems are also long opposed to a third runway. Instead this is likelier to be determined by an appraisal of Zac as a constituency MP and the issue completely dominating British politics. With 70% in the referendum, Remain fared better in Richmond than virtually anywhere. The issue could become very uncomfortable for Brexiteer Goldsmith and opens up fertile territory for a Lib Dem comeback.
Regardless of the result - I would make Goldsmith clear favourite to defend his 23,000 majority but have not yet played this market - this is a golden opportunity for Tim Farron. Since the Lib Dems were almost wiped out in the 2015 election, it has been almost impossible for their new leader to be heard. Let alone set about refuting or debunking the widespread negative perceptions that led to that disastrous result - namely being seen as wishy-washy Tory enablers, who stand for nothing and would ditch any principles in exchange for power.
Historic EU support can make Lib Dems major players

Whatever one makes of their wider record in the coalition, those charges do not stand scrutiny when it comes to the EU. No party has been more consistently and vocally pro-European - often to their detriment. It was their presence in government that prevented a referendum in the last parliament and their wipeout created the Tory majority that made it inevitable.
If Remain voters want a specific party to fight their cause, the Lib Dems are their best bet. With a history on the Left but recent experience in government with Tories, they are perfectly positioned to attract voters from both the main parties. In the current climate, the future looks bleak for either Tory Remainers or anti-Corbyn Labourites. There has never been a more obvious time for a fundamental realignment of voters.
The Brexit divide won't disappear any time soon and this rare window of publicity could be a gamechanger. A chance to stake out a clear position and rebrand the party. When they were in office and Nick Clegg reduced to a figure of ridicule, Lib Dems often talked of the long game. How proving themselves as a party of government, with a distinct Liberal tradition, would eventually pay off. It seemed delusional at the time but events have conspired in their favour. With a good performance in Richmond, these infamous by-election specialists may find themselves the centre of attention once again, with profound implications for the British party system.

Discover the latest articles