US Open Men's Betting: Rafa to reign supreme in New York again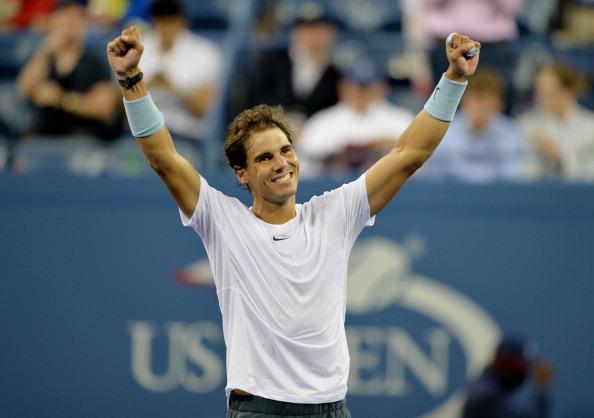 Will Rafa be celebrating again in New York tonight?
Sean Calvert - who has landed an incredible 24 winning tips during the US Open - continued his impressive form with more winners in the semi-finals and he's back to find the best bets in the final between Rafa Nadal and Novak Djokovic...
"I've seen very little from Nole, other than in patches, that leads me to think he'll get the upper hand tonight..."

It was another profitable day on Saturday at the 2013 US Open, with both of my recommended wagers proving successful in what's been an excellent fortnight in New York.
Novak Djokovic and Stan Wawrinka went way past the total games mark in a five set encounter that at times hit the heights, while Rafa Nadal also landed the odds for us with a 3-0 victory over Richard Gasquet.
So, we have another major men's final contested by the number one and two seeds and this time it's part 37 in the Rafa/Nole series, with the Spaniard leading 21-15 at the moment.
The head-to-head has little relevance here other than the mental edge that Nadal has at the moment after his stunning French Open win and Montreal victory over the world number one.
Nadal has been in supreme form since coming back from injury and landing the odds for this column in Montreal and this aggressive approach has drawn parallels with his title winning run here in 2010, where he served big and adopted a much more attacking approach.
He has been broken just the once in New York this fortnight and that was really a mental lapse in set two against Gasquet on Saturday while leading by a set and a break and on current form it's hard to see Djokovic having either the form or the confidence to grab the title here.
The Djokovic serve has been well below par and at times was shockingly bad against Wawrinka, who can count himself a little unfortunate to have lost that match and I've seen very little from Nole, other than in patches, that leads me to think he'll get the upper hand tonight.
The tactical battle between these two has played out so many times now that we all know the patterns of play and for me the mental battle is key here, with Nadal holding the edge at this moment in time.
To turn things around Djokovic will need to start very quickly, which he hasn't done in several of his matches this fortnight and he's looked nervy at the outset of several rounds in this year's tournament. At times on Saturday I thought I was watching the Djokovic from 2010 and that isn't going to cut it tonight if Nadal continues to play as he has all through the hard court swing.
I said in my tournament preview that this tournament was Rafa's to lose and I haven't seen anything over the course of the fortnight that has changed my mind. I like the 1.748/11 about Nadal here and I'm siding with the Spaniard to land his second US Open title.

Recommended Bet
Back Nadal to beat Djokovic at 1.748/11
US Open P/L
If you had placed £10 on each of Sean's recommended bets during the US Open, you would have staked £270 and returned £531.10 (including original stake).
Discover the latest articles