Premier League Weekend Review: No fun in mocking Gerrard with World Cup looming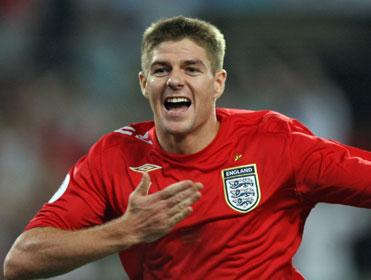 Gerrard will be doing everything for England despite the snipes
Ralph Ellis wonders what worth there is in mocking the moment Steven Gerrard's slip changed the destination of the title, especially when the England captain needs the support of the nation with the World Cup just around the corner...
"Whatever mocking he's had, Gerrard will be brave enough to be on the ball, doing his best, and risking making another slip to lead the country in Brazil."
Michael Oliver had barely blown his first whistle at Cardiff - although there had been time for Fernando Torres to miss an open goal - when the Chelsea fans in one corner started up on their Steven Gerrard song.
You might know it by now. It's all to do with slipping, and giving the ball to Demba Ba. And I've heard it sung now not only by Chelsea's supporters who, to be fair, were on the receiving end of the Liverpool captain's blunder but by fans of half a dozen other clubs too.
In fact amid the celebration pictures of Manchester City's title win this morning, there's been all sorts of mocking of Gerrard's one obvious but utterly pivotal slip of a brilliant season. Lots of photo-shopped pictures all over the web. And there were even some Manchester United supporters who clubbed together to fly a plane with a banner pointing out their team has 20 titles to Gerrard's none.
I'm lost by it. Why such glee at Gerrard's misfortune? I even wrote a column the day after Liverpool's win over City seemed to have set the Reds up for their title suggesting they might not handle the pressure of the run-in, and to be honest I've got no pleasure at all in being proved right by it. I actually think it's rather sad that a man who has been not only one of the game's best players but also one of its finer ambassadors over the last decade has missed out on the honour he most craved.
Maybe you can cut Chelsea fans some slack. After all they have to put up with others mocking John Terry for his penalty shoot-out slip that handed Manchester United the Champions League in Moscow. But wouldn't anybody else want a skipper like Gerrard at their club? He's a fan, he's played his whole career for them, he never shirks either a tackle during a game or an interview after a difficult defeat. And he tells it like it is.
The shame is that this might have been his one big chance come and gone. Liverpool, who are 7.87/1 to be the title winners next season, might already have seen the only chance for their inspirational skipper to lift the trophy come and go.
They will strengthen during the summer, putting a priority into adding some beef to a defence that leaked too many goals, but will they be able to handle the twin demands of a Champions League campaign and another attempt to chase the Premier? In the early market they are a lay of 4.03/1 even to finish in the Top Four again.
Real Madrid are already making the sort of noises about Luis Suarez that they made about Gareth Bale a year ago - keep an eye on the market for the Uruguayan's next club as the summer unfolds. And while Brendan Rodgers would like to find a dominant leader in his defence, they are few and far between.
Gerrard will be 34 next season, and can he really be expected to drag his limbs through all but four Premier League battles as he did this term, plus European games, plus England matches - and all of that after a summer suffering the emotional and physical demands of the World Cup?
Ah yes, the World Cup. Whatever mocking he's had, Gerrard will be brave enough to be on the ball, doing his best, and risking making another slip to lead the country in Brazil. England are as long as 3.185/40 even to reach the quarter-final stage that we regarded as failure the last time round.
If we really want to achieve that or better then we need Gerrard thinking he's got the country behind him, and not sniping at his season's one big moment of misfortune.
Discover the latest articles
Read past articles