Novak Djokovic is a Serbian tennis player who was born in Belgrade in 1987. He has gone on to become one of the greatest players of the modern era and is currently the number two ranked player in the world.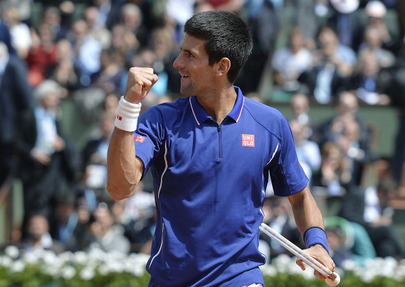 He won his first Grand Slam at the Australian Open in 2008 and now just needs to win the French Open in order to complete the career slam after wins at Wimbledon and the US Open.
At the age of six he was spotted by the former Yugoslav tennis player Marian Vajda, who saw a lot of potential in the young boy. She then worked with him for six years as a coach before recommending he moved to the Pilic Tennis Academy in Germany to receive a more competitive level of practise partner.
Djokovic first received success on the international stage when he won the singles, doubles, and team competition at the European Championship when he was 14.
The Serbian became a professional in 2003 and had some early success in Future and Challenge tournaments.
His big breakthrough came when he qualified for the Australian Open in 2005. That was his first Grand Slam appearance but he lost to Marat Safin, who went on to win the tournament that year.
Later that season, he advanced through to the third round of Wimbledon and the US Open to announce himself as a promising player of the future.
Djokovic's opening ATP title of his career arrived in the Dutch Open in 2006. He got the better of Nicolas Massu in the final and by this point was breaking into the top 40 of the world rankings.
His Grand Slam record was looking to be getting better with each appearance. He was runner-up at the 2007 US Open and then went one better in the 2008 Australian Open, defeating Jo-Wilfried Tsonga over four sets.
Djokovic has gone down on record as saying that one of the proudest moments of his career was when he helped Serbia win the 2010 Davis Cup. It was his country's first success in the team competition.
2011 proved to be the best season of his career to date. He won the Australian Open again, Wimbledon, and the US Open to cap off an incredible year, during which he also rose to world number one in the rankings.
He was then able to defend his crown in Melbourne in 2012 and 2013, the latter bringing up his sixth Grand Slam title.
For all the latest Novak Djokovic Betting Tips place check out betting.betfair