Premier League Score Predictor with Infogol GW18: Man City to edge out Leicester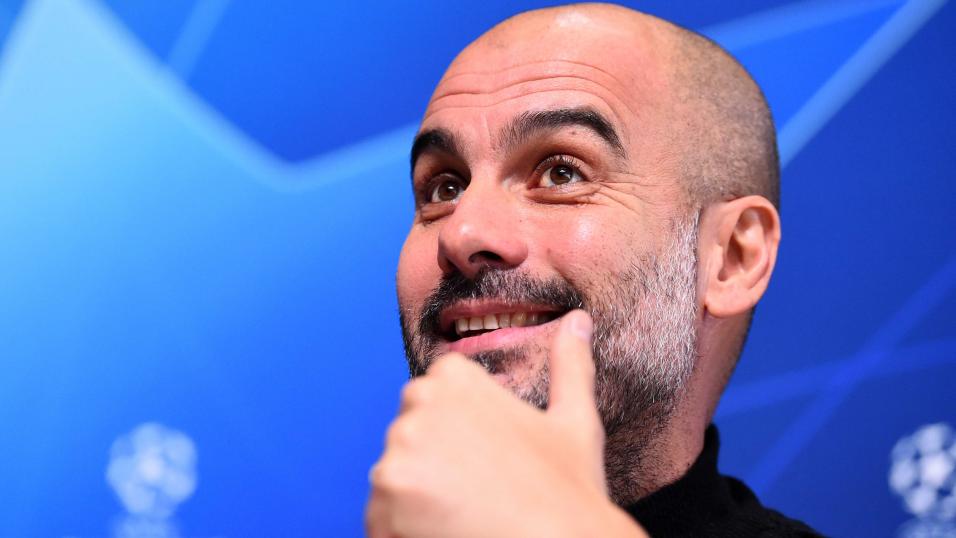 Pep Guardiola can see his side close the gap
Infogol's Jake Osgathorpe is back again after landing 8.2 and 13.5 winners last weekend, using expected goals (xG) to predict all the correct scores of the final round of Premier League fixtures before Christmas, so you don't have to...
"Kevin De Bruyne was awesome, and is the key player for City at the moment, and is a huge contributor to their excellent process (2.99 xGF, 1.08 xGA per game). They are vulnerable though, especially against teams who have precision counter-attacking capabilities like Leicester."
More misery for Arsenal
Arsenal vs Everton
Saturday, 12:30

Everton have done well since sacking Marco Silva, beating Chelsea at Goodison Park before drawing with Manchester United last weekend. Their performances in those games were full of determination and effort in a high-pressing, high energy system, and I can see the same again here. Arsenal were woeful against Manchester City last weekend, as they were just bullied and steamrolled by a much better side. Based on xG, Arsenal rank as only the 13th best team this season, so continue to be extremely poor in performance, with a really poor process (1.57 xGF, 1.63 xGA per game). Everton have the tools in attack to really hurt Arsenal, and I wouldn't be surprised if a raucous and hostile Goodison Park atmosphere gets the better of the Gunners, and contributes to a high-scoring (56% O2.5, 58% BTTS) Everton win (47%) - 2-1.
Back the 2-1 @ 10.519/2
Southampton to climb out of the bottom three
Aston Villa vs Southampton
Saturday, 15:00

Aston Villa were well beaten by Sheffield United last weekend, a game in which they were really poor in attack (0.33 non-pen xGF). They come into this game on the back of six defeats in eight league games, and Dean Smith's side rank as the worst defensive team in the league (2.23 xGA per game), which is a huge worry. Southampton were unfortunate yet again last weekend, as they lost to West Ham in a game where a draw would have been a fairer result (xG: SOU 1.11 - 1.13 WHU). Despite sitting 18th in the table, the Saints rank as the 7th best team in the league on xPoints, and do create plenty of chances (1.59 xGF per game), so for me, its only a matter of time before things turnaround for Southampton. We think there will be goals in this one (56% O2.5, 59% BTTS), but Infogol actually makes Southampton favourites (41%) - 1-2.
Back the 1-2 @ 11.521/2
Back to losing ways for Bournemouth
Bournemouth vs Burnley
Saturday, 15:00

Bournemouth claimed a surprise three points at Stamford Bridge last weekend, though were fortunate to get the win according to xG (xG: CHE 2.62 - 1.68 BOU). Eddie Howe's side needed that win, but a similar performance here would likely see defeat here, and their defensive issues are a worry coming into this (1.89 xGA per game). Burnley also got back to winning ways last weekend, winning 1-0 against Newcastle, and they sit 9th in our xG table after 17 games. They boast much the better process than the Cherries (1.50 xGF, 1.44 xGA per game), so Infogol makes Burnley favourites here (38%) to win an entertaining game (60% O2.5, 62% BTTS) - 1-2.
Back the 1-2 @ 12.011/1

Seagulls to inflict first away defeat on Blades
Brighton vs Sheffield United
Saturday, 15:00

Brighton are unbeaten in three coming into this game after a draw with Crystal Palace on Monday, though they were hugely unfortunate not to come away with the three points (xG: CRY 0.77 - 2.32 BHA). That has been the case quite often this season, and the Seagulls sit 10th in Infogol's xG table with a very strong attacking process (1.56 xGF per game), so are a hugely dangerous opponent for any team, especially at home. Sheffield United were impressive against Aston Villa last weekend, meaning the remain seventh in the table after an excellent first half of the season. They remain unbeaten on the road this season, but while they have a goal difference of +3, their xGD away from home is -5.6, so they have been very fortunate on the road this season. At some point this season, the Blades will lose on the road, and Infogol thinks Brighton have a good chance of beating them here (47%) in a game that should see goals (52% O2.5, 54% BTTS) - 2-1.
Back the 2-1 @ 10.09/1
Newcastle to end Palace run
Newcastle vs Crystal Palace
Saturday, 15:00

Newcastle suffered defeat at Burnley last weekend, but recent results have meant that they have pulled themselves 7 points clear of the relegation zone. They rank as the third worst team in the league on xPoints though, so have been fortunate over the course of the campaign, with a poor process (1.02 xGF, 1.83 xGA per game). Crystal Palace are unbeaten in four coming into this game, with the aggregate score in those four being 4-1, but they have been extremely fortunate, with the xG aggregate in that time being 2.25 - 6.56, averages of 0.56 xGF and 1.64 xGA per game. Roy Hodgson's side are light on the ground in terms of players, and their process is very poor, so it is hard to make a case for them to win here. Newcastle's home advantage could prove decisive here, and Infogol thinks we will see a home win (42%) in a low-scoring game (53% U2.5) - 1-0.
Back the 1-0 @ 7.613/2
Wolves to bounce back
Norwich vs Wolves
Saturday, 15:00
Norwich surprised last weekend, getting a point at Leicester in a deserved draw. However, over the course of the season, the Canaries have been extremely poor, sitting bottom of our xG table with a really poor attacking process (1.16 xGF per game) and defensive process (2.11 xGA per game). Wolves saw their 11 game unbeaten run come to an end last weekend against Tottenham, though they were unfortunate to lose. Nuno has seen his sides process improve as the season has gone on, and that is why they sit 4th in our xG table, with underlying numbers of 1.66 xGF and 1.33 xGA per game, so they have just picked up where they left off last season. We think Wolves will get back to winning ways here (52%), but goals are likely on the cards (52% O2.5, 53% BTTS) - 1-2.
Back the 1-2 @ 9.617/2

City to beat Leicester, just
Manchester City vs Leicester
Saturday, 17:30

Manchester City were very impressive against Arsenal last weekend, stamping their authority and showing everyone that they are the same team as last season. Kevin De Bruyne was awesome, and is the key player for City at the moment, and is a huge contributor to their excellent process (2.99 xGF, 1.08 xGA per game). They are vulnerable though, especially against teams who have precision counter-attacking capabilities like Leicester, given they have already lost to Wolves, Liverpool and Manchester United. Leicester were frustrated by Norwich last weekend, a rare poor performance in what has been a sensational season so far. Their process has improved greatly since gameweek 8, and they now boast per game averages of 2.06 xGF and 1.11 xGA per game. Leicester will make life extremely difficult for City, and will keep the game tight, but ultimately we think City will prevail (63%) in a high-scoring game (61% O2.5, 55% BTTS) - 2-1.
Back the 2-1 @ 9.617/2
More improvements from Watford, but another defeat
Watford vs Manchester United
Sunday, 14:00

There were some huge positives Nigel Pearson will have taken from his teams performance at Anfield last weekend, as they looked a very dangerous attacking threat. They have netted just 9 times this season, but according to expected goals, they should have scored closer to 22 times (21.75 xGF), so they are creating the chances. Manchester United were frustrated by a well-organised Everton side last weekend, but were unfortunate not to get the win according to xG (xG: MUN 1.72 - 0.59 EVE). Their performances this season have been good, but they need to find a way to be more consistent against the lesser sides, as they do struggle to breakdown a low block. We think they will get through Watford here though (55%), with plenty of goal mouth action expected (62% O2.5, 61% BTTS) - 1-3.
Back the 1-3 @ 16.015/1
Entertaining draw in Mou derby
Tottenham vs Chelsea
Sunday, 16:30

Tottenham come into this huge game having won four of their five league games under Jose Mourinho after a 2-1 win over Wolves, though they were fortunate to get the win (xG: WOL 0.95 - 0.91 TOT). Their process against the lesser teams has been very strong, but against the two better teams they have faced (MUN, WOL), Spurs have struggled, averaging 0.94 xGF in those two. Chelsea are having a wobble, and come into this game having lost four of their last five league matches, though have been very unfortunate in that time, deserving at least a point against both West Ham and Bournemouth. Their process is excellent this season (2.16 xGF, 1.35 xGA per game), so will create chances in this game, and we think they can avoid defeat in this one (60% CHE or draw), with both teams scoring (56%) - 1-1.
Back the 1-1 @ 8.27/1
Visit infogol.net and get all of our football tips
Infogol's 19/20 Premier League Correct Score P+L
Staked: 170pts
Returned: 183.94pts
P+L: +13.94pts
Recommended bets
Everton 2-1 Arsenal: Back the @ 2-1 10.519/2
Aston Villa 1-2 Southampton: Back the 1-2 @ 11.521/2
Bournemouth 1-2 Burnley: Back the @ 1-2 12.011/1
Brighton 2-1 Sheffield United: Back the 2-1 @ 10.09/1
Newcastle 1-0 Crystal Palace: Back the 1-0 @ 7.613/2
Norwich 1-2 Wolves: Back the 1-2 @ 9.617/2
Manchester City 2-1 Leicester: Back the @ 2-1 9.617/2
Watford 1-3 Manchester United: Back the 1-3 @ 16.015/1
Tottenham 1-1 Chelsea: Back the @ 1-1 8.27/1

Discover the latest articles
Read past articles