Brexit Latest: What next after Parliament delivers historic defeat to May's deal?
Both party leaders are about to face their moment of truth
Following the biggest defeat in parliamentary history and a no confidence vote in the government, Paul Krishnamurty examines how the next few dramatic days and weeks might pan out in Westminster - and on the Exchange markets...
"An on-time Brexit - leaving on March 29- is extremely unlikely. Everybody familiar with the process believed the only way it could happen on time was for either May's deal to be accepted, or no deal."
To nobody's surprise, the first reading of the Withdrawal Agreement was comprehensively trounced on Tuesday night as Theresa May's government suffered the worst defeat in parliamentary history.
On Wednesday, the process which we've been speculating about for months gets underway as the government faces a No Confidence Vote at 13:00. Literally nobody knows where we are heading and all the five scenarios laid out last week, plus surely several more, are in play.
On-time Brexit rated less likely than ever
The most immediate effect, and emerging consensus, is that an on-time Brexit - leaving on March 29 - is extremely unlikely. Everybody familiar with the process believed the only way it could happen on time was for either May's deal to be accepted, or no deal.
With neither option backed by anything like a majority in Parliament, Article 50 will surely have to be extended. Betfair markets concur, with leaving on time now rated merely a 17% chance at odds of 5.85/1.
First 'no confidence' vote almost certain to fail
Delaying, however, doesn't even begin to answer the important questions. Nor will Wednesday's no-confidence vote, which again virtually nobody believes can win. Our market shows odds of just 1.041/25 about the government winning it, with MPs expected to split along partisan lines. A separate market on the number of government opponents backing the motion rates 310-319 odds-on at 1.412/5 - the total of MPs representing all parties bar the Tories and DUP.
The immediate impact of today's vote will be some momentary respite for the Tories. Expect an hour or two of gloating at Corbyn's stupidity for calling a vote he couldn't win before reality sinks in. This will probably be only the first of several no confidence votes in the government and they will become ever harder to win, so long as the government doesn't have a solution to take Brexit forward.
Workable Plan B unlikely to materialise by Monday
The next key day is Monday, when the PM must present her Plan B to parliament. I can't see that plan involving much more than vague slogans about 'reaching out to opposition parties', talk of ill-conceived, unrealistic alternative deals and pressing the EU for illusory concessions. The EU continue to show little or no interest in renegotiating.
The next few days will be incredibly fractious for the Conservative Party. Few believe May will resign despite the scale of Tuesday's defeat and the PM leaving post before the end of March is rated only 25% likely at 4.03/1. In the absence of a workable plan to replace May, I don't think her sacking is imminent but this could get extremely problematic in the days ahead.
Never mind the wider Brexit arrangements - merely extending Article 50 will be incredibly toxic for May or any other Tory leader. She has promised repeatedly to deliver on time, just as she has rejected another referendum. I wonder whether she will ever have the stomach for either, even if Parliament forces her hand to do at least one of them, as seems likely.
May could be suddenly replaced by a Brexiteer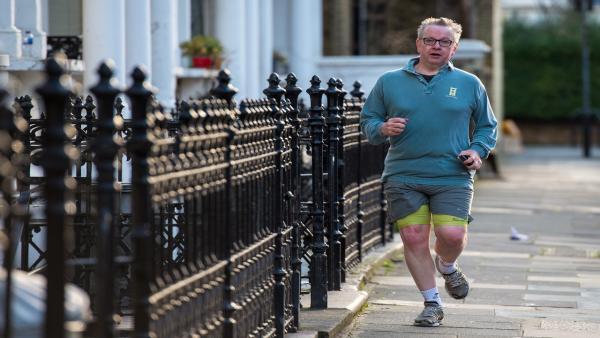 One scenario that I didn't touch on last week is the swift coronation of a Brexiteer alternative. Ministers could decide that May is too wedded to a deal doomed to fail, and that only a Tory PM that voted Leave in 2016 get away with extending Article 50 and force her out, in a process reminiscent of Margaret Thatcher's exit in 1990.
If so, Michael Gove would the one to back as the most senior Leave-voting minister. He's currently 12.5 to be Next Conservative Leader and has long been part of my betting plans.
Corbyn's referendum call could prove decisive
However the most likely path forward involves more of the same. Much vague, unrealistic talk of renegotiations and alternative deals, eagerly reported by a media that cannot help enabling fantasy politics. Rather than jump off the fence, Corbyn will probably pursue repeat no confidence votes and, eventually, that may earn an election but won't resolve the Brexit deadlock.
Ultimately though, I'm sticking with my long-range analysis that this will end up either in a second referendum or no deal. We do not know precisely how or when the plethora of amendments will emerge. They will surely involve various alternative deals or Brexit-related policies - Norway+, Canada++, staying in the customs union and/or single market. All of which are too complicated, divisive and implausible this late in the process.
Eventually, an amendment will come forward calling for a Second Referendum. Many commentators note that there isn't a majority in Parliament even for that but I think they read too much into past statements.
MPs becoming freer to support a second referendum
Most MPs have been forced all over the place on Brexit, in fear of alienating constituents or party members. Few have felt free to call for a second vote because they know the Tories would then pass the blame for the failure of Brexit. Now May has failed and a Brexit-supporting government has hit the wall, MPs in Leave supporting seats might feel free to support a referendum on the basis that it is the least worst option.
This will be the moment of high drama for all concerned. Those backbenchers can put Jeremy Corbyn on the spot - if he fails to back a second referendum, his job could come under immediate pressure. I believe he will, reluctantly, do what it takes.
But if Parliament rejects it, we will be back to May's deal or no deal. To reiterate, the latter is where we are headed unless there is a change of law. MPs can signal their opposition to no deal all they like, but it means nothing if they can't agree on a way of legally blocking it. Note that last night, as the markets moved against Brexit, its most committed supporters were sanguine about developments and still confident they have it in the bag.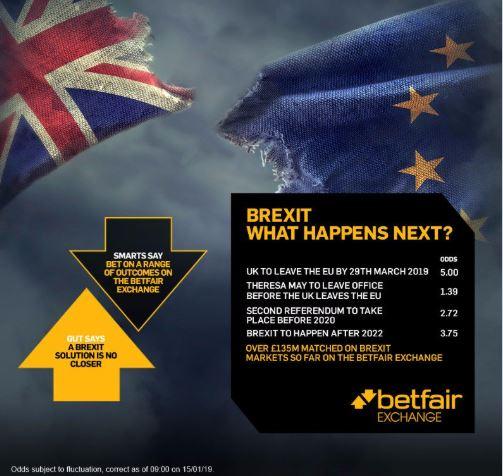 Bet on UK politics here
UK to leave EU by 29/03/2019?
EU Referendum before 2020?
Next Conservative Leader
Theresa May Exit Date
Year of Next Election

Follow Paul on Twitter and check out his website, Political Gambler.
Discover the latest articles
Read past articles